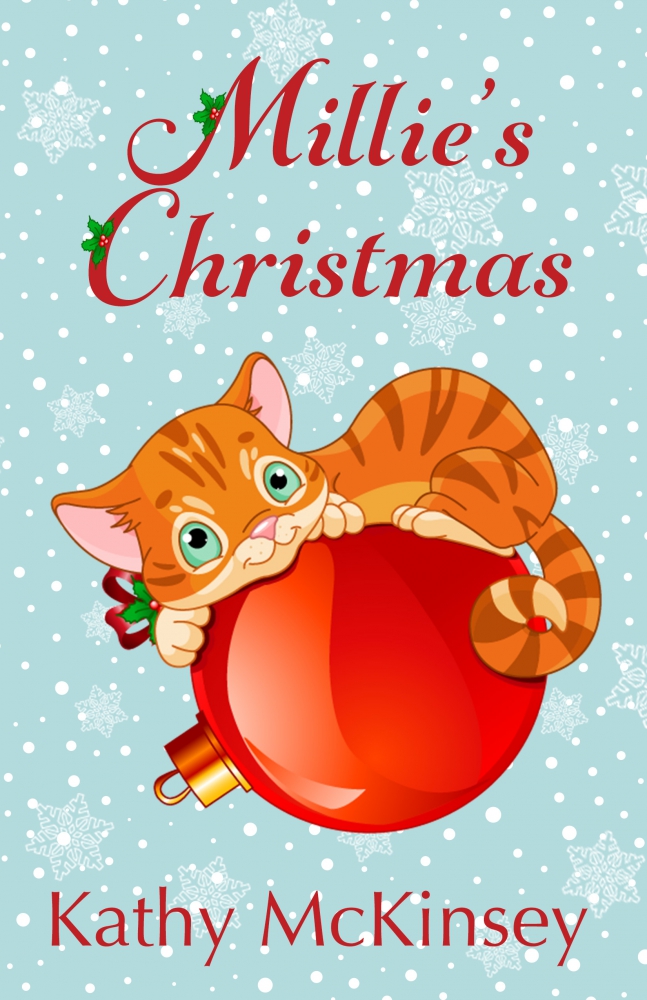 FEATURED BOOK: MILLIE'S CHRISTMAS
AUTHOR: Kathy McKinsey
PUBLISHER: Mantle Rock Publishing
GENRE: Children's fiction
SERIES OR STAND ALONE: Stand alone
TARGET AGE: Five to eight, and all ages
IT IS MY PLEASURE TO WELCOME AUTHOR KATHY McKINSEY TO THE OVER 50 WRITER. KATHY SHARES A CHRSTMAS GIFT GOD GAVE HER THAT SHE WOULD LIKE TO PASS ON TO HER READERS.
KATHY IS OFFERING A GIVEAWAY! SIMPLY LEAVE A COMMENT BELOW TO ENTER THE DRAWING FOR AN EBOOK COPY OF MILLIE'S CHRISTMAS.
A CHRISTMAS WRITING GIFT
My biggest struggle as a writer has always been convincing myself to sit down and write.
Someone asked me recently how many hours a day I write. I cringed. Hours?
A few years ago, I was searching for a project to force me to write every day. I heard about NaNoWriMo, but I didn't think I was up to that.
It was almost December. Why not write a Christmas story?
I am more of a pantser than a plotter, though I usually have a general idea of how my story will work out.
Not this time. I sat down and just wrote what came to mind.
At least at first. A story told by a kitten.
Before long, God surprised me with my own Christmas writing gift. Millie's Christmas became one of my favorites of all my stories.
At this point, I always have to say, "No way am I comparing myself, my skill, to that of C. S. Lewis."
However, just as The Chronicles of Narnia can be enjoyed by children and adults, I believe the same is true for Millie's Christmas.
It's fun and sweet for children. And I pray comforting. But adults can also have fun with this cute story. And again, I hope they will find deeper meaning, and the hope of Jesus, in these pages as well.
Blurb for Millie's Christmas:
Ruthie says Millie will love Christmas. Ruthie is Millie's best friend, so she's sure Ruthie's right, but why does Millie keep finding Ruthie and her brother Jake crying?
Millie, an orange kitten, shares about her first Christmas. Her best friend Ruthie, six years old, teaches Millie about Christmas—food, decorations, music, presents, and Jesus!
Millie's friend Bruce, the family dog, also helps her celebrate Christmas, and sometimes gets her in trouble.
When Ruthie's big brother Jake breaks his ankle, Millie learns about sad things, like divorce, when Jake can't visit his mommy for Christmas. Millie watches Ruthie's family love each other through the sadness, and find joy in Christmas.
Amazon buy link for Millie's Christmas
DON'T FORGET TO LEAVE A COMMENT TO BE PLACED IN THE DRAWING TO WIN AN EBOOK COPY OF MILLIE'S CHRISTMAS BETWEEN NOW AND SATURDAY, NOVEMBER 2ND AT MIDNIGHT MDT.
BY LEAVING A COMMENT, YOU GRANT PERMISSION FOR YOUR EMAIL TO BE REVEALED TO THE AUTHOR IF YOU ARE THE WINNER TO FACILITATE RECEIPT OF YOUR BOOK.
Kathy McKinsey grew up on a pig farm in Missouri, and although she's lived in cities for nearly 40 years, she still considers herself a farm girl.
She's been married to Murray for 32 years, and they have five adult children.
Kathy had two careers before writing—stay-at-home-Mom and rehabilitation teacher for the blind.
She lives in Lakewood, Ohio with her husband of 32 years, Murray, and two of their five adult children. Besides writing, Kathy enjoys activities with her church, editing for other writers, braille transcribing, crocheting, knitting, and playing with the cat and dog.
Connect with Kathy:
Email [email protected]
Purchase link for All My Tears
SUBSCRIBE TO PATTI'S BLOGS HERE