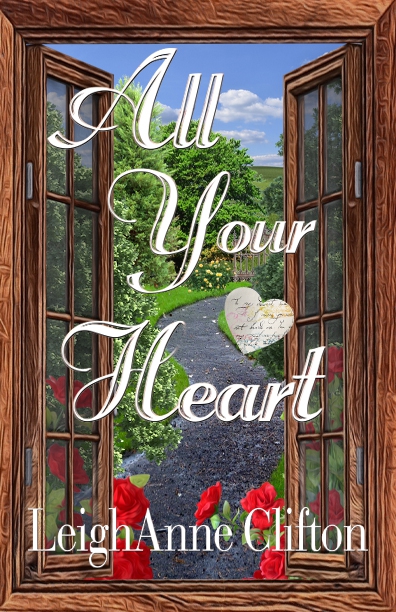 Featured Book: All Your Heart
Author: LeighAnne Clifton
Publisher: Pen It! Publications
Genre: Christian Romance
Series/Stand Alone: 1st in a series
Target Age: 25-45
IT IS MY PLEASURE TO WELCOME AUTHOR LEIGHANNE CLIFTON TO THE OVER 50 WRITER. LEIGHANNE SHARES WHAT SHE HAS LEARNED ABOUT HOW GOD USES US IN ALL SEASONS.
SERVING HIM IN ALL SEASONS
by
LeighAnne Clifton
Growing older isn't for the faint of heart. After we reach a certain age, we may want to slow down, relax, and let life pass us by. But it wasn't until I'd passed my 50th birthday that I really hit my stride doing something I'd always loved but never even considered pursuing. Writing! And if you've left that age in your rearview mirror, let me encourage you to follow the Lord's leading. If He says write, step out in faith.
The Preparation
Seasons change. Not only through the year, but in life. When my children graduated from college and started adult lives, my season as a hands-on mom drew to a close. At least, it changed drastically. I prayed about how God wanted to use me.
While teaching a teenage girls' Sunday school class, I had written a story of God's unique purpose for everyone. I wanted the girls to remember He had gifted and prepared them for the work He'd appointed them to do.
The story sat in a folder for years. Occasionally, I'd pull it out, sketch some illustrations, maybe edit. Then it would go back into the folder. What I didn't know was that God was having me live out the story He'd given me. I was fulfilling His purpose for me, and in 2018 my children's book The Little Vessel was published. I was 53!
The Writing Bug
Holding that book in my hands ignited something within me. The words I'd prayed over, changed a thousand times, and entrusted to a total stranger finally rested in my hands, ready to share with people.
I began to think more about a story idea that had rattled around in my head for years. Decades, actually. But I felt overwhelmed. As an engineer, my writing experience involved data analysis and technical terminology. I told myself I could never write a novel. How I underestimated the God who created all things!
What I saw as an obstacle, He used as an opportunity. True, I didn't know anything about the publishing industry. But we live in a time when information is only a few keystrokes away. I started writing that novel. When I wasn't writing, I learned everything I could. I read books by different authors. I re-wrote, edited, rearranged…all while working as an environmental engineer.
I spent the shutdown hunched over my computer. God never let me stop. My characters lived their lives in my brain (that statement is weird to EVERYONE except other writers!). I learned how to query a book. I learned how to accept rejection (a humbling reality of writing). I used that rejection to fuel perseverance, not defeat.
Doubts in the Midst of Dreams
One momentous day, I got the email accepting my novel for publication. What do you think I did first? Praise God? That should've been first, but it wasn't. I doubted. I asked myself questions that showed how little I trusted God's sovereignty. Is this for real? Am I being scammed? What's the catch?
After all He'd carried me through, when I finally stood on the edge of achieving this huge milestone for Him, I pulled back. The biggest irony of this stage of the process is this: my debut novel's central theme is about the sovereignty of God and His perfect plans. Talk about life imitating art!
In March 2021, All Your Heart was published by Pen It! Publications. I turned 56 the week before it was released. God has given me the opportunity to learn even more skills: marketing, platform building, email list growth. These words meant absolutely nothing to me five years ago!
We serve a mighty God who knows no boundaries. Even those of time. The psalmist wrote:
The righteous will flourish like a palm tree,
they will grow like a cedar of Lebanon;
planted in the house of the Lord,
they will flourish in the courts of our God.
They will still bear fruit in old age,
they will stay fresh and green
proclaiming, "The Lord is upright;
He is my Rock, and there is no wickedness in Him."
Psalm 92:12-15 (NIV)
How Is He Calling You?
Here are some truths God's shown me:
He puts us where He wants us, when He wants us there, and not a minute sooner.
He doesn't waste life experiences, if we're willing to allow Him to use them.
Wisdom and insight are the gifts God gives us the more times we ride around the sun.
Has God called you to serve Him in this season of your life by sharing your wisdom, experiences, and story-telling? Are you scared? Feeling inadequate? Remember, Moses felt inadequate. Mary and Joseph were scared. God doesn't use our pride, our strength, or our perception of perfection.
He uses our weakness. He delights in our surrender. He is magnified through our imperfection and willingness to learn. He hasn't brought you through tough times for you to keep His goodness to yourself. Take that leap! Share His goodness! Allow Him to speak through you!
Blurb for All Your Heart
Alex is determined to use college on the other coast to escape her small Southern town and workaholic mother. However, a prom-night assault and the resulting pregnancy require a drastic change of plans. Alex flees with every intention of ending her cross-country trek at an abortion clinic. Instead, finding herself stranded and scared after wrecking her car, Miss Matilda welcomes Alex to town with love and open doors. It just happens that Matilda runs a crisis pregnancy home.
When Alex strikes a deal with Chad, the handsome mechanic with secrets of his own, the citizens of Burton discover Alex's artistry, prompting a business partnership with Matilda's nephew. Alex soon discovers the life-altering sweetness of trusting Jesus, but her past hurts make it difficult to trust Chad with her heart. Then, secrets within the pages of an old diary discovered at the home threaten to tear families apart. Can the people of Burton learn to heal the hurts of the past by trusting the Lord with all their hearts?
Bio
LeighAnne Clifton and her husband Bill call South Carolina home. After meeting in chemical engineering program at the University of South Carolina, they married and settled in Aiken. They have two grown children and a son-in-law. Before writing All Your Heart, LeighAnne wrote The Little Vessel, a modern-day parable that reminds us God has a unique purpose for their lives.
Like her main character, LeighAnne loves to upcycle old junk into one-of-a-kind pieces. She shares her thoughts on Christian living, easy DIY projects, and the latest book news on her blog:
https://alive-leighjourney.com
Sign up for her newsletter to receive info about other authors, news of freebies, and the latest blog post.
Purchasing Links:
Pen It! Publications: https://penitpublications.com/product/all-your-heart-by-leighanne-clifton/
Purchase From Books A Million.com
Social Media Links
Facebook: https://www.facebook.com/CliftonLA
Twitter: LeighAnne Clifton (@LeighAClifton) / Twitter
Instagram: LeighAnne Lowe Clifton (@aliveleighjourney)
SUBSCRIBE TO PATTI'S BLOGS HERE