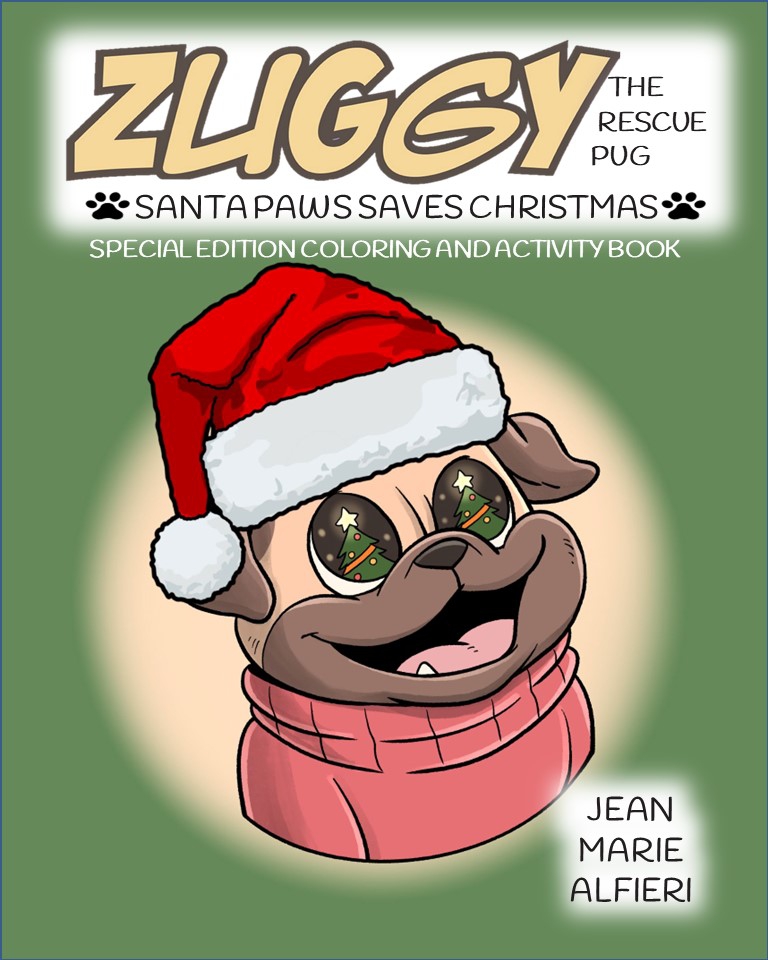 TODAY, CHRISTMAS IN JULY FEATURES AUTHOR JEAN ALFIERI
BOOK TITLE: Zuggy the Rescue Pug - Santa Paws Saves Christmas
BLURB: Presents and gifts are canceled when Mom loses her job just before the holidays, but Zuggy can't stand to see the family so sad. Can he work some Christmas magic and make it the most memorable celebration ever? - Only if the cat keeps his secret!
GIVEAWAY: print copy (U.S residents only eligible please.) Leave a comment below to be entered in the drawing for this Christmas children's book. Drawing closes Friday, July 14th at midnight MT)
BUY LINK: https://tinyurl.com/jthwuhaz
ZUGGY THE RESCUE PUG
INTERVIEW FOR SANTA PAWS SAVES CHRISTMAS
by
Jean Alfieri
Pug-Lovers Magazine recently sat down with America's favorite rescue pug to interview him on the new short story and activity book, Santa Paws Saves Christmas, that was released last month. Here's what Zuggy had to say.
Q: This is book #10 in an award-winning collection. How do you continue to be your Mom (Jean's) most influential writing inspiration?
Zuggy: Oh, that's easy. I just jump on her lap and wiggle around until I almost fall off and she tells me to settle down. Then I sit and stare deeply into her eyes and subliminally ask for a snack. She thinks I'm giving her story ideas, but it works for her, so I don't ruin it.
Q: What is the best activity in this special edition book?
Zuggy: The puzzles and games and coloring pages where you can decorate me! The book club questions are also a great feature. (Mom said she got the idea from her own reading club – thanks, Auntie Karen!)
Q: Is Christmas your favorite holiday?
Zuggy: This pug is all about love and hugs, so Valentine's Day is my fave. I should have been named Very-Valentino, or Vee-vee for short! It's so Ooo-la-la.
Q: Do you ever get writer's block?
Zuggy: Every day around breakfast and dinnertime I simply cannot focus. I scour the kitchen for lost and forgotten kibbles and wait impatiently for my chef (I mean, Momma Jean) to prepare my next meal. Who could write in such conditions?
Q: Where can friends and fans get this new book?
Zuggy: The whole collection is available on Amazon and Jean will be signing copies on September 16, 2023, at the Humane Society's Pawtoberfest, in Colorado Springs. Grab a beer and a book! And remember, she loves visiting schools (in person or remotely) so drop us an email to schedule a class visit: [email protected]
Jean Alfieri is a writer, speaker, and dog fan. When her eyes locked with those of a smooshy-faced little dog who sat inside a kennel at the Humane Society, it was love. He captured her heart, and she captured their many adventures in short stories starring Zuggy the Rescue Pug. She and her husband joke that although they pay the mortgage of their home in Colorado, it's really the dogs' house. Jean finds much of her writing inspiration from her "vintage puppies" and her work at the Pikes Peak Humane Society.
DON'T FORGET TO LEAVE A COMMENT TO BE ENTERED IN THE DRAWING FOR A PRINT COPY OF SANTA PAWS SAVES CHRISTMAS. DRAWING CLOSES FRIDAY, JULY 14TH AT MIDNIGHT MT. (U.S. residents only eligible for print copy)