Welcome
Step Into The Light Blog Talk Radio
Is where we introduce listeners to people who have found their way out of the dark shadows of life and back to light and those who lead others on their journey from darkness to light.
STEP INTO THE LIGHT
NEW DAY AND TIME STARTING 2023
Airs Thursday Mornings at 9:00 AM MT
To find "more information" about current podcast guests, go to https://pattishene.com/stepintothelightradioshow
PATTI'S BLOGS
The Over Fifty Writer (1st and 3rd Friday)
Patti's Porch (2nd and 4th Tuesday)
Meet seasoned authors, learn about new books and find inspiration to help you along your journey. No matter how far you've come or where you are going, I'd be honored to travel with you. If you like what you see, please subscribe to avoid missing updates.
Subscribe to Patti Shene's Posts
Step Into the Light Blog Talk Radio Show
Latest Show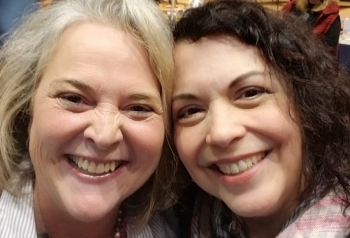 2023-03-23
Episode #225 - Featuring Dee Dee Lake Susan Baganz
Authors Dee Dee Lake and Susan Baganz have teamed up to create the Rules of Engagement series, a military romance novel series, with two books available now, Camouflage Christmas and Operation Allegiance. Dee Dee is an author and Army wife and Susan is a multi-published novelist. Join us as these two authors share about their writing journey and the message they convey to readers.