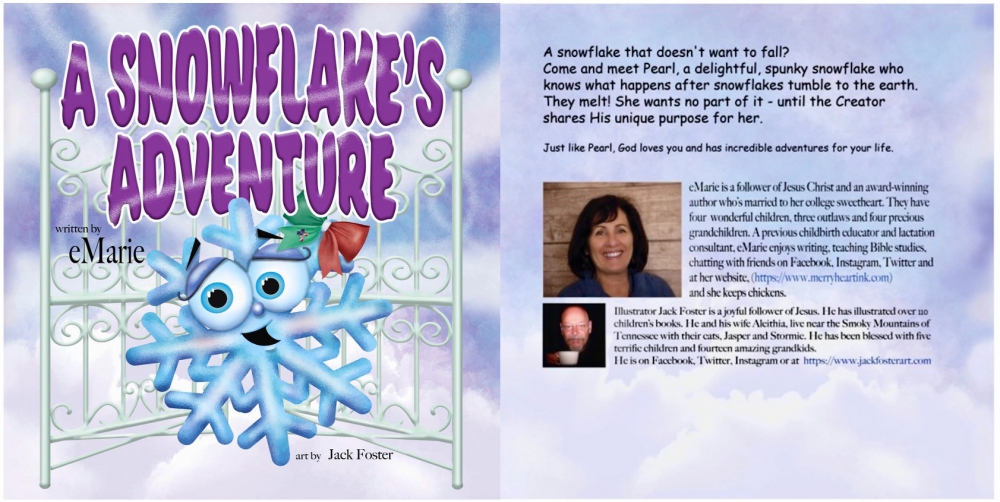 TODAY, CHRISTMAS IN JULY FEATURES AUTHOR eMARIE
TITLE: A Snowflake's Adventure
BLURB: A snowflake that doesn't want to fall? Come and meet Pearl, a delightful, spunky snowflake who knows what happens after snowflakes tumble to the earth. They melt! She wants no part of it—until the Creator shares His unique purpose for her.
GIVEAWAY: print (leave a comment below to be entered in the drawing for this delightful children's book. Drawing closes Tuesday, July 25th at midnight MT)
BUY LINK: English version https://tinyurl.com/jddmpwez
Spanish version https://tinyurl.com/mum38y7c
BREATHING LIFE INTO A CHILDREN'S STORY
by
eMarie
When the doctor pronounced my husband Bert's stage 4 cancer diagnosis almost six years ago, I cowered behind a "God's got this" mask. Oh, I believed God and took Him at His word. But I felt and acted more like Jacob in my quiet moments. The Lord and I didn't have a physical wrestling match, but an intense spiritual battle had begun. Especially after I'd looked up the statistical information regarding Bert's prognosis. "Hopeless" fit the percentage. The doctors had told us as much. But faith said that number was unacceptable.
The Lord invites us to come and reason with Him in Hebrews.
I came, but I was beyond reason. I cried out to the Lord, asking, wanting, needing something personal from Him. Something to show me that even though I didn't see it, He was still working, still moving on our behalf. That He cared about what was happening to Bert. To me. To our four children, to their spouses, and to our grandchildren. That every promise in His word was still true, still ours. Jehovah was still faithful, able, and in control of every aspect of our lives.
I pictured the crossroads in Sacramento, CA, where I first became a believer at age 19. I reminded the Lord how He had shown me His many promises throughout all generations. He'd shown Himself to be Emmanuel—God with us. I recited His miracles and His gracious healing hand. His might and power. I prayed, Show me again,
Lord.
Crickets.
I got in the car to go to lunch with a group of Bible study friends. As I pulled into the parking lot of the restaurant, I again asked God to let me know He was with me.
Beyond frustrated with this unanswered prayer, I walked up to the restaurant, took a deep breath, and exhaled. That's when it hit me so hard my brain jolted.
My breath! Each of my breaths are something personal. And not just mine. Every breath is proof of God's existence and love. He created us and breathed His breath of life into us. Our lives are forever personal to Him.
My wrestling ended there and then. The Lord had given me the proof I'd asked for.
That afternoon, in an effort to capture what God showed me, I penned the first words to A Snowflake's Adventure.
...almost six years later, my husband is living with cancer and doing well.
A Snowflake's Adventure is a story of God's personal love. To my husband. To me. To every child He's ever created. We are His one-of-a-kind design. Each. And. Every. One.
(When we published A Snowflake's Adventure, we committed that for every book sold, one would be donated to OCC/Samaritan's Purse. To the glory of God, this #1 Amazon children's book was donated to 500+ children around the world on Christmas Day 2021.)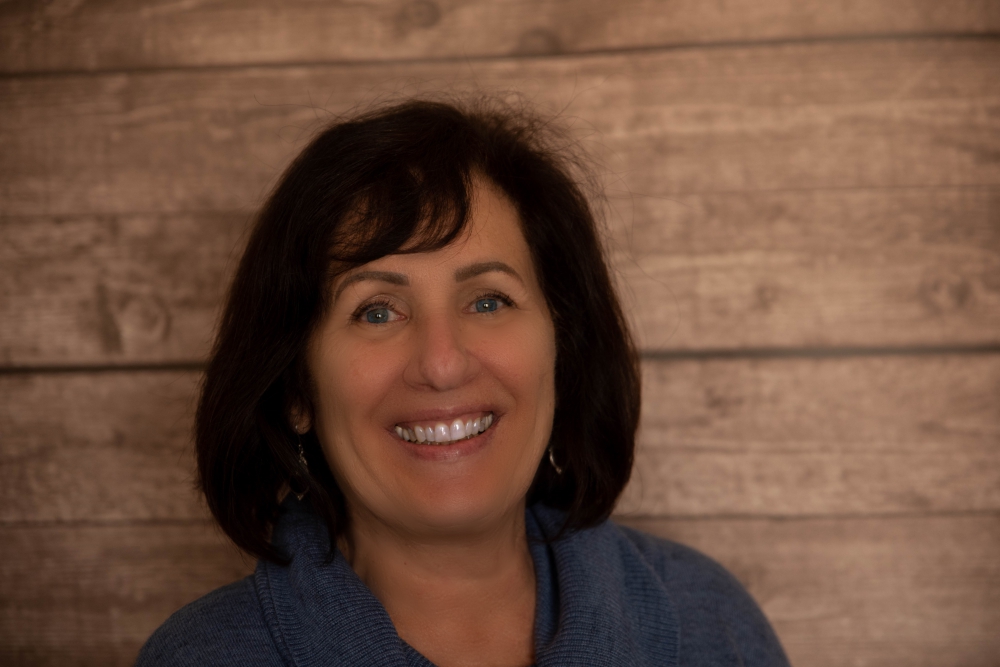 eMarie is a follower of Jesus Christ. Married for forty-two years, she enjoys four wonderful children, three outlaws, and four precious grandchildren. She worked in the medical field for over twenty-five years. After completing her B.S.H.S., she became a health educator and received international credentials in childbirth education (I.C.E.A.) and lactation consulting (I.B.C.L.C.). She's served as a women's Bible study leader and participates in a local book club as well as local and national writers groups.
She posts encouraging blogs each Friday at https://merryheartink.substack.com/ and enjoys chatting with her Facebook, Twitter, and Instagram friends. And she keeps chickens.
In the past four years, eMarie has written a Rom-Com/Spec.Fiction novel; completed two books in an Historical Suspense trilogy; and has begun work on a Spec. Fiction trilogy based on Biblical gardens. She is currently working with Lenora Worth on a romantic novel.
eMarie is the winner of several writing awards including: 2022 ACFW Genesis finalist; 1st place ACFW 2020 First Impressions; 2nd place, 2020 ICAN; 1st place, 2020 ACFW Virginia Crown Award; 1st place, 2019 ICAN; 2019 ACFW Genesis Finalist; 1stplace, 2018 OHCWC Blue Seal Award winner (tie); 2nd place, 2018 Georgia Peach.
A Snowflake's Adventure, a children's picture book about God's love and exciting purpose for each child, was published in October 2021 under eMarie (Erma's pen name). For every book sold, one is donated to Operation Christmas Child Shoebox through Samaritan's Purse.