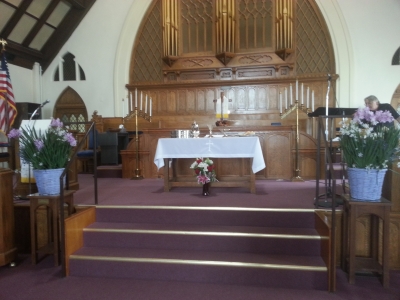 There was not a single young person at our church service this morning in our small town congregation. The situation prompted our children's sermon leader to ask any adult who wanted to "be a child" to come forward for the presentation she had prepared. The invitation enticed a few of us to sprint up front to sit on the steps and listen.
This group of volunteers, in addition to being considerably older than the usual audience, was also quieter, less squirmy, and more attentive than the exuberant youngsters that gather on the steps most Sunday mornings.
The message was about praising God. Our speaker asked us to name our favorite praise song. I love praise songs, and I admire those who can sing them. I can't.
When in church, my heart sings loud and clear, but the words coming out of my mouth sound like a bullfrog with a cold. I mouth the words very quietly so I will not offend anyone with my terrible off key, toneless voice. Sometimes, I'm envious of those who can bring forth sweet sounds of praise.
Our children's sermon leader brought out a point this morning that had not occurred to me. She said that when we sing, even if we can't "sing," the sound is still sweet to God's ear because that is the way He hears it.
I remember as a child, I used to sing all the time. It didn't bother me a bit that I didn't sound very good. All I cared about then was expressing the joy in my heart.
The next time I get the urge to sing, even as an adult, I think I'll just do it. You can bet, though, I'll be sure there is nobody around within ten miles who could possibly hear me, except, of course, God. He's always listening anyway, and I'm grateful He can filter out the lack of luster in my voice and embrace the exuberance.
It was fun to "be a child" in church this morning, but you know what. I'm so glad nobody asked me to sing!