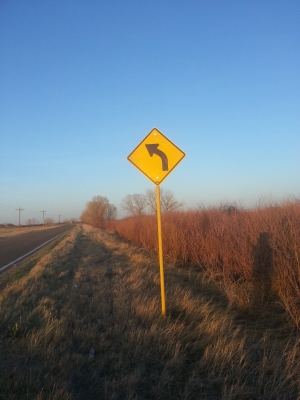 We all find ourselves on a path that turns out to be much longer and the journey much lonelier than we originally anticipated. Whether physical travel from one destination to another that wears on the body or an emotional journey that tests our character, it is easy to give in to discouragement and frustration.
Most disheartening is when we believe the end goal is just down the road, but we discover that it remains far beyond our reach. Another three hours of travel lies ahead in inclement weather, two more months of treatments remain to be endured, another court date rapidly approaches.
In the midst of our travels, we wish we could go back to the way things were before we ever started down this path. Whether medical decisions that bring us to unexpected bends in the road, or bad choices that lead us into a dark wilderness, or failed relationships that leave us wishing we had gone the other direction at the crossroads, we have a responsibility to ourselves to finish the journey.
How do we negotiate the inevitable bumps and potholes? The best way is to savor the good moments we encounter, no matter how fleeting they may seem to be. Enjoy the shimmer of the leaves after a rainstorm, the pinpoints of gold and silver that sparkle after the snow falls. Be grateful for the driver who gives us a break when we're changing lanes, the waitress who .provides excellent service, the giggle of a child.
We should treasure the people we meet who encourage us along the way with a kind word, a smile, a hug of understanding. When the dark times surround us and we're back on the long and lonely highway of life, negotiating mile after mile of grueling challenges, we can pull out those precious memories and draw on their strength to keep going for one more hour, one more day, one more week.
Today, I'm again sitting in a hospital waiting room while my husband undergoes the third of probably at least thirty treatments to promote wound healing. We've spent three nights of many in a cramped but functional motel room. Today, we will travel the 120 miles home only to return in the morning to make the appointment for the next treatment.
This is yet another stretch on the winding road through surgeries, wound vac machines, bandage changes, and doctor's appointments that we've been negotiating for over two years now. One setback after another has warranted trips to the emergency room, kept us away from home for days at a time, and required countless miles on the highway.
Even though the support from friends, family, and our church has been wonderful, there are times when we find ourselves meeting the day to day trials alone. Yet, along the way, we've met incredible caregivers, had more time together than probably ever before in our lives, and learned that there are many daily comforts we can do without.
Even though the arrival at our destination—optimum health—will be a victory, it's the unexpected places the itinerary has taken us that has strengthened us and boosted our resilience.
What long and lonely road are you traveling?