Why Do We Do What We Do?
Last Sunday night (July 6th), our church hosted a group of determined and highly motivated college age bicyclists. Our small town was one of many stops in the group's four thousand mile trek across country that started in Baltimore and will end in San Francisco. Known as 4Kforcancer, these thirty cyclists, one of four teams, represent 4Kforcancer, a program of the Ulman Cancer Fund for Young Adults.
The riders inspire young adults diagnosed with cancer through hope, education, and support. Every morning, the team forms a dedication circle, where the cyclists mention the name of a cancer victim they are dedicating their ride to that day.
The endurance these young people demonstrate as they face one obstacle after another is phenomenal. The day they arrived in our town, they had ridden seventy miles from Syracuse, Kansas, and were heading into several days of mountainous terrain in the Colorado Rockies.
This past week-end, we spent our time on the ball field, watching our granddaughter and her all star team mates compete in the 12U Babe Ruth State Softball Championships. Even when they were losing, the girls battled hard, sometimes edging ahead to advance to the next bracket. When the outcome of a game looked grim, they pulled together, cheered each other on, and stretched to reach their goal.
Their effort earned them a spot in the Regional tournament to be held in a couple of weeks, where they will compete against teams from other states. These young kids gave the game their best, even when muscles ached and one hundred degree heat sapped their strength.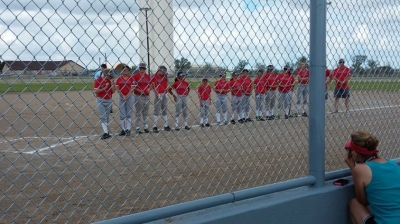 These two groups of people much younger than I are an inspiration to me, so much so that a friend and I have started walking an average of three miles every morning. Getting up at 5:30 AM was the first hurdle for me to overcome. The first couple of days, I was so sore after walking our route that I was tempted to quit. However, now that I have established the routine over the past couple of weeks, I'm getting used to it.
In fact, if I don't get to walk, I feel like I've missed one of the most important parts of my day. The muscles are no longer stiff, and I believe I've actually gained a little bit of flexibility in these old bones. Even though the 5:30 wake up time calls for a short nap along about mid-afternoon, I have more energy throughout the day.
I'm not committed to any noble cause like the 4Kforcancer cyclists.
I'm not part of a team that depends on my performance to advance in competition.
Yet, I've been inspired to make a lifestyle change I've resisted for a long time. I might even take off a few of those excess pounds I've been carrying around.
Why do you do what you do? What inspires you to do it?