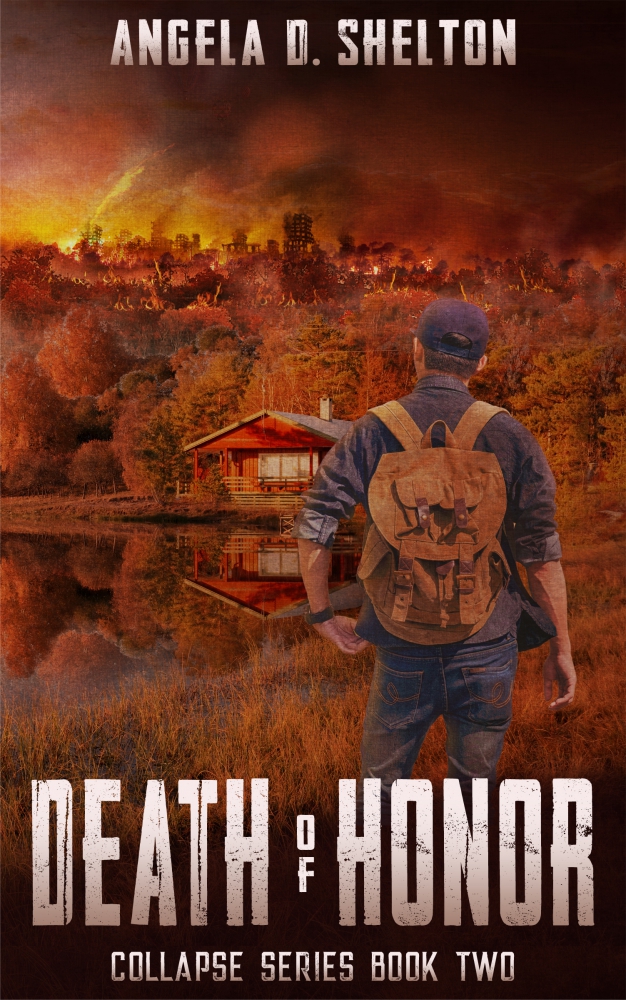 FEATURED BOOK: Collapse: Death of Honor
AUTHOR: Angela D. Shelton
PUBLISHER: Two Oaks Publishing, LLC (owned by author)
GENRE: Young Adult and Contemporary Christian
SERIES OR STAND ALONE: Book Two in Collapse series
TARGET AGE: young adult through adult
IT IS MY PLEASURE TO WELCOME AUTHOR ANGELA SHELTON TO PATTI'S PORCH. ANGELA SHARES A HUMOROUS STORY ABOUT ANIMAL BEHAVIOR AND HOW WE CAN LEARN FROM IT.
ANGELA IS OFFERING A GIVEAWAY! SIMPLY LEAVE A COMMENT BELOW TO ENTER THE DRAWING FOR A PRINT COPY OF COLLAPSE: DEATH OF HONOR.
COW STUCK IN A TREE
by
Angela D Shelton
If you've read much of what I post, you know I live on a farm that provides tons of story fodder. Animals act so much like humans. It can be hilarious and it's not even politically incorrect to laugh at the antics of a farm animal… yet.
One of my favorite stories is about a cow that got stuck in a tree. Okay, it wasn't really a cow, but most non-farmers can't tell you the difference between a cow and a steer, and this fellow was a teenaged steer—at least in cattle years. Adolescent calves get into trouble much the same as human teens do. You haven't truly lived until you've heard a mama cow telling off her little one for not doing what she said to do. Yes, it's a thing.
My husband, Tom, was out checking on the herd early in our farming career and noted that one animal was missing from the group. That's never a good sign. The errant steer could be hurt, sick, or even dead if he was some place other than where the rest of his groupies hung out. So, the search began.
The pasture they were in has a lovely spring nestled in a group of trees. It's a cool spot during the heat of the day, and they love to stand in the chilly, muddy water that bubbles up from the ground. The area is extensive enough for the entire herd to rest under the trees, and it can be easy for a small calf to hide amongst the majestic oaks. They love it there, so it was the most logical place to find our missing teen.
Sure enough, he was located quickly and his reason for not following the rest of the pack was clear. He was stuck in a tree. Not his entire body, only his head. Curiosity had gotten the better of him when he couldn't resist seeing what was inside the giant hollow of an oak. Honestly, he still doesn't know what's in the hole to this day, because once you've lodged your head in a hole, no light can get in to showcase the space.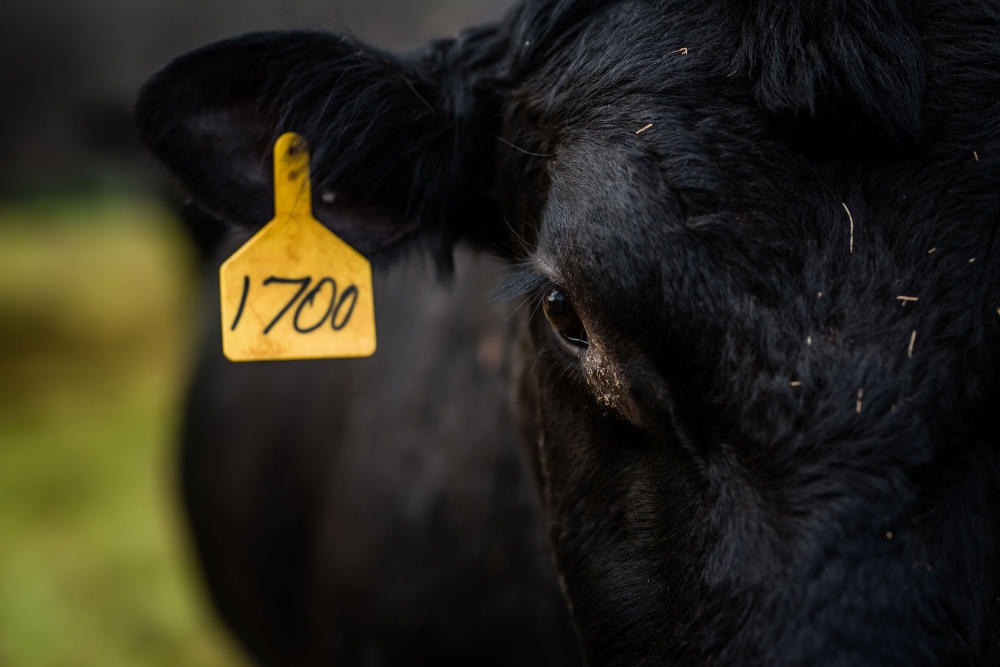 Once Tom finished laughing at the sight of the poor fellow, he called on his fellow farmer friends to figure out how to extricate the wayward animal from the headlock. It took quite a while, and chisels were involved.
An interesting note was that the bull, Tony, insisted on being present to observe. If he were a human father, I can imagine the conversation that would've occurred between Tom and Tony as the extrication process commenced.
Tony: "Well, I told him it wasn't a good idea to put his head in there, but you know kids, they have to learn on their own sometimes."
Tom: "Yeah, I know what you mean. He really did it up good this time though, eh?"
Laughter all around as the sounds of wood chiseling ensue.
It's only hilarious, in my humble opinion, if you can relate it back to the stupid mistakes we've made in our own lives because we were too headstrong to listen to the advice of others. I've done it—you've done it—no one is immune. The trick is to learn from those errors in judgement and correct our thought processes so that we don't fall for similar faults in the future.
It reminds me of a verse from the Bible. "The way of fools seems right to them, but the wise listen to advice" Proverbs 12:15 NIV
I hope that I'm past the point in my life where I'm running around like an adolescent steer. It has always worked out so much better when I look to the experts for advice, pull their collective knowledge, and then track forward on a planned trajectory. If not, bring your chisel and rescue me, won't you?
Have something to share? I'd love to hear from you.
Blurb for Collapse: Death of Honor
Caleb Worthington always imagined himself playing college football and marrying a cheerleader, not working fields and isolating himself on his family's ranch. But when society collapses, dreams do too.
So he clings to the only thing left. Family.
As the supply chain crumbles, people soon realize food doesn't come from stores and those who live at the source have the advantage. Not everyone wants to work for that asset. Having faced marauders invading the Worthington farm once, Caleb is ready to defend his household and their property again.
Now a new threat looms.
A blackmailer has targeted Caleb, forcing him to make a choice — trust his loved ones with the terrible truth of why his former best friend is dead or risk losing everything to hide it.
But nothing stays buried forever.
The Death of Honor, Book Two of the Collapse Series, a post-apocalyptic, young adult novel. Explore this nail-biting cliff-hanger by Angela D. Shelton.
DON'T FORGET TO LEAVE A COMMENT TO BE PLACED IN THE DRAWING TO WIN A PRINT COPY OF COLLAPSE: DEATH OF HONOR BETWEEN NOW AND TUESDAY, AUGUST 2ND AT MIDNIGHT MDT. (U.S. residents only eligible for print giveaway)
BY LEAVING A COMMENT, YOU GRANT PERMISSION FOR YOUR EMAIL TO BE REVEALED TO THE AUTHOR IF YOU ARE THE WINNER TO FACILITATE RECEIPT OF YOUR BOOK.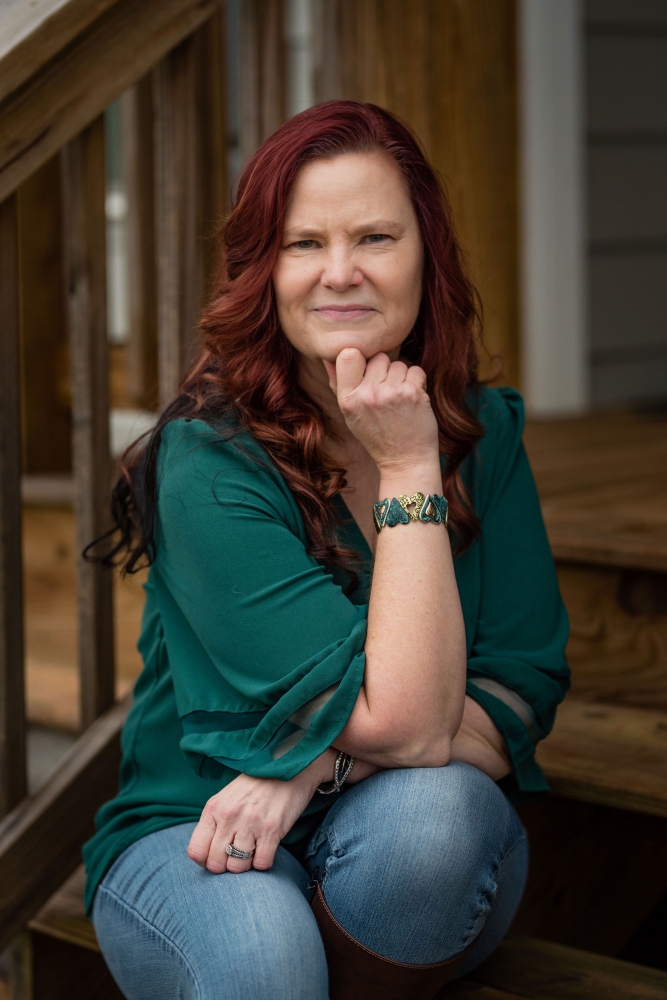 Angela D. Shelton is a healthcare accountant during the work week and farmer in the evenings and weekends, now moonlighting as an author of the new and upcoming Collapse novels.
Born and raised in Erie County, Pennsylvania, Angela moved to Georgia just seven short years ago where she added the title of farmer to her resume. She lives on Two Oaks Ranch with her husband, Tom, two huskies, a dozen chickens, and a herd of Angus cows. Faith and family are her most important assets in life and in her writing.
Calling on her experience on her farm in small-town Georgia, Angela also drew on her husband's military and law enforcement understanding, and her own healthcare connections to create her new series of books. The stories revolve around a small-town Georgia family who turn to farming just in the nick of time to be self-sufficient when the supply chains in the world collapse.
Ms. Shelton is a member of the Christian Indie Publishing Association, the American Christian Fiction Writers, and Word Weavers International.
Angela writes stories from the farm on her blog at www.angeladshelton.com.
SUBSCRIBE TO PATTI'S BLOGS HERE