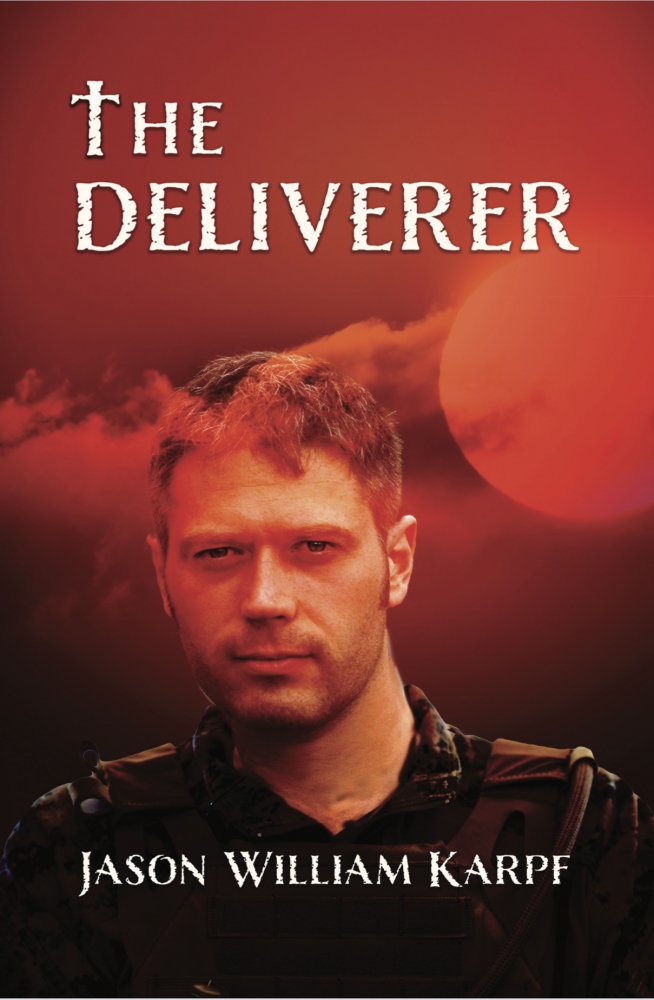 FEATURED BOOK: The Deliverer
AUTHOR: Jason William Karpf
PUBLISHER: Elk Lake Publishing, Inc.
GENRE: Christian sci-fi
SERIES OR STAND ALONE: Stand alone
TARGET AGE: Adult-level readers. PG-13 equivalent of action scenes,
PG equivalent of sexual situations.
IT IS MY PLEASURE TO WELCOME AUTHOR JASON WILLIAM KARPF TO PATTI'S PORCH. JASON SHARES HOW HE BRINGS SCIENCE FICTION AND CHRISTIANITY TOGETHER IN HIS LATEST NOVEL.
JASON IS OFFERING A GIVEAWAY! SIMPLY LEAVE A COMMENT BELOW TO ENTER THE DRAWING FOR A PRINT COPY OF THE DELIVERER.
DELIVERING THE DELIVERER
by
Jason William Karpf
The Deliverer is my new Christian sci-fi novel. As I approached age 60, I decided to return to the creative writing of my younger years but this time in the name of Jesus, having become a believer at 43. Science fiction has always been my favorite genre as a fan and a writer. When I discovered Christian sci-fi is a vibrant subgenre, there was no turning back.
The Deliverer takes place during Civil War II in 2038. Rich consumers pay armed delivery drivers to bring special purchases to their doors, pitting them against hijackers in livestream entertainment. The top driver is Bren Van Allen, known as The Deliverer, an evangelist who succeeds with ingenuity and mercy over body count.
The Deliverer salutes dystopian classics like Mad Max and The Hunger Games while playing "what if" with today's disturbing headlines. I've been a big news watcher my whole life. (I tuned in Walter Cronkite as a boy and was captain of our school current events team.) In 2021, I read a story about contract delivery drivers being monitored, graded, and fired by AI programs. This was the spark for The Deliverer—the dehumanization of the people we rely on for e-commerce. We tap a screen and summon packages to our front porch. Who are the unseen people who make this possible? What do they endure so we can be satisfied customers?
Human toil and blood enabling a future utopia is a longstanding sci-fi trope. The 1920s novel and film Metropolis explores this premise—expendables slaving in tunnels while elites party atop skyscrapers. The Deliverer creates a similar world, seen through the eyes of a Christian. Bren Van Allen is a shining light in the decadence, a widower trying to build a safe future for his family. He uses his social media fame to share the gospel. He uses marksmanship honed as a soldier in the early days of Civil War II to kill only as a last resort. He tries to resist his feelings for a rich, mysterious woman who hires him for delivery services. How would we as Christians act amid the temptations and terrors of an America torn apart?
Combining Christianity and science fiction is my ministry. People see the connection when I tell them Scripture and sci-fi teach the same lesson: playing God leads to trouble. In addition to my writing, I conduct a live study series, "Christian Sci-Fi Night with Professor K." We watch classic and current sci-fi and discuss from a Christian perspective. On October 31 in Minneapolis, I'm presenting Frankenstein, the 1931 film starring Boris Karloff along with Thomas Edison's 1910 silent version, the first cinematic adaptation of Mary Shelley's novel. We all know what happens when Dr. Frankenstein assumes the role of the creator. Will we ever learn?
The Deliverer is available for purchase in hardcover, paperback, and ebook on Amazon. If you like futuristic stories and love the Lord, you'll enjoy this action-packed novel. Join me in combining Christianity and science fiction!
Amazon buy link: https://tinyurl.com/yjnds28y
DON'T FORGET TO LEAVE A COMMENT TO BE PLACED IN THE DRAWING TO WIN A PRINT COPY OF THE DELIVERER BETWEEN NOW AND SATURDAY, OCTOBER 22ND AT MIDNIGHT MDT. (U.S. residents only eligible for print copy)
BY LEAVING A COMMENT, YOU GRANT PERMISSION FOR YOUR EMAIL TO BE REVEALED TO THE AUTHOR IF YOU ARE THE WINNER TO FACILITATE RECEIPT OF YOUR BOOK.
Jason William Karpf grew up with storytelling. The son of a screenwriter, he was a child actor guest starring on classic TV shows. Jason is the author of the novels Brimstone 1 and The Deliverer, the award-nominated novelette Basilica Obscura, and the instructional books Brimstone 1 Study Guide and Developing a Christian Marketing Plan. He teaches for Christian universities across the country and plays bass and guitar in his church's worship team. A history and trivia aficionado, Jason was a four-time champion on the game show Jeopardy. He lives in Minnesota with his wife, Ann. They are parents of three grown children.
SUBSCRIBE TO PATTI'S BLOGS HERE