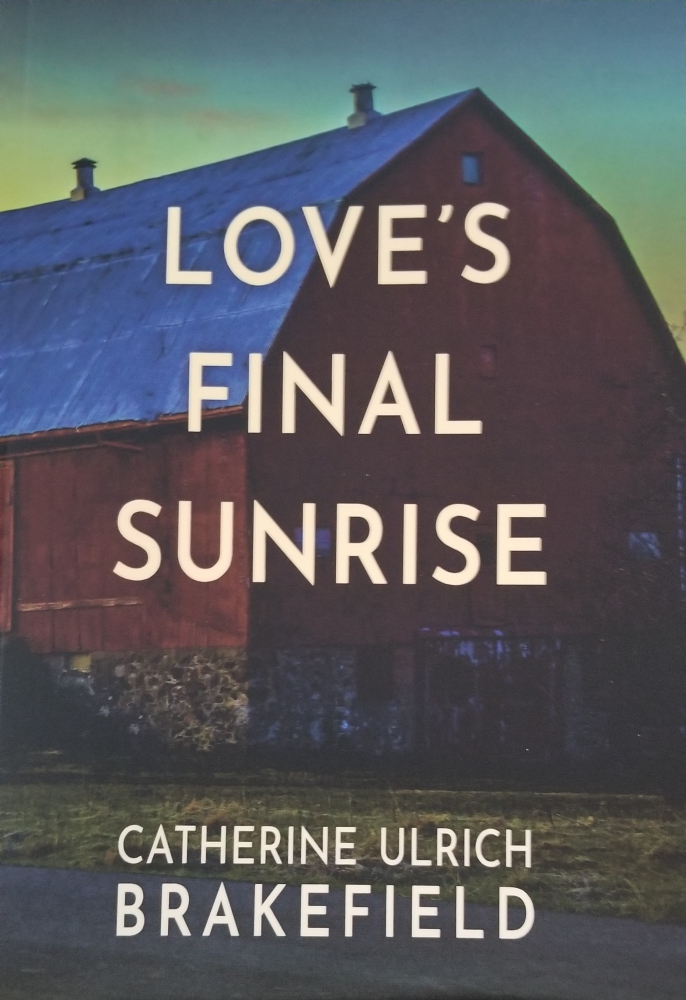 FEATURED BOOK: Love's Final Sunrise
AUTHOR: Catherine Ulrich Brakefield
PUBLISHER: CrossRiver Media Group
GENRE: Christian Futuristic Amish-Suspense
SERIES OR STAND ALONE: Stand alone
TARGET AGE: 15 to 85
IT IS MY PLEASURE TO WELCOME AUTHOR CATHERINE ULRICH BRAKEFIELD TO PATTI'S PORCH. CATHERINE SHARES ABOUT BLENDING THE PAST WITH THE FUTURE.
CATHERINE IS OFFERING A GIVEAWAY! SIMPLY LEAVE A COMMENT BELOW TO ENTER THE DRAWING FOR AN EBOOK COPY OFLOVE'S FINAL SUNRISE.
MIXING THE OLD ORDER WITH THE FUTURE
by
Catherine Ulrich Brakefield
I never dreamt galloping across the Amish countryside while foxhunting would trigger my imagination for a futuristic novel.
Back in the late 1990s, my first experience in meeting the Amish was foxhunting in the outskirts of a quaint little Amish community in Ohio. Then, when I became a writer for the Michigan Traveler Magazine, I learned about the Amish settlements in Michigan.
I wanted to write a Thanksgiving Day article that articulated the kind of Quaker lifestyle our forefathers lived. I didn't know of any Quakers who lived in Michigan, and decided the next best thing would be the Amish. While foxhunting in the Marlette area, I noticed the Amish signs and a few Amish buggies. So off I went.
Acquiring more knowledge than I needed for my article, I wrote additional pieces mainly featuring the Amish in Michigan. Not only did I write about them, and increase their sales potential, my husband and I started to purchase their wares. We bought produce, acquired a blacksmith for our horses, purchased heifers, bought our wood floors from them, even had our sheds made by the Amish.
I learned how the Amish functioned and prospered in our automated world. Their families thrived without modern conveniences. No electricity, no cars, no television, not even a radio—and no cell phones. In fact, the unity of children, teens, adults, and grandparents flourished.
Have you noticed that in the last fifteen years, more movies and even more preachers have focused on the last book of the Bible than any other? I began my own research, studying the New King James Version Scriptures.
I read and reread the scriptures referring to Christ's return —Watch, pray, and alert the elect are the three things which jumped off the pages at me.
"And unless those days are shortened, no flesh would be saved; but for the elect's sake those days will be shortened" Matthew 24:22 (NKJV)
Amidst the peace and harmony of living among The Old Order Amish is where my heroine, Ruth Jessup finds herself. Away from the humdrum pitfalls of our modern society. The Amish people live a simplistic lifestyle—without cell phones, computers, and micro-wave ovens.
Wrapped around a sweet romance, my heroine and hero meet upon the brink of an EMP (Electromatic Pulse) Attack. Within the pages of Love's Final Sunrise, I include Scriptures, Amish common-sense know how, recipes, and home remedies.
Here is a section of the back jacket of Love's Final Sunrise for your review.
Once the huntress—she is now the hunted.
New Yorker Ruth Jessup and Amish-bred Joshua Stutzman live in different worlds. But their lives collide into catastrophic proportions as they battle wits against a psychopath and the New World Order.
After Ruth wakes from one of her reoccurring nightmares, she prepares for the day's fox hunt, rides down a lonely stretch of road in Owenson, Michigan, and is suddenly immersed in her nightmare.
Fleeing for her life and suffering from amnesia, she finds herself in an hourglass of yesteryear. No televisions, radios, cell phones, or computers, only buggies and lanterns, planting and canning.
If not for Joshua, Ruth would be lost and homeless. An attraction blossoms, but the chaos of the biblical seven-year tribulation blankets the world. Can Joshua's Amish ways help them survive these next three-and-one-half years?
And without the mark of the beast, will they escape the executioner's axe?
GIVEAWAY: Catherine has been on my Step into the Light Radio show many times before. Have you had a chance to read any of Catherine's books? Wilted Dandelions, Swept into Destiny, Destiny's Whirlwind, Destiny of Heart, and Waltz with Destiny? What do you look for in a good read; educational, historical accuracy, romance, adventure, or pleasure?
I WILL DRAW THE NAME OF ONE FORTUNATE PERSON FOR A DIGITAL COPY OF LOVE'S FINAL SUNRISE. DRAWING CLOSES TUESDAY, DECEMBER 6TH AT MIDNIGHT MST.
BY LEAVING A COMMENT, YOU GRANT PERMISSION FOR YOUR EMAIL TO BE REVEALED TO THE AUTHOR IF YOU ARE THE WINNER TO FACILITATE RECEIPT OF YOUR BOOK.
Catherine, after readers have read Love's Final Sunrise, what can they do to help make this novel more successful?
The best way to help me, or any author, is to write a review on Amazon, Barnes & Noble, and Goodreads. These are the most common spots. However, my publisher, CrossRiverMedia.com has opened their reviews for the public to utilize. https://www.crossrivermedia.com/product/loves-final-sunrise/
Bookbub is another great place you can post a review.
Only when we hear from our readers, do we know if we succeeded in making our characters and story real enough for our readers to immerse themselves in every page and feel the magic when their imagination takes flight!
For more information about Catherine and her books, please see:
Website: https://www.CatherineUlrichBrakefield.com
Link to book:
https://www.crossrivermedia.com/product/loves-final-sunrise/
Be first to know my latest news and giveaways by signing up for my Newsletter: https://www.catherineulrichbrakefield.com/newsletter-sign-up-form.html
CrossRiver Media Author page; https://tinyurl.com/bdfwp44c
Amazon Author Page and learn about my newest books: https://tinyurl.com/s72y46ce
Author Facebook: https://www.facebook.com/CatherineUlrichBrakefield/
Goodreads: https://tinyurl.com/2p9d7x6d
BookBub: https://www.bookbub.com/profile/catherine-ulrich-brakefield?list=about
Blog: Hope, Hearts, and Hoofbeats https://tinyurl.com/4ebuu63p
Visit me the 16th of every month on Heroes, Heroines and History www.HHHistory.com
SUBSCRIBE TO PATTI'S BLOGS HERE