Sitting Idle
A writer friend posted a message on Facebook this morning asking if anyone had some extra self-discipline to share. I responded that if she found anyone giving it out, I'd be second in line for some.
The interchange reminds me of the train sitting idle on the track up the street. What do trains have to do with self-discipline? Probably nothing, but let me explain my atypical thought process.
Our small town has a train station that has been in a state of disuse for decades. Amtrak barrels through twice daily, but our map dot is not on its list of stops. However, dozens of freight trains snake their way down the rails on a weekly basis, carrying anything from a hundred plus cars brimming with coal to a mixture of boxcars containing many different forms of cargo.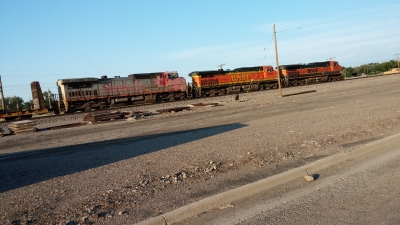 A couple of times a week, a freight train stops and, after it is separated into two parts to allow access to the main railroad crossing, just sits there. For days. Belching out smoke, pistons pumping, emitting a steady roar that threatens to set the iron monster in motion at any moment, the engines expend energy hour after hour without moving one iota.
Sometimes, I feel like that train. Thoughts churn around in my brain all the time as I brainstorm about the three WIPs I've been working on for way too long now. I carry on conversations between my characters and an endless parade of scenes march through my head that would move my stories to their final conclusion. Article ideas come to mind on regularly, yet they seldom make it to a piece of paper or a Word file.
That idle train must have someone on the other end of the line waiting for its cargo. I wonder how many people would be positively influenced by the expression of my ideas, if only I would set myself in motion and start moving down the track to my destination.
I'm sure the railroad has a perfectly logical reason why their trains sit in our rural town, burning fuel and going nowhere. As for me, I'm not so fortunate. Unlike the railroad that only moves its cargo when some executive gives the order, I have to rely on self-discipline.
So, back to the original question. Does anyone have any to share?
This post is inspired by my good friend Peg Phifer, who at a few years my senior published her first novel. Despite the loss of her husband a year aago, a move halfway across country, and many physical ailments, she perseveres as she works on her second.