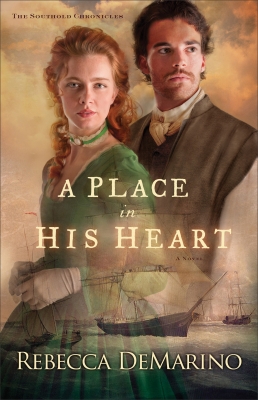 Title of book: A Place in His Heart
Author: Rebecca DeMarino
Publisher: Revell, a division of Baker Publishing
Genre: Historical Romance
Series or stand alone: Book #1 of a three-book series
Target age: Adult
I AM SO PLEASED TO WELCOME AUTHOR REBECCA DeMARINO TO PATTI'S PORCH. REBECCA SHARES SOME FASCINATING INFORMATION ABOUT THE STORY BEHIND HER DEBUT NOVEL.
REBECCA IS OFFERING A GIVEAWAY OF HER BOOK, A PLACE IN HIS HEART. CHECK BELOW TO SEE HOW TO ENTER TO WIN.
Tell us about yourself.
It's been my good fortune to live in many places, but I've always considered the Pacific Northwest to be my home. My father was a Navy pilot so he and my mother made a home for us all over the map until they retired to a ranch in Oregon. I grew up with horses and reading and riding were my childhood passions. Married life brought more travel. As the wife of an Air Force officer, I raised three beautiful daughters, relying on my mother's example of how to make a home anywhere and find the good in each place. All these journeys led me to where I am now, married almost eight years to my sweet husband and living in the beautiful Columbia Gorge. I'm retired from working as a customer service director for United Airlines. When I'm not writing I enjoy being with my family, genealogy, travel, reading, hiking, baking and gardening.
Tell us about your current release.
My debut novel, A Place in His Heart, is a historical romance inspired by the lives of my ninth great-grandparents, Barnabas and Mary Horton. It is book one of The Southold Chronicles and is set in the 17th century. Anglican Mary Langton longs to marry for love. Left at the altar and disgraced in her small hamlet, she is being pressured to marry the eligible son of the London milliner. Puritan Barnabas Horton still grieves the loss of his beloved wife, but he knows his two young sons need a mother. With tender hearts, Mary and Barnabas take a leap of faith and wed. But when Barnabas's secret plans to move his family to the New World to escape persecution come to light, Mary's world is upended. She could cross an ocean, but can the Anglican bride ever reach the secret places of the Puritan widower's heart?
Is there a particular character that you were drawn to?
I found Barnabas very intriguing because he took off on a life of his own – which is good! But Mary was truly the one I was interested in. She is my ninth great-grandmother and there was so little information about her. But I got to know her and experience her a number of ways. I visited Plimoth Plantation and went on board the Mayflower II. I took a one day 17th century cooking course at the Alice Ross Studio on Long Island, and I walk the same roads and stood on the same beach as Mary Horton and recreated in my mind her feelings and emotions.
How did you choose the setting for your book?
It chose me! I grew up listening to my mom's stories about Barnabas Horton, my ninth great-grandfather and how he came across the pond from England on a ship called The Swallow. When my brother became interested in genealogy, we discovered there was a lighthouse named after Barnabas, located on Long Island. I asked my mom if she'd like to go there, and off we went. There was a lot of interesting information about Barnabas. He was a baker and a widower with two young sons when he met my ninth great-grandmother. But I could find very little about her, and I began to wonder about what dreams and motivation she had, and courage she must have possessed, when she married and then left her family behind for the wilds of Long Island. A few years later, I began writing my first novel with a desire to give Mary a voice.
What is something most people would not know about you?
I'm an introvert – which is really not surprising for a writer I guess.
Are there spiritual themes you like to write about?
That God is with us no matter how much we mess up – all we have to do is ask. He's there waiting.
What lesson is the Lord teaching you right now or recently taught you?
To meet God in the morning and seek him throughout the day.
What did you learn writing your novel that you did not expect?
The most remarkable thing to me was that almost four hundred years later, we are confronted with many of the same struggles. In the seventeenth century the mortality rate of childbirth made marriage of convenience quite common as men tried to provide for their children and could only hope that love would follow. Today the divorce rate causes many young mothers to marry more for convenience than for love in order to provide for their children. A wise man once told me that though God may have a plan for our lives, He doesn't make us choose it. But He does promise to hold our hand, no matter what path we walk down, if we but ask Him to.
When is your next book due out and can you tell us about it?
Book #2 of The Southold Chronicles is due out June, 2015! The young Horton boys are all grown up!
LEAVE A COMMENT TO BE PLACED IN THE DRAWING TO WIN A COPY OF A PLACE IN HIS HEART BETWEEN NOW AND FRIDAY, AUGUST 29TH AT MIDNIGHT MST. DON'T FORGET TO LEAVE YOUR CONTACT EMAIL SO YOU CAN BE NOTIFIED IF YOU WIN!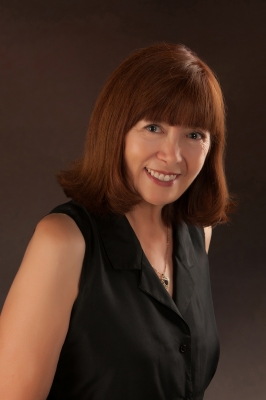 Rebecca DeMarino lives in the Pacific Northwest, and inherited her love of baking and gardening from her mother, a love of horses, reading and writing from her dad, and a wanderlust gene from both parents. No one knows where she got her passion for jogging and hiking! A Place in His Heart, is a historical romance inspired by her ninth great-grandparents, Barnabas and Mary Horton, and is book one of The Southold Chronicles.
Connect with Rebecca:
Like Rebecca on Facebook
Follow Rebecca on Twitter
Add Rebecca to your circles on Google+
Follow Rebecca on Pinterest
Subscribe to Rebecca's Blog and/or Newsletter