By the Numbers
by
Patti Shene
I never was one who had an issue with telling people my age or my weight. One only has to glance at me to know that I'm not thirty something and don't weigh a trim 120.
I've always enjoyed numbers, but lately I've become numbers conscious in a whole new way.
There's not a thing I can do about my age. I can't turn back the clock and take twenty years off, and I'm not sure I would want to if the option were available. I'm comfortable with my age. I long ago accepted the fact that a whole lot more years stretch behind me than ahead of me. Still, I have no doubt that if I plan it right, I just may accomplish more in the years ahead than I ever did in the years gone by.
The number that fluctuated for me for a long time was my weight. I was so proud of myself after I quit smoking in 1999 that the increase in my weight was inconsequential. Every time I looked in the mirror and noticed the added pounds, I consoled myself with the fact that I was smoke-free, and boy, had I struggled to get that way!
Now that I see the years taking their toll on the bodies of friends and loved ones around me, I decided I better start "tipping the scales" in my favor by getting in shape. I realized my weight is much too big a number in my life.
When the "9" appeared in the ones column on the digital scale, I started getting nervous, knowing a "9" in the tens column loomed only one pound away. I swore I would never let myself reach 200 pounds, and 190 would have put me way too close to 200 pound territory.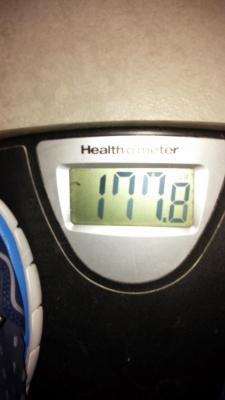 I played with my weight for a long time, never seriously dieting, but dropping candy or pop or chips from my diet for a few weeks. I usually did this during the Lenten season, adding the incentive of tremendous guilt if I caved in. The resolve usually came to an end on Easter Sunday, though.
Then, I started walking. Not just a mile or so between errands, but seriously, keep track of my time and my pace, three miles a day walking. Around that time, I added a program to my Smart Phone that allows me to record my calorie intake, water consumption, etc. It's made me very accountable.
It also records how many calories I burn when I walk. Believe me, if I burn 290 calories on a one hour walk, I think more than twice about reaching for that 250 calorie candy bar that I would easily consume in less than a minute.
Slowly but surely, I've watched the numbers on the scale decrease a few ounces at a time. It was fun to see those digits in the ones column make their gradual descent, but when the "8" in the tens column inched down to a "7," it got downright exciting! Now, I'm working toward the day when I see that "7" replaced by a "6."
The first day I walked those three miles with a companion, I thought I would die before I got home. Now, due to family obligations and her work schedule, she is unable to walk with me, so I've downloaded an app on my phone that allows my favorite radio station to keep me company. The weather is turning cooler, which makes walking that much more enjoyable for me.
The payoff is not only more energy and stronger muscles, but I feel good about living day to day by the numbers!