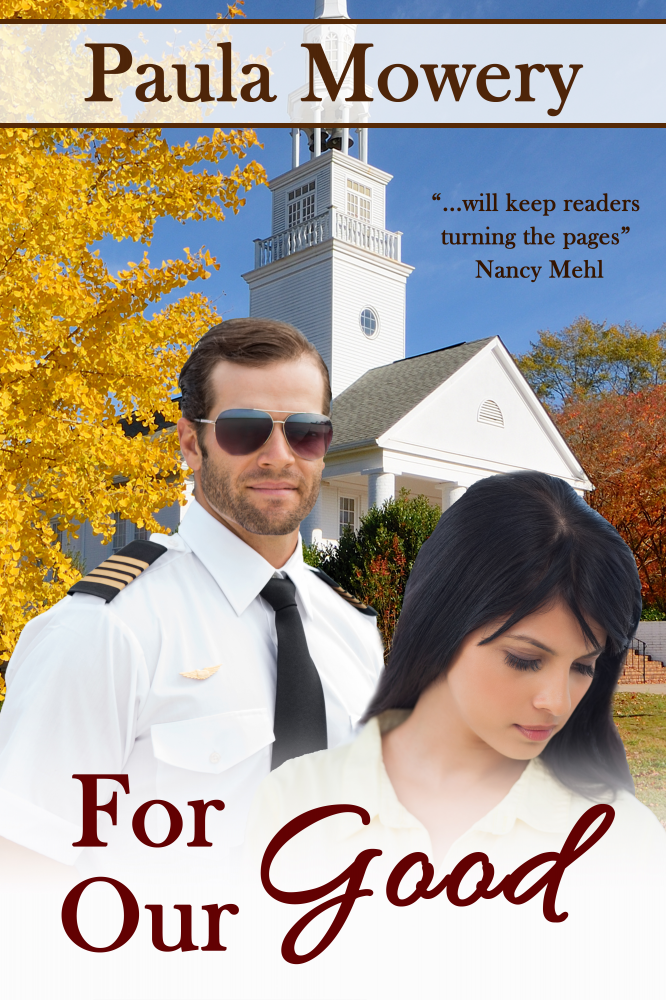 Featured book: For Our Good
Author name: Paula Mowery
Publisher: Prism Book Group
Genre: Christian romantic suspense
Stand alone or series: stand alone (at this time)
Target Age: Women 20+
I'M PLEASED TO WELCOME AUTHOR PAULA MOWERY. PAULA INTEGRATES A SAMPLE OF HER WRITING WITH HER THOUGHTS TO SHARE SOME INSIGHT INTO JUST HOW IMPORTANT GOD NEEDS TO BE IN OUR LIVES.
PAULA IS OFFERING A GIVEAWAY OF AN EBOOK COPY OF FOR OUR GOOD. CHECK BELOW TO SEE HOW TO ENTER TO WIN.
Is God relegated to just certain areas of your life?
Excerpt from For Our Good:
"The Spirit nudged me awake last night, and I felt prompted to return to a passage of scripture that just wouldn't leave me alone."
Charlie eased into the chair across from his desk and sighed. "I thought this was about the case."
"It is."
Charlie folded her arms across her chest. "Okay."
"After I reread the passage again, I noticed some other scripture references." He grabbed his Bible out of his briefcase.
Charlie held up her hands. "Whoa. Jordan, this isn't church. It's not the place for that." She slumped back into the chair.
"Charlie, every place is the place for this." He held up his Bible. "What I believe about the truths from this book isn't checked at the door." He leaned forward and looked her in the eyes. "This isn't the first time the Lord has prompted me in my work. I can't rely on my reasoning, intellect, and training only. I have to pay attention to the Spirit's prompting. And especially this time."
This was a scene I wrote for my book, For Our Good, that jolted me. I paused at the end of it and had to contemplate the truth of what Jordan says and its significance.
Being a Christian and depending on the Spirit's leading shouldn't be relegated to specific times and places. Being a Christian isn't something to be done but something we are. Just like depending on the Spirit to help us be discerning in all situations makes us wise followers.
Think of it this way. If God has called you to a particular occupation, doesn't it stand to reason that He will guide you in it?
So often we think only pastors and ministers must be able to utilize what the Spirit reveals in God's Word. But every Christian contains the Spirit.
"We have not received the spirit of the world but the Spirit who is from God, that we may understand what God has freely given us. This is what we speak, not in words taught us by human wisdom but in words taught by the Spirit, expressing spiritual truths in spiritual words." 1 Corinthians 2:12-13
In this verse Paul is speaking to the church in Corinth, not to the leaders only. As Christians we contain the Spirit from God for the purpose of understanding spiritual truths.
As I considered Jordan's words in the scene above, I had to examine my life. What insights have I missed out on by keeping the Spirit boxed up while I work? What if I stayed plugged into the Spirit's power and remained sensitive to His nudges?
For Our Good Blurb
Charlie Jarvis is haunted by loss that fuels her desire to rid the world of drug traffickers. When her next assignment takes her back to her hometown, she has to confront her painful past. She has no interest in a relationship since God seems to kill everyone she loves.
Colton Thomas appreciates material things and the status of being a corporate pilot. When someone approaches him to deliver a package for a large sum of money that could wipe out his debts, temptation knocks loud on his door even as his partner, Marshall, slams it shut. Meeting Charlie challenges his non-committal stance with women. As he considers who he has become and the kind of man he would want to be for Charlie, he confronts his own shallow lifestyle and the fear that he would never be able to help her heal her wounds.
As Charlie pursues the man causing young boys to die of overdoses, she struggles with the secrets she keeps from Colton. With people around them shining the light of God and encouraging their courtship, both Charlie and Colton have to face hard truths about life, death, love, and faith. And maybe find a fresh start for them both.
LEAVE A COMMENT TO BE PLACED IN THE DRAWING TO WIN AN EBOOK COPY OF FOR OUR GOOD BETWEEN NOW AND FRIDAY, SEPTEMBER 25TH AT MIDNIGHT MDT.
Paula is a pastor's wife, mom to a college student, author, acquiring editor, and speaker. No matter the hat she wears, she strives to honor God's plan even if it means going out on a limb and leaving comfort zones. Reviewers have characterized her writing as "thundering with emotion." Her book, Be The Blessing, won the 2014 Selah Award in the novella category. Paula enjoys reading and reviewing Christian fiction, writing Christian romance and devotionals, and helping other authors realize their dream of publication.
Learn more about Paula at her blog, follow her on Facebook, and enjoy her monthly columns on Christianonlinemagazine.