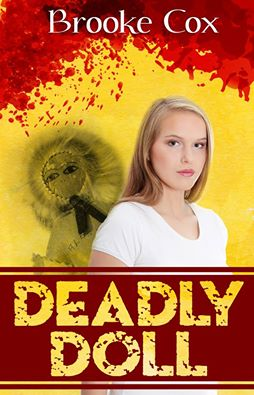 FEATURED BOOK: Deadly Doll
AUTHOR: Brooke Cox
PUBLISHER: Mantle Rock Publishing
GENRE: Mystery
SERIES OR STAND ALONE: Stand alone
TARGET AGE: 12 and up.
ALTHOUGH WE'VE NEVER MET IN PERSON, I FEEL LIKE I'VE KNOWN BROOKE FOR A NUMBER OF YEARS. IT'S A PLEASURE TO WELCOME HER AS SHE INTERVIEWS THE MAIN CHARACTER FROM HER MYSTERY NOVEL, DEADLY DOLL.
BROOKE IS OFFERING A GIVEAWAY OF DEADLY DOLL. CHECK BELOW TO SEE HOW TO ENTER TO WIN.
I am talking with Brooksie today from Deadly Doll. Brooksie, that's such an unusual name.
Brooksie: My name suits me. It's different and so am I. I don't fit in with my family. Even though they love me, they don't understand me. Sometimes it's difficult to deal with. I used to ask God why He made me the way He did. You see, my family is content to stay on the farm and I'm not. I wanted to have grand adventures. I got one all right.
What lead to your adventure?
Brooksie: When I was twelve, I was pretending to be on an adventure when I accidently discovered a secret room off of my grandparent's attic. Hidden inside was my mother's Alaskan doll that came up missing years ago when my mother was a little girl. My great grandfather sent it back to her when he was living in Alaska. It was handmade by Eskimos.
How can finding a lost doll bring about an adventure?
Brooksie: After I found the doll, I took it home so I could give it to my mom when she got in from work. My dad took it away from me and he was murdered outside of my room a week later. I was so upset over his death that I actually forgot about the doll. Thanks to a freak accident I found the doll again six years later. That's when I realized my dad had hidden it. And I also realized my bringing it back home may have caused his death. I had to find out what was going on with my mother's doll. After my cousin Darlene and I looked it over, we found a clue inside the doll.
A real clue! What did it lead to?
Brooksie: It led to another clue. It was like a scavenger hunt into my family's past. Darlene and I knew whoever wrote the clues had to have been another family member or close to the family. We hoped the clues would lead to why people kept hiding the doll.
Did you have a lot of excitement?
Brooksie: Oh yeah! Darlene and I got into a car chase and we were held at gun point twice by different people looking for what they thought the doll would lead them to.
Did you get the answer you were looking for?
Brooksie: Yes and then some. I discovered some family secrets that really bothered me for a while. But most of all, I learned to be the person Jesus created me to be. By being imaginative and daring, I was able to solve a family mystery that nobody could've done. And, I realized there's more to being a Christian than just sitting on the pew every Sunday.
Brooksie, don't you and Brooke share a lot from the book?
Brooksie: Yes we do. If it wasn't for the tree outside of Brooke's bedroom, the freak accident that happened in the book would've happened to her. Brooke's grandfather really did keep a black snake in his barn. And there really was a green Goliath mask that used to scare her mother as a child. And the story Papaw Asmus told to me, really happened to Brooksie's great grandfather. He did live in Alaska and helped to deliver mail. One day he and the mailman were caught out in a bad storm while on the Baltic Sea.
The biggest thing we share is the Alaskan doll. It is real and Brooke's mother Gail still has it. Her great grandfather sent back from Alaska when Gail was a small child. She still has it and keeps it wrapped up in a trunk.
Patti here: Brooke, thank you for encouraging Brooksie to share her story with us!
Book cover blurb or Deadly Doll:
Adventurous twelve-year old Brooksie discovered a hidden room in her grandparents' attic. She opened up an old hat box and found her mother's favorite childhood doll wrapped up inside. Brooksie's great-grandfather sent it from Alaska and it was believed to have burned in the trash pile years ago. After showing it to her father, he takes it from her. A few days later he was murdered and the doll becomes a faded memory until it reappeared six years later after a freak accident.
What was it about the doll that people kept hiding it? Could finding the doll have played a part in her dad's murder? If the doll had remained hidden would he still be alive? Brooksie and her best friend Darlene delve deep into the doll mystery which has them learning about a past that Brooksie never knew existed. Along the way, Brooksie's thirst for adventure and acceptance has the girls stumbling on the edge of danger.
What shocking family secrets might she find and could they change her life? Will she finally understand why God made her so different from the rest of her family and will it draw her closer to Him? Can Brooksie finally accept who she is?
Find Deadly Doll on Amazon.
LEAVE A COMMENT TO BE PLACED IN THE DRAWING TO WIN A COPY OF DEADLY DOLL BETWEEN NOW AND FRIDAY, DECEMBER 11TH AT MIDNIGHT MST.
Brooke Cox is an old tomboy who still likes to have fun and adventure. She has been married for 30 years to Tim, her high school sweetheart. They have a daughter, Sara, and a miniature dachshund that thinks he's their other child. She hopes to be able to use her quirky imagination to spread God's word.
Visit Brooke at her two blogs, groovybrooksie and myskinnedknees. Connect with Brooke on Facebook, Linkedin, and Goodreads.