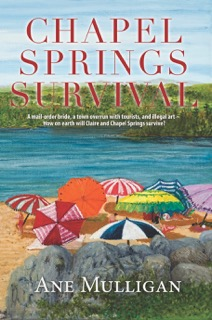 FEATURED BOOK: Chapel Springs Survival
AUTHOR: Ane Mulligan
PUBLISHER: LPC (Lighthouse Publishing of the Carolinas)
GENRE: General fiction - Southern-fried
SERIES OR STAND ALONE: #2 in the Chapel Springs series
TARGET AGE: 35-70 (although I've had 25 year0olds love it
IT IS MY PLEASURE TO WELCOME AUTHOR ANE MULLIGAN BACK TO PATTI'S PORCH. LIKE ANY GREAT AUTHOR, ANE HAS TAKEN AN UNEXPECCTED EVENT IN HER OWN LIFE AND USED IT AS THE BASIS FOR A NOVEL. SHE TAKES US BACK TO CHAPEL SPRINGS, WHERE CLAIRE BENNETT, AFTER REVIVING THE TOWN IN BOOK ONE, NOW FINDS HERSELF IN A BATTLE TO SURVIVE CONFLICT SHE NEVER SAW COMING IN BOOK TWO!
ANE IS OFFERING A GIVEAWAY OF CHAPEL SPRINGS SURVIVAL. CHECK BELOW TO SEE HOW TO ENTER TO WIN.
The second book in my Chapel Lake series, Chapel Springs Survival, came from a real life event—and became a mother's retribution. Insert creepy music and evil laughter.
The day started out normal, boring even. Then I got a phone call from our eldest son.
"Hey, Mom. I emailed you some pictures. Take a look and call me back."
Click. He hung up. Without asking how I was. I hurried to my computer.
I opened his email, and the first photo was of a nice looking, very Latin appearing young woman. Something told me she wasn't from here. I clicked on the second photo—a photo with her in a wedding dress.
I hit speed dial.
It seems our eldest son, a widower with two children, had gotten himself a 21st Century mail order bride. He met her in a chat room for women in Columbia, South America, to meet and marry American men. They communicated for a year, then he flew to Columbia and married her.
Without us knowing anything.
He came back and spent the next year trying to get her into the U.S. legally.
Did I mention it was without us knowing anything?
He didn't tell us until she got here. Our two grandchildren knew. His brother knew. But we didn't. Do you remember that old margarine commercial, where the woman said, "It's not nice to fool Mother Nature" and zapped someone?
That's what I said. I told him for not telling me, it was going in a book. And it did.
Now, I have to tell you that any similarity between our son's story and my book stops there. Our daughter-in-law turned out to be the best thing that ever happened to our Michael. We adore her and our two step-grandsons and the newest Mulligan grandson.
Now, that wouldn't have made a good story. There was no conflict. But add Claire Bennett into that mix, and there's plenty. To find out how it turns out, be sure to pre-order Chapel Springs Survival, releasing December 3rd.
To help promote the new book, my street team came up with the idea of putting together a cookbook as the characters from Chapel Springs. The submitted recipes (as the characters) and my publisher loved the idea and published it. It's a real one-of-a-kind collector cookbook, that's for sure.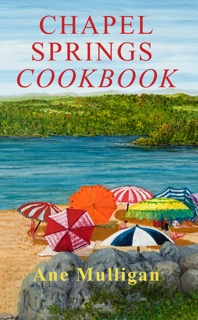 Blurb for Chapel Springs Survival, (book 2 in the Chapel Springs series)
A mail-order bride, a town overrun with tourists, and illegal art.
How on earth will Claire and Chapel Springs survive?
Claire Bennett's Operation Marriage Revival succeeded and life is good. That is until the mayor's brother blabs a secret: Claire's nineteen-year-old son has married a Brazilian mail order bride. When Claire tries to welcome her, she's ridiculed, rebuffed, and rejected. Loving this girl is like hugging a prickly cactus.
Lydia Smith is happily living alone and running her spa—then the widow on the hill becomes a blushing bride. Then her groom's adult son moves in—on everything.
From the first sighting of a country music star in The Painted Loon, Chapel Springs is inundated with stargazers, causing residents to flee the area. When her best friends put their house on the market, Claire is forced to do something or lose the closest thing to a sister she's got. With her son's future at stake and the town's problems to solve, it's Claire's who needs a guardian angel.
LEAVE A COMMENT TO BE PLACED IN THE DRAWING TO WIN A COPY OF CHAPEL SPRINGS REVIVAL BETWEEN NOW AND SATURDAY, DECEMBER 26TH AT MIDNIGHT MDT.
Ane Mulligan writes Southern-fried fiction served with a tall, sweet iced tea. She firmly believes coffee and chocolate are two of the four major food groups. Novelist and playwright, Ane is the executive director of Players Guild@Sugar Hill, a new community theater and president of the award-winning literary site, Novel Rocket. She resides in Sugar Hill, GA, with her artist husband and a dog of Biblical proportion.fnd Ane on the web: