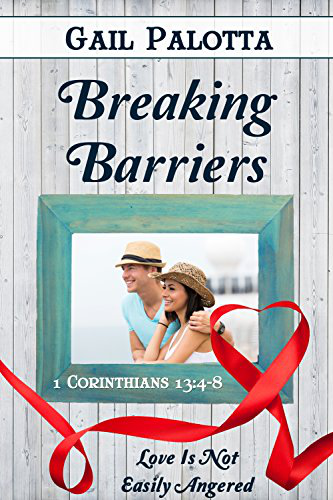 FEATURED BOOK: Breaking Barriers
AUTHOR: Gail Pallotta
PUBLISHER: Prism Book Group
GENRE: Romantic suspense
SERIES or STAND ALONE: Part of Prism Book Group's Love Is...Series taken from I Corinthians 13: 4 - 8
TARGET AGE: Adult
IT IS MY PLEASURE TO WELCOME AUTHOR GAIL PALLOTTA. GAIL SHARES HOW AN OLD MANUSCRIPT FOUND THE PERFECT HOME.
GAIL IS OFFERING A GIVEAWAY OF AN EBOOK COPY OF BREAKING BARRIERS. SIMPLY LEAVE A COMMENT BELOW TO ENTER THE DRAWING.
My favorite Bible verses are from Matthew 22: 37 - 39: "...Love the Lord your God with all your heart and with all your soul and with all your mind. This is the first and greatest commandment. And the second is like it: Love your neighbor as yourself."
I especially like these verses because they give us Jesus's Gospel of love in only a few words.
When I learned that Joan Bauer Alley at Prism Book Group wanted to publish a series taken from I Corinthians 13: 4 - 8, I was so excited. We all hear this passage over and over at weddings. We read it at church and in Sunday school. These precious words describe love for us. What an honor it would be to be part of something like that, I thought.
I read the Scripture over and over. Was there a line meant for me to explore in a novella? If so, which one was it, and could I write something worthy of it? Finally, the words "Love isn't easily angered" stood out to me. Years before I had worked on a book with characters filled with anger toward Christians. I'd left the manuscript in a drawer, but perhaps it was time I got it out.
However, the book needed a more personal story. I decided to contrast a consistently loving character to one who claimed to love, but demonstrated anger in his actions and words. I gave the victim of this anger a strong faith. Christianity is her fortress. It means so much to her she's willing to defend it against the unsavory people attempting to destroy it.
The book had been in my desk and my heart for a long time, and now when it appears we need to wrap ourselves around all the kindness we can find, it seemed right to bring it to life.
Book Cover Blurb for Breaking Barriers:
In this action-packed thriller gunshots ring out as Ann Jones enters church. She hides in the bathroom until they stop then stumbles into the sanctuary. The congregation lies dead in pools of blood. To rebuild the church she starts True Light Guardians. At the first meeting she's attacked by a terrorist but rescued by James Crawford. He melts her heart, cold from her father's abuse, and they fall for each other. She's afraid to commit to love that might grow angry later like the type she knew as a child. James yearns to stop other attempts on Ann's life, but can't. Tormented by her constant risks, he breaks up with her. When an assault sends her to the hospital, an unlikely ally shares Ann's plight with James, but he reveals a lead that puts all three of them in even more danger.
DON'T FORGET TO LEAVE A COMMENT TO BE PLACED IN THE DRAWING TO WIN AN EBOOK COPY OF BREAKING BARRIERS BETWEEN NOW AND FRIDAY, AUGUST 19TH AT MIDNIGHT MDT.
Gail Pallotta is a wife, mom, swimmer and bargain shopper who loves God, beach sunsets and getting together with friends and family. A regional Writer of the Year for American Christian Writers Association in 2004, she was a 2013 Grace Awards finalist. Gail has published five books, poems, short stories and several hundred articles. Some of her articles appear in anthologies while two are in museums. Connect with Gail online: