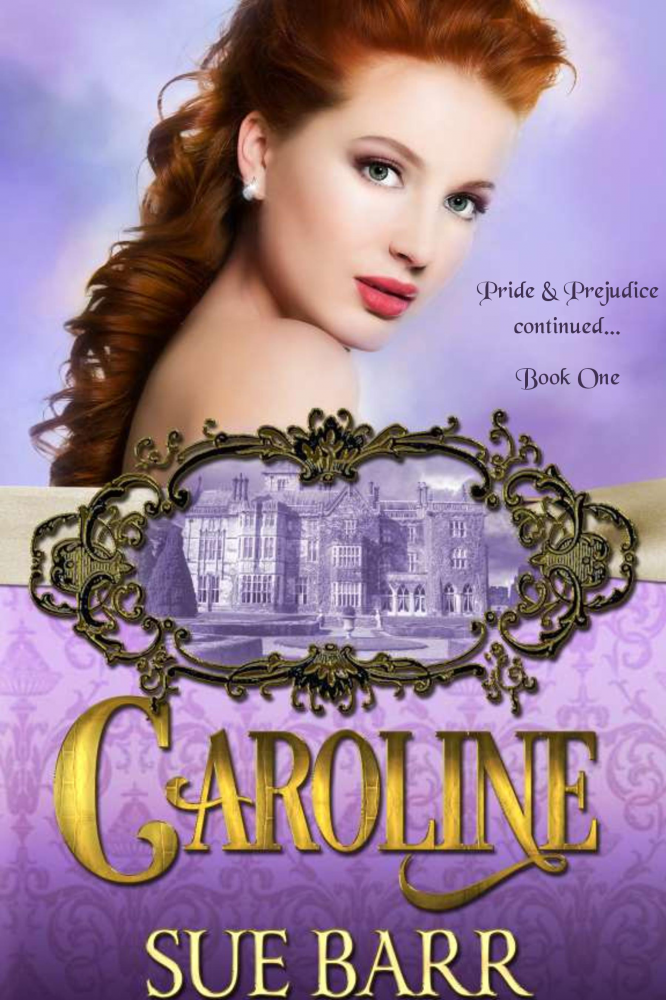 FEATURED BOOK: CAROLINE: Pride & Prejudice continued...
Book One
AUTHOR: Sue Barr
PUBLISHER: Sue Barr
GENRE: Christian Historical Romance
SERIES OR STAND ALONE: Series
TARGET AGE: 16+
IT IS MY PLEASURE TO WELCOME CANADIAN AUTHOR SUE BARR TO PATTI'S PORCH. SUE REMINDS US THAT, OUT OF LOVE, GOD BECKONS US TO COME TO HIM.
SUE IS OFFERING A GIVEAWAY! SIMPLY LEAVE A COMMENT BELOW TO ENTER THE DRAWING FOR A PRINT OR EBOOK COPY OF CAROLINE: PRIDE AND PREJUDICE CONTINUED…Book One.
Where Are You?
by
Sue Barr
And they heard the sound of the Lord God walking in the garden in the cool of the day,
and Adam and his wife hid themselves from the presence of the Lord God
among the trees of the garden. Then the Lord God called to Adam
and said to him, "Where are you" Genesis 1: 8-9
I love these verses in Genesis for several reasons, the most obvious being that God came into the garden and walked among man. Adam and Eve heard Him in the garden. How marvelous. Could you imagine taking a stroll in the cool of the day with God? Talk about what you did and bring your concerns to Him with a face to face experience?
Here's the thing. We can. Although God is spirit, when you invite Him into your heart and life He becomes closer than a brother. You can have a conversation with Him anytime, anywhere, wherever you are.
The second reason I love these verses is the question God asks Adam. "Where are you?"
Do you think God, in all His omniscience, didn't know where they were hiding? Of course He did. He is the Lord God Almighty, but He chose to pursue Adam. He wanted Adam to know that He was seeking him out.
Even today, in our modern times, God pursues us. He beckons us to come to Him.
"Come to Me, all you who labor and are heavy laden, and I will give you rest.
Take My yoke upon you and learn from Me, for I am gentle and lowly in heart,
and you will find rest for your souls. For My yoke is easy
and My burden is light" Matthew 11:28-30
Right now God is asking - Where are you? Listen close and you will hear Him walking in the garden. Step out, take His hand and find peace, joy and an uncompromising love.
Blurb for CAROLINE: Pride and Prejudice Continued:
Whatever happened to Caroline Bingley after her brother and unrequited love interest married a Bennet sister? Join me in this story of redemptive love and the healing of broken dreams.
Caroline Bingley, beyond frustrated with her brother, Charles and Mr. Darcy both proposing to the Bennet sisters, dreads their upcoming nuptials. For three years her sole focus has been on attaining a marriage proposal from one Fitzwilliam Darcy of Pemberley, only to be foiled by a country miss with 'fine eyes'. Adrift and not sure of her place in life, she meets the mysterious and devastatingly handsome Lord Nathan, who equally vexes and intrigues her.
Lord Nathan Kerr, third in line to a Dukedom, had a well-earned reputation as a Rake. He cast all that and his noble title aside to become Mr. Darcy's vicar in Kympton, finding contentment in leading his small flock and doing the Lord's work. His plan for a quiet, country life is thrown into upheaval when he meets the fiery Miss Bingley. Can he reconcile his rising desire for the spoiled miss with how a vicar's wife 'should' behave?
Excerpt:
She sank onto the settee, her hand to her chest as it constricted with an unknown pain. For the past year she'd subtly hinted to a chosen few of Darcy's fondness of her and how she expected him to come up to scratch in the near future. That he would marry her, Elizabeth Bennet…
She broke off the thought, yet her mind refused to heed her desires, racing in a multitude of directions, all of which led back to the fact that her attendance at the wedding was mandatory. Crushed dreams or not, she had to present a pleasant face or risk becoming the laughing stock of the ton. It was only after Louisa went to speak with Cook about the evening meal that Caroline paced the front parlor, alone with her thoughts.
What was it about the men in her life that they became addlepated over a few plain country misses? Had they no sense at all? She blew out a frustrated breath and continued to pace.
She'd argued with her sister that although they would attend the wedding, there would be no convivial visits during Christmas. Louisa, the viper, pointed out they'd have to attend any and all christenings as Charles always wanted a houseful of children. At that statement she almost brought back up her tea.
She stopped pacing and clenched her fingers into a tight fist. Why hadn't Darcy kept Charles away from Jane, and more disturbing, why had he proposed to Elizabeth Bennet? If only Darcy and Charles had taken her with them, then neither would be marrying into that odious family.
Of that, she was positive.
She pivoted from the window and sat on the settee near the fireplace. Her foot bumped something beneath the small couch and she pulled out the pillow she'd been stitching. Tension snaked through her body at the sight of her pitiful attempt to capture Pemberley in needlepoint.
She nearly tossed the unfinished reminder of her failure into the fireplace, instead, all her anger, frustration, all her tattered hopes and dreams coalesced into a fit of fury and she tore the pillow to shreds with her bare hands. Minutes later, fingernails broken and fingertips bruised, she threw the mangled mess to the floor. Great gasps racked her chest as she fell to the floor and sobbed.
DON'T FORGET TO LEAVE A COMMENT TO BE PLACED IN THE DRAWING TO WIN A COPY OF CAROLINE: PRIDE AND PREJUDICE CONTINUED BETWEEN NOW AND TUESDAY, MARCH 14TH AT MIDNIGHT MST.
Buy Links:
Sue Barr is a transplanted Prairie girl who now resides in beautiful Southwestern Ontario with her retired Air Force hubby. She (and hubby – let's not forget him) have two handsome sons, four beautiful grandchildren and more fur babies than she cares to admit ownership of. Let's just state the obvious - she's a cat lady in training….
Sue loves to connect with her readers on Facebook and Twitter or you can take the more traditional approach and check out her website.