Yesterday, we celebrated Easter Sunday. For me, yesterday also marked the 10th month of my husband's passing. I wanted to do something special this Easter morning that would put me in touch with the Lord and remind me of my husband.
I had purchased fresh flowers for my husband on Saturday. What better way to celebrate Easter morning than to place them at his grave stone at sunrise? The National Cemetery where he is buried is a mere five miles away, I didn't quite make the sunrise, but it didnt' matter since it was overcast and there was no sun.
After arranging the flowers, I took my Bible, which I had brought with me, and read the account of the resurrection of Jesus as told in all four gospels. Despite the fact the sky remained cloudy, it was a beautiful, cool morning with the cheerful chirp of birds everywhere, the whisper of a breeze caressing my cheeks, and the sight of an occasional squirrel or rabbit scampering about. I returned to my husband's grave and snapped a photo. Suddenly, the clouds parted, bathing my husband's stone in bright sunshine. It lasted just long enough for me to take that second photo, then the clouds swallowed that instant of bright light.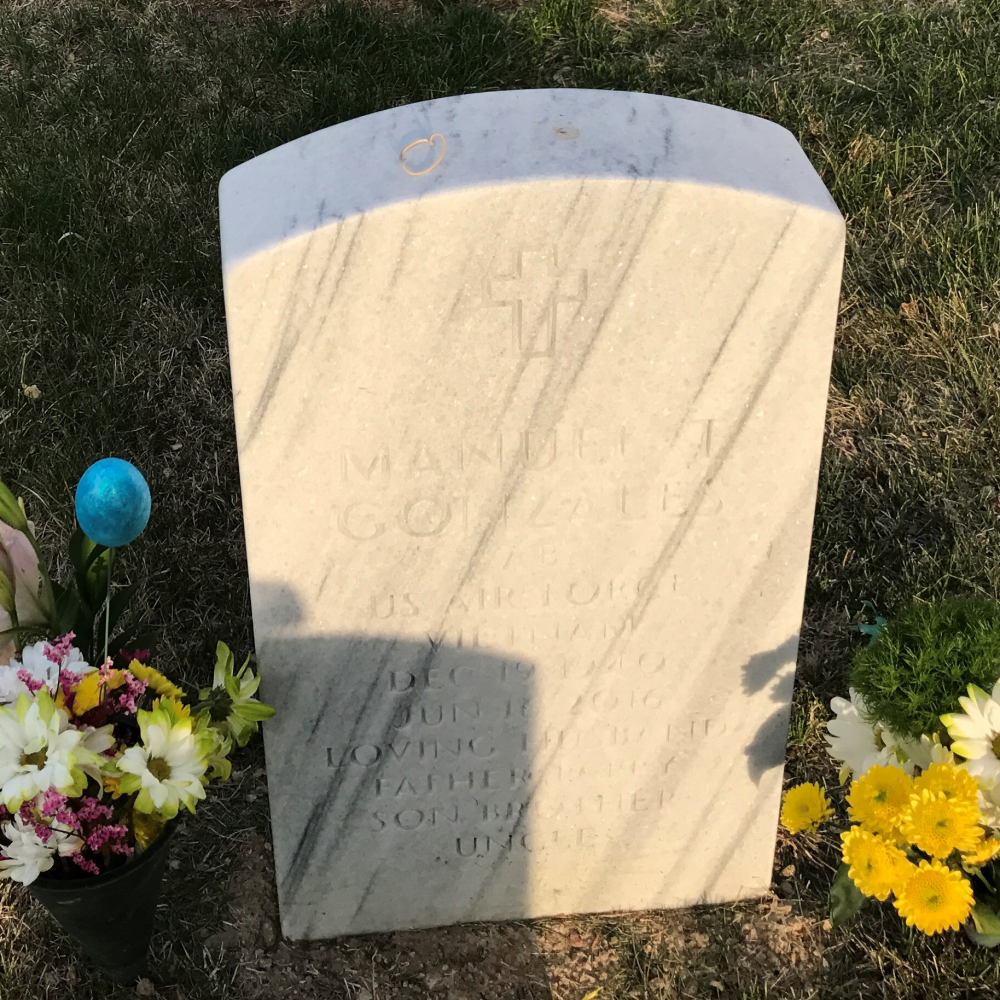 I walked the grounds for another thirty minutes and never saw the sun again until long after I had returned home. Those few moments of sunlight were a miracle, a gift from God, a message assuring me my precious Manuel is OK. He's in his Father's loving arms in a place so glorious I can't even begin to imagine what it will be like when I get there.
Our Easter worship service was wonderful, with joyous music to celebrate the most significant event in the history of Christianity and an inspiring and thought-provoking message from our pastor. Food and fun with family later in the day was also enjoyable, but all of it was enhanced by that one moment of sunlight at the cemetery.
Jesus performed miracles here on earth of magnificent proportion, casting out demons, making the lame to walk, the blind to see, turning water into wine, and feeding a huge crowd with a minimum amount of food. The greatest miracle of them all is what we celebrated yesterday, the resurrection of Jesus from the dead, His ultimate sacrifice to His children in ransoming Himself for us to cleanse us of our sins.
These miracles are astounding, but what I find equally as amazing is that our God loves and cares about us enough to place miracles in our lives just when we need them the most. They may not be huge, like a medically unexplained healing or the sudden appearance of a feast, but they are there. As we enter the Easter season, lets open our hearts and recognize the miracles!
Have you been the recipient of a miracle lately? I'd love to hear about it!