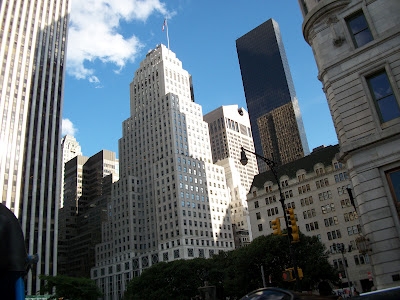 About a year after they married, our son Jason and his wife Jaque decided to make their home in New York City, a fair distance from our Colorado home. Two years ago, they stretched the mileage chasm even further when they moved to the UK.
Two years is a long time to not see your son, but contact such as instant messsaging on the computer, gmail chat via cell phone, and an occasional Skyped conversation along with a phone call every few weeks kept us pretty well in touch.
Three weeks ago, our daughter told us she was taking our granddaughter to the mall to do some back-to-school clothes shopping. My husband and I took our granddaughter, Madi, with us to look for a new laptop that morning, and when we took her home, we stayed for lunch and watched a movie.
I thought it strange, when it got to be late afternoon, that they had made no move to leave for their shopping trip, especially since the mall is eighty miles away. "The sale doesn't start until six, Mom," our daughter, Joelene, told me. "We have plenty of time."
When I texted her at 11:00 PM and she told me they were just leaving Pueblo, I was surprised. "Madi talked me into taking her out to dinner and we played some mini-golf."
Oh, OK, that made sense.
When 12:30 (A.M, mind you) rolled around, I was getting tired and thought I would text again just to be sure they were home before heading on to bed. No sooner did I get the text sent when I could have sworn I heard a car drive in the yard. I chuckled to myself. Madi must have talked her mom into letting her come over and show us all of her new school outfits, even though the hour was late.
I heard a knock on the door and went to unlock it with a smile for Madi, Towering above me with his six-one frame stood Jason! Joelene and Madi had been to DIA to pick him up, and they'd been keeping the secret that he was coming since April!
We had a wonderful couple of weeks together. Jaque had also come along, but they had parted ways in Charlotte, N.C. They had brought a friend from the UK, Josie, who had never been in the US, so Jaque and Josie flew on up to NYC to do some touring there while Jason flew on out to Denver.
A couple of days later, the girls flew to Denver, spent the night with a friend, and Jason drove up and picked them up the next day. They had a chance to visit friends and family here locally as well as take a couple of days to visit friends in Colorado Springs.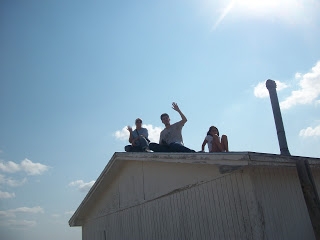 It was fun to watch "the kids" do some of the silly things they used to do together years ago, like climb on the garage roof! Back in the day, I would have been up there with them. Not any more!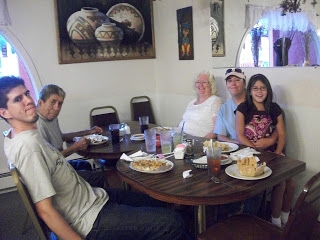 Jason sure misses Mexican food, so we went out to dinner at one of our local Mexican food restaurants.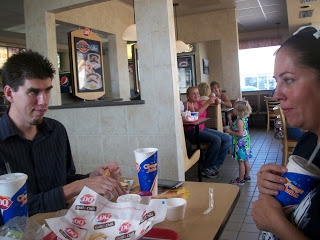 Um, Little Bro, did you really just take a drink of MY pop?
Dairy Queen is the only fast food restaurant in our small town, and of course we had to make a visit there!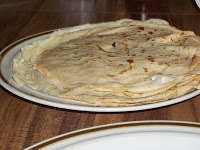 One day Josie treated us to home-made crepes. Oh, man, were they ever good!
Jaque mastered the art of flipping them, but, nope, I didn't even try!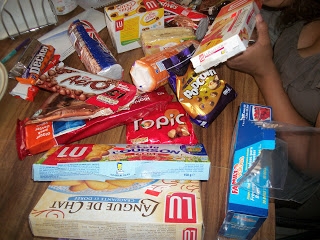 One evening, Jason and Jaque brought out a whole bunch of sweet treats from the UK. We're still enjoying the variety of candies and cookies! In the meantime, they purchased some of the favorites they miss, mainly Mountain Dew and Chips Ahoy cookies!
The vehicles overseas are smaller than here. They don't have many "big trucks" or SUV's, so I invited Josie to take my Ford pick-up for a spin.
The second week of their visit, the girls and Jaque's family went on a road trip out west to see Las Vegas and the Grand Canyon.
Jason was able to arrange to work while here, since he normally works from home on a computer. He brought a laptop with him and the company supplied him with a phone. Due to the time change between the UK and here, he worked his shift at night.
Of course, I didn't remember to get any more pictures until we were at the airport and the three were leaving!
Jaque & Jason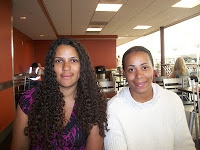 Jaque & Josie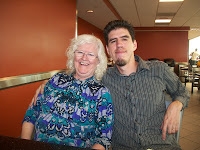 Jason & his mom (yours truly)

Jason was not thrilled about having to go through the body scanner at the airport, but they all made it out okay. As you can see, we had a chance for one last wave good-bye!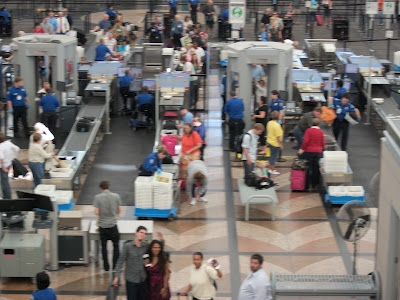 A lot of people say they miss the days when their children were young. I guess in a way I do too, but I'm also proud to see the adults both of our kids have become. It's fun to relate to them as adults, to listen to their view of the world, their experiences, and the sibling banter that occurs when they reminisce about their childhood.
Modern technology allows us to stay in touch with loved ones, no matter how much distance separates us. When kids move away, it's still hard, but not quite as hard as it was back in the day when the only means of communication was by letter or a phone call.
Still, it's not the same as giving a child (even an adult child!) a hug, seeing them smile with their sibling at some silly memory, or watching your once little boy stride across the room with the determination and maturity of a grown man.
We will cherish the memory of every moment of this visit and can't wait for the next one!