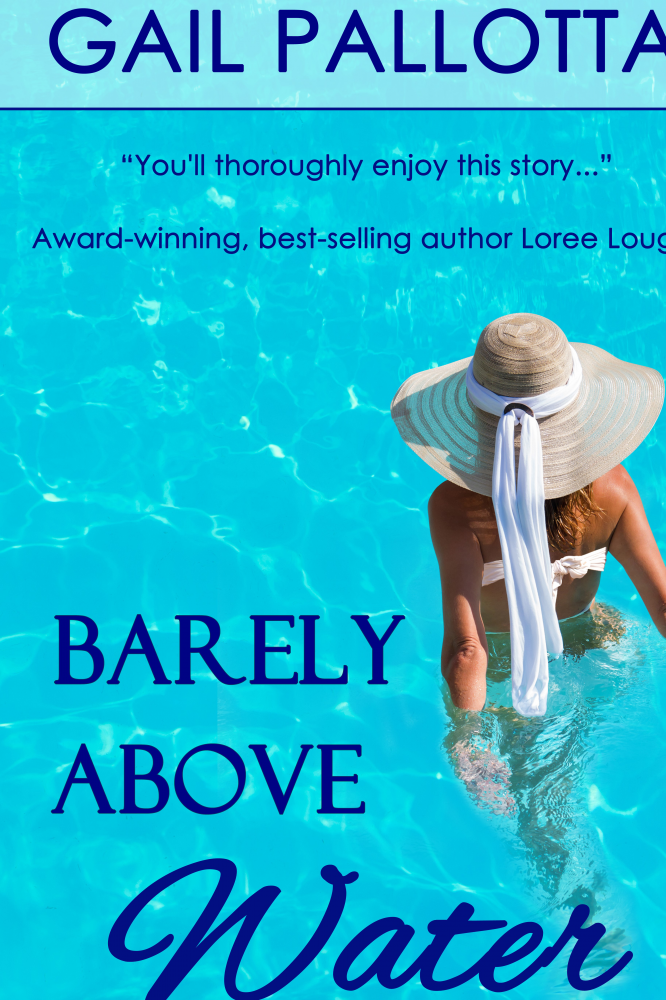 FEATURED BOOK: Barely Above Water
AUTHOR: Gail Pallotta
PUBLISHER: Prism
SERIES OR STAND ALONE: Stand Alone
TARGET AGE: Adult
IT IS MY PLEASURE TO WELCOME AUTHOR GAIL PALLOTTA TO PATTI'S PORCH. GAIL SHARES HER PERSONAL EXPERIENCE WITH DIVINE INTERVENTION.
GAIL IS OFFERING A GIVEAWAY! SIMPLY LEAVE A COMMENT BELOW TO ENTER THE DRAWING FOR AN EBOOK COPY OF BARELY ABOVE WATER.
DIVINE INTERVENTION
by
Gail Pallotta
Ten years ago I grew quite ill. The physician ran tests for one month then said, "We can't diagnose your problem, so there's nothing we can do." He explained that I had something in my system, but they couldn't identify it. Then he suggested I drink all the water I could hold, choose one or two foods I liked, and eat only a small amount of those. Perhaps, if I ate as little as possible the water would wash out the invader.
I left his office in a stupor, returned to the house and plopped down in a rocking chair in our bedroom. Finally, my mind woke up and I thought I'm going to die. Then call Dr. Lee popped in my head. At first I had no idea who he was. Then, I remembered he was a chiropractor who had helped a friend of mine ten years earlier. What did I want with a chiropractor? I dismissed the thought, but it persisted, so I phoned my friend. He turned out to be David Lee, D.C., Ph.D., CA.d., an alternative medicine doctor as well as a chiropractor.
I scheduled an appointment, and he told me the same thing the medical doctor had told me. "You have a foreign substance in your body." My heart sank to my toes because I thought he would say he couldn't treat me. However, he started treatment immediately to remove toxins. His assistant administered a scan to check the efficiency of my body's organs. When she showed it to me, she said, "We like to see these functioning at fifty-one percent or above. Yours range from eight to fourteen."
At that time I couldn't eat without having a horrible reaction to food. Unfortunately, I couldn't take the supplements Dr. Lee recommended without the same problems. I thought he wouldn't be able to help, but he lasered the frequency of the supplements into my body to trick it into thinking I had taken them, and I started to heal.
Within several months one of the scans indicated the bacteria for Lyme disease.
I continue to struggle with this malady from time to time, but thanks to God's divine intervention and the care of Dr. Lee, I lead an active life. I've included some of the symptoms and treatments in Barely Above Water to help readers better understand this disease. I hope they'll also enjoy the romance and fun kids' swim team and come away believing God is greater than Lyme disease, or whatever they may face.
Book Blurb for Barely Above Water:
An illness comes out of nowhere and strikes Suzie Morris. Her boyfriend dumps her. She has no living family, and her physician can't diagnose the malady. Suzie relies on her Christian faith as she faces the uncertainty of the disease, and turns to a renowned alternative doctor in Destin, Florida. She takes a job coaching a county-sponsored summer swim team. She's determined to turn the fun, sometimes comical, rag-tag bunch into winners. Her handsome boss renews her belief in love, but learns of her mysterious affliction and abruptly cuts romantic ties. Later he has regrets, but can he overcome his fear of losing a loved one and regain Suzie's trust?
The symptoms and treatments in Barely Above Water are real, even though the romance and kids' swim team are fictitious. The back of the book contains information about this little-understood disease by two experts.
DON'T FORGET TO LEAVE A COMMENT TO BE PLACED IN THE DRAWING TO WIN AN EBOOK COPY OF BARELY ABOVE WATER BETWEEN NOW AND WEDNESDAY, SEPTEMBER 27TH AT MIDNIGHT MDT.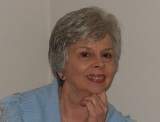 Award-winning author Gail Pallotta is a wife, mom, swimmer and bargain shopper who loves God, beach sunsets and getting together with friends and family. Gail's a former regional writer of the year for American Christian Writers Association and a 2013 Grace Awards finalist. She's published five books, poems, short stories and two-hundred articles. Some of her articles appear in anthologies while two are in museums. Connect with Gail online: