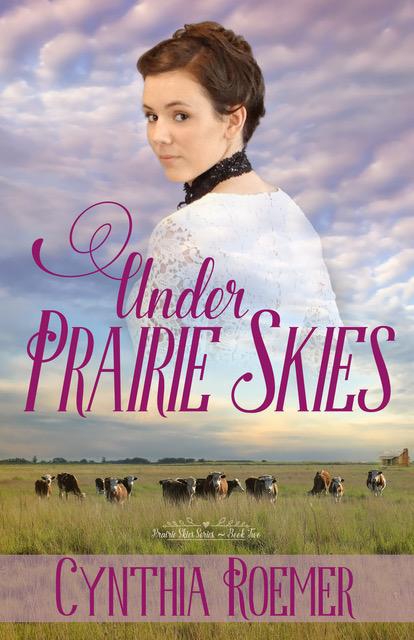 FEATURED BOOK: Under Prairie Skies
AUTHOR: Cynthia Roemer
PUBLISHER: Mantle Rock Publishing
GENRE: Inspirational Historical Romance
SERIES OR STAND ALONE: Book 2: Prairie Sky Series
TARGET AGE: 16 – 90+
IT IS MY PLEASURE TO WELCOME AUTHOR CYNTHIA ROEMER TO PATTI'S PORCH. CYNTHIA TALKS ABOUT THE WAYS HER CHARACTERS ARE FORCED TO FACE THEIR FEARS IN THE SECOND BOOK IN HER INSPIRATIONAL HISTORICAL ROMANCE SERIES.
CYNTHIA IS OFFERING A GIVEAWAY! SIMPLY LEAVE A COMMENT BELOW TO ENTER THE DRAWING FOR AN EBOOK COPY OF UNDER PRAIRIE SKIES.
GROWTH OF CHARACTER
by
Cynthia Roemer
Have you ever noticed that the Lord often makes us face our fears? He knows just the right circumstances to put us in to stretch and grow us. Often it's the people and situations we least hope to find ourselves with that God uses to mold and shape us.
In my upcoming historical romance novel, Under Prairie Skies, both of my lead characters are faced with circumstances they'd just as soon avoid. For strong-willed Charlotte Stanton, it's her selfish pride that's on the line. If you've read Book One in my Prairie Sky series, Under This Same Sky, you'll recall her as the self-centered, jealous cousin of Becky Hollister. She hasn't changed much at the start of this second book until she meets up with straight-talking, cattleman Chad Avery, who has a knack for bringing her faults to light.
Chad, on the other hand, has a painful past to overcome, one that has closed off his heart to love. Choosing to cling to loss and heartache, he chases a dream that seems unfulfilling without someone to share it with. Charlotte has her job cut out for her as she seeks to pry open his hurtful past and find a way to alleviate his hidden pain.
As iron sharpens iron, the Lord uses them to sharpen each other and work through the challenges they're facing. It isn't until they see beyond themselves and their own misgivings that they are able to embrace the joy the Lord has in store for them.
I love watching my characters grow and change throughout the span of the novel. Charlotte is a bit disagreeable at the start of the book with her jealous, me-first tendencies, but between Chad's candid insights and an orphaned boy named Johnny, she's about to change for the better. I hope you'll join them on their journey toward hope and love.
Book blurb for Under Prairie Skies
~ Beyond shattered dreams lies a realm of possibilities ~
Illinois prairie ~1855
Unsettled by the news that her estranged cousin and uncle are returning home after a year away, Charlotte Stanton goes to ready their cabin and finds a handsome stranger has taken up residence. Convinced he's a squatter, she throws him off the property without learning his full identity. Little does she know, their paths are destined to cross again.
Quiet and ruggedly handsome, Chad Avery's uncanny ability to see through Charlotte's feisty exterior and expose her inner weaknesses both infuriates and intrigues her. When a tragic accident incites her family to move east, Charlotte stays behind in hopes of becoming better acquainted with the elusive cattleman. Yet Chad's unwillingness to divulge his hidden past, along with his vow not to love again, threatens to keep them apart forever.
DON'T FORGET TO LEAVE A COMMENT TO BE PLACED IN THE DRAWING TO WIN AN EBOOK COPY OF UNDER PRAIRIE SKIES BETWEEN NOW AND TUESDAY, APRIL 17TH AT MIDNIGHT MDT.
Cynthia Roemer is an award-winning inspirational writer with a heart for scattering seeds of hope into the lives of readers. Raised in the cornfields of rural Illinois, Cynthia enjoys spinning tales set in the backdrop of the 1800s prairie. She writes from her family farm in central Illinois where she resides with her husband and their two college-aged sons. Under Prairie Skies is Book Two in her Prairie Sky Series.
Connect with Cynthia online at:
Sign up for Cynthia's Author Newsletter to keep up-to-date on her upcoming novels.
SUBSCRIBE TO PATTI'S BLOGS HERE