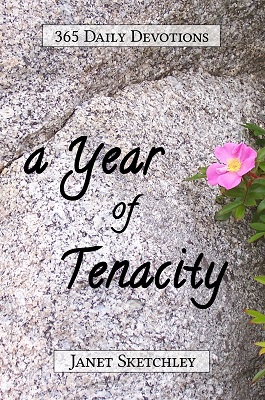 FEATURED BOOK: A Year of Tenacity: 365 Daily Devotions
AUTHOR: Janet Sketchley
PUBLISHER: Independent
GENRE: Devotional/Christian Living
SERIES OR STAND ALONE: Stand alone
TARGET AGE: Adult
IT IS MY PLEASURE TO WELCOME AUTHOR JANET SKETCHLEY TO PATTI'S PORCH. JANET SHARES A CHRISTMAS DEVOTIONAL AND ADDRESSES THE BATTLES GOD NEVER INTENDED US TO FACE DURING THIS MOST BLESSED SEASON.
JANET IS OFFERING A GIVEAWAY! SIMPLY LEAVE A COMMENT BELOW TO ENTER THE DRAWING FOR WINNER'S CHOICE OF A PRINT OR EBOOK COPY OF A YEAR OF TENACITY: 365 DAILY DEVIOTIONS.
THIS IS THE LORD'S BATTLE
by
Janet Sketchley
And everyone assembled here will know that the LORD rescues his people, but not with sword and spear. This is the LORD's battle, and he will give you [Goliath and the enemy Philistines] to us!
1 Samuel 17:47, NLT*
This is what the LORD says: Do not be afraid! Don't be discouraged by this mighty army, for the battle is not yours, but God's.
2 Chronicles 20:15b, NLT*
When we say "this is (insert name here)'s battle," we can mean a couple of different things. We may be that naming the commander or army or nation who is winning—ascribing victory. Or we may be pointing out where the responsibility or ownership of the conflict lies—not to absolve ourselves of the need to assist but to recognize we're not in charge.
In today's verses, God's people had roles to play but God made it clear it wasn't up to them to achieve the victory. They were to act in trust and obedience to Him.
What does this have to do with Christmas?
While our preparations shouldn't feel like a battle—although they can at times—the pressures mount, the calendar is counting down, and we can take on too much responsibility. We're carrying a burden of ownership that God never intended.
Are there ways to simplify? Are we doing things we've placed on our own shoulders that nobody else requires? Are we doing things that others require when we may need to prayerfully and gently set boundaries?
Whatever we're doing, no matter how important, let's remember the battle is the Lord's. We're not in control. We're not the boss, nor the victor. But He is. What He has allowed into our lives for us to do, areas for us to serve in our communities, our churches, workplaces, and families, He gives the strength and the equipping to complete. Can we rest and rely on Him and experience serving without stressing?
Holy and strong God, thank You that where You call, You equip. You are our sufficiency and our competence. Please show me where to focus my attention today and each day of this blessed Christmas season. Don't let me miss the joy by taking on responsibility for getting everything done or making everything perfect. Lead me in what to do, and help me trust You to bring it all together. Thank You for Your mercy and grace.
*Scripture quotations marked NLT are taken from the Holy Bible, New Living Translation, copyright © 1996, 2004, 2015 by Tyndale House Foundation. Used by permission of Tyndale House Publishers, Inc., Carol Stream, Illinois 60188. All rights reserved.
Back cover copy for A Year of Tenacity: 365 Daily Devotions:
365 Daily Devotions to Warm Your Spirit and Encourage Your Heart
"Tenacity" is persistence. Holding on. Not giving up. It's a quality we need as Christians, and the beautiful thing we discover as we spend time with the Lord is the depth of His tenacity toward us. We may falter, but His hold is sure, His love unshakable, and His grace without limit.
Like the wild rose thrives with its roots anchored in the cleft in the rock, we find life and security when we abide in our Rock.
The conversational-style insights and heart-sharing moments in A Year of Tenacity will bless and inspire. Entries are numbered by day, not by date, so readers aren't tied to a calendar year and don't have to play catch-up if they miss a few days.
Honest, engaging, and uplifting, these devotionals are ideal for both long-time Christians and those just finding their way.
DON'T FORGET TO LEAVE A COMMENT TO BE PLACED IN THE DRAWING TO WIN A PRINT EBOOK COPY OF A YEAR OF TENACITY: 365 DAILY DEVIOTIONS BETWEEN NOW AND TUESDAY, DECEMBER 17TH AT MIDNIGHT MST. (Print or ebook for continental US or Canada, ebook for worldwide)
BY LEAVING A COMMENT, YOU GRANT PERMISSION FOR YOUR EMAIL TO BE REVEALED TO THE AUTHOR IF YOU ARE THE WINNER TO FACILITATE RECEIPT OF YOUR BOOK.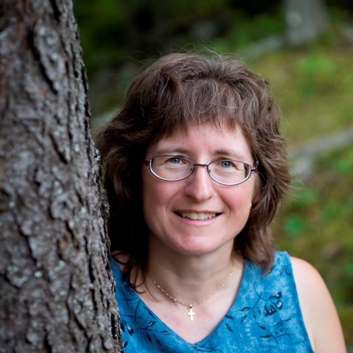 Primarily a writer of Christian mysteries and suspense, Janet Sketchley is also the author of the devotional collection, A Year of Tenacity. Janet is an Atlantic Canadian writer who loves Jesus and her family, and enjoys reading, worship music, and tea.
Connect with Janet: