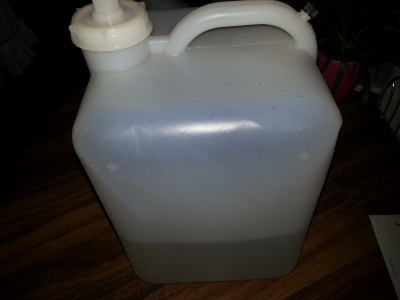 Our temps hovered around the single digits for a few days last week and probably dipped below zero after midnight a time or two. Therefore, it was no surprise when we woke up one morning to discover no running water in the house. We have an outside well, so my husband set up a heat lamp.
When the problem was not resolved by midday, he poked around the well and concluded there was an electrical problem. A friend who knows a lot more about electricity than we do came over to take a look. It wasn't more than five minutes that we had water again. When I asked hubby what our friend had done, he shrugged and replied, "I don't know, but it worked."
Life was good again and we were happy to have averted a major expense.
Saturday, I threw some laundry in the washer and settled down to the computer I was well into my project when I heard it, a little beep telling me something was amiss with the washing machine.
F-20 flashed ominously on the display panel. "That's code for an electrical error," I told my husband.
Wrong, I learned when I consulted the manufacturer's manual. F-20 represented a water inlet error. Hubby walked over to the kitchen faucet and turned it on. Nothing happened.
No water again! Our friend was out of town, so we left him a message.
I wasn't about to attend church Sunday morning without a shower and missing services was not an option. I was being ordained as an elder.
Our daughter, who lives in our town, graciously offered her shower. Actually, our granddaughter's shower. Very nice shower, but not for someone my age. No grip bar, and of course, I placed things out of reach. No fan reminded me of the last time I was in a sauna.
Back home, there was that irresistible desire to turn on the water faucet out of habit. We had stocked up on jugs of water. We performed basic hygiene and rinsed dishes, etc, through a primitive process.
Our friend returned Sunday but had no idea how to fix the problem this time. My husband called a well repair guy and left a message.
I had to take a friend to an appointment out of town Monday morning. When I told her about our plight, she offered her lovely, walk-in, senior citizen-friendly shower. Grip bars everywhere, places to sit down, and most important of all, a fan!
When I called my husband at noon, there had been no word from Mr Well Repair Man. He called to find out the guy had not stopped by his office that morning and had not received the message. The messenger lady had no way to contact him.
Tuesday morning, Well Man called with a promise to be here sometime that afternoon. When he arrived, it took him all of five minutes to resolve the problem. The electrical box needed replaced. Considering that we thought of everything from a defunct pressure tank to a burned out motor, and, horror of horrors, a dried up well, we got away with a fairly inexpensive and complicated solution.
Ever notice how we take modern conveniences for granted? When they suddenly malfunction, whether it be running water, electricity, or a vehicle in need of repair, we realize how blessed we really are with the everyday things of life!