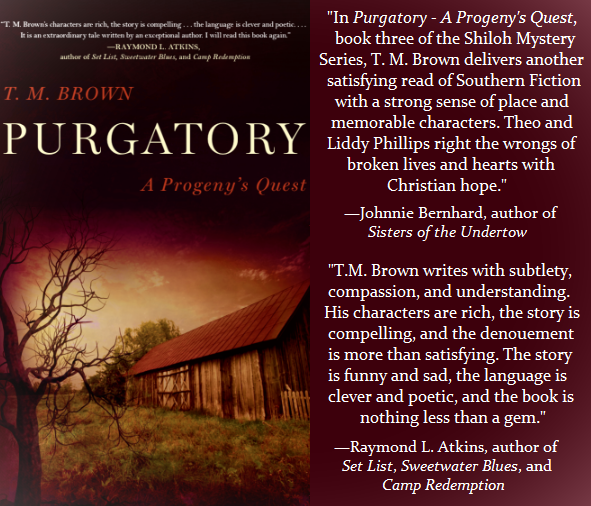 Featured Book: Purgatory, A Progeny's Quest
Author: T. M. Brown
Publisher: Southern Fried Karma LLC/Hearthstone Press
Genre: Southern; Small-town/Rural Fiction; Christian Mystery/Suspense
Series: Shiloh Mystery Series
Audience: Adults
IT IS MY PLEASURE TO WELCOME AUTHOR T.M. BROWN TO PATTI'S PORCH AS FATHER'S DAY APPROACHES, T.M. SHARES WISDOM ABOUT THE RELATIONSHP BETWEEN FATHERS AND SON BASED ON BIBLICAL TRUTH.
T.M. IS OFFERING A GIVEAWAY! SIMPLY LEAVE A COMMENT BELOW TO ENTER THE DRAWING FOR A SIGNED PRINT COPY OF PURGATORY, A PROGENY'S QUEST.
FATHER TO SON RESPONSIBILITY
by
T. M. Brown
Listen, [my] sons, to a father's discipline, and pay attention so that you may gain understanding, for I am giving you good instruction. Don't abandon my teaching. When I was a son with my father, tender and precious to my mother, he taught me and said: Your heart must hold on to my words. Keep my commands and live. Get wisdom, get understanding; don't forget or turn away from the words of my mouth…" Proverbs 4:1-5 (HCSB)
What our country needs today is more fathers involved and engaged in their families. Sons need strong role models to guide them as they grow and mature in the important stages of their life. However, sadly, many families today are forced to develop without a father active in the daily lives of the children. Mothers are left alone to raise the children and are overwhelmed and ill-equipped to provide the father's role to their children. The results are children who grow up without the solid foundation of parental support that God intended from the beginning of time.
Isn't it interesting that long before governments and nations were established, God ordained marriage and the raising of families as the foundation of society? Even the earliest nations were nothing more than extended families supporting one another for their common good and security. However, as government and religious institutions were established the pressure for power, prestige, and pleasure within these man-made institutions became far more important than maintaining God's intended role of parents in the family setting. Society lost the connection of how a proper perspective on the power (influence and authority), prestige, and pleasure that the family relationship was intended to provide. Instead, men sacrificed their parental roles and responsibilities for the pursuit of the benefits of fleeting power, prestige, and pleasure that they believed come from climbing social and secular ladders. The applause of men became more important than the applause of their family members.
Additionally, in recent decades women have been included in the same pursuits as men and fallen prey to the social and secular pursuit of power, prestige, and pleasure that comes outside of the family. The definition of true success and the family has been further crippled as a result. The children have become the victims and paid the price, as mothers and fathers have shuffled their parental and familial responsibilities onto the shoulders of schools and churches and other social activities.
Speaking primarily to the fathers, you have a responsibility designed and established by God to be the role model for your sons (and daughters) to promote God's will, ways, and wisdom found in His Word. Children desire and deserve the applause of their fathers. Your most important applause should come from the eager response of your children seeking our approval for what they do, say, and achieve.
America, what made us strong for many formidable decades was our agricultural family base, where multiple generations lived together on the farm supporting and encouraging each other. Everyone in the family shared in safeguarding the common good and security of the family members.
However, as America prospered and became more successful as an industrial society, families moved into the cities for the "so-called better life," the traditional family structure suffered. Add the information age we currently are in, and now we find our children engaged in social networks looking for their acceptance and applause. Their role models are celebrities in sports, music, and movies, and not their fathers or mothers.
Why? The answer is simpler than we realize: Our children need approval and guidance and are seeking it from convenient and welcoming connections outside of their family, such as social media because their parental role models are too busy pursuing their own lives.
Let us be reminded what God wants us to remember: When I was a son with my father, tender and precious to my mother, he taught me and said: Your heart must hold on to my words. Keep my commands and live. Get wisdom, get understanding; don't forget or turn away from the words of my mouth. Don't abandon wisdom, and she will watch over you; love her, and she will guard you.
T. M. Brown Taken from my devotional blog at www.coachbrown.org
Visit TMBrownAuthor.com now that Purgatory, A Progeny's Quest completes the Shiloh Mystery Series — the three-book saga of Theo Phillips and his wife Liddy in time-lost Shiloh. Fatherhood plays a central role throughout the three stories, but in Purgatory, an orphaned teenager arrives in Shiloh seeking answers only to discover who her real father was.
"Downhome country fun at its finest. . . .
Here's a story that will keep you reading throughout the wee hours."
—JEDWIN SMITH, author of
I AM ISRAEL, Our Brother's Keeper, and Fatal Treasure
"T. M. Brown's characters are rich, the story is compelling . . . the language is clever and poetic. . . .
It is an extraordinary tale written by an exceptional author. I will read this book again."
—RAYMOND L. ATKINS,
author of Set List, Sweetwater Blues, and Camp Redemption
"The long-awaited finale of the Shiloh Series doesn't disappoint.
With barbecue, lightning bugs, and delightful dialogue.
T.M. Brown delivers a gem of a southern novel to his faithful followers."
—RENEA WINCHESTER, author of Outbound Train
IndieBound's online retail bookstore https://bookshop.org/lists/shiloh-mystery-series-by-t-m-brown
This is where local community bookstores benefit from all purchases. It allows readers to buy books from home and still support bookstores.
DON'T FORGET TO LEAVE A COMMENT TO BE PLACED IN THE DRAWING TO WIN A SIGNED PRINT COPY OF PURGATORY, A PROGENY'S QUEST BETWEEN NOW AND TUESDAY, JUNE 16TH AT MIDNIGHT MST.
BY LEAVING A COMMENT, YOU GRANT PERMISSION FOR YOUR EMAIL TO BE REVEALED TO THE AUTHOR IF YOU ARE THE WINNER TO FACILITATE RECEIPT OF YOUR BOOK.
T. M. BROWN, Mike to family and friends, and his wife of over forty-five years, Connie, live near Newnan, GA. In 2014, Connie encouraged him to retire and write memorable stories as a legacy for their five grandchildren. Hence the quaint South Georgia town of Shiloh came into being with colorful and often quirky characters populating the idyllic, rural community. As he learned during his decades of travel throughout the South, even wholesome smalltowns are not free of conflict and scandal.
Sanctuary, the first of the Shiloh stories, launched April 2017, and became Sanctuary, A Legacy of Memories (January 2018), the first in the Shiloh Mystery Series. Testament, An Unexpected Return followed in April 2018. Purgatory, A Progeny's Quest concluded the Shiloh Mystery Series as of its launch in May 2020.
SUBSCRIBE TO PATTI'S BLOGS HERE