Featured Book: STRANDED: A Novel
Authors: Don & Stephanie Prichard
Publisher: Don and Stephanie Prichard
Genre: Suspense with a touch of romance
Series or Stand Alone: Series
Target Age: 30+
IT IS MY PLEASURE TO WELCOME AUTHOR STEPHANIE PRICHARD TO PATTI'S PORCH. STEPHANIE SHARES HOW SHE AND HER CO-AUTHOR HUSBAND COMPLIMENT EACH OTHER TO CREATE BOOKS READERS LOVE.
STEPHANIE IS OFFERING A GIVEAWAY! SIMPLY LEAVE A COMMENT BELOW TO ENTER THE DRAWING FOR AN EBOOK COPY OF STRANDED: A NOVEL.
HUSBAND-WIFE CO-AUTHORS
by
Stephanie Prichard
I'm often asked what it's like to write a book with my husband. I usually laugh and say, "Can you believe we're still happily married?" Don and I have written three novels together, and it's been an amazingly harmonious experience. That's especially astonishing since we're both Type A personalities.
I think the key is that we each bring different strengths to the process of writing and therefore don't step on each other's toes. Don, for instance, is quite the story-teller, and readers have commented over and over how much they love the twists and turns in our plots. "I couldn't put the book down," they say in Amazon reviews. "I stayed up all night, I had to find out what happened next." In our first book, Stranded: A Novel, Don's experience as a Marine in the jungles of Viet Nam also contributes many delightful if not gross tidbits on survival.
My strong point is creating well-rounded characters who live and breathe. This is one of my favorite Amazon reviews that was a big hug for me: "I felt like I knew these characters and found myself thinking about them during the day. They 'got under my skin' and wouldn't let me rest. I found myself smiling, cringing, laughing, horrified, praising, and nervous throughout this read."
Another advantage to writing as a team is that Don and I keep each other sharp when it comes to portraying the two genders. Sometimes he would read what I wrote and say, "Men don't think like that"—and I'd change it. Sometimes I'd read what he wrote and say, "That's insulting to women"—and he'd change it. I believe these reality-checks help attract both men and women to our stories.
Of central importance to both of us is exalting God in our books. Each novel subtly features a characteristic of God and how mankind struggles to relate to that characteristic. In Stranded: A Novel, for instance, God's sovereignty is featured, and each of the four characters strives to deal with the reality of hardship under the loving but firm hand of God. Ouch, who can't relate to that challenge?
Stranded: A Novel has over 1,180 reviews on Amazon, with a 4.5 out of 5 rating. I share that to, well, okay, entice you, but also to encourage you that odds are good you will find it an outstanding read! Our three books are also published as a set—STRANDED The Trilogy box set—which came out in May 2020. I mention that because the box set sells for a touch over half the cost of buying all three books separately. And, um, the box set needs reviews. Hint, hint!
Here's a quick list of our books, available in both digital and print (the box set is in digital only):
Back cover blurb for Stranded: A Novel
First they had to survive the island … then each other … then their rescuer.
All Marine Corps reservist Jake Chalmers wants is to give his dying wife a last, romantic cruise to the Philippines. Unable to save her in a mass murder aboard ship, he washes ashore a jungle island, where he discovers three other survivors. Heartbroken that he failed to save his wife, he is determined not to fail these helpless castaways.
Federal prosecutor Eve Eriksson rescues a young girl and her elderly great-aunt from the same ship. They badly need Jake's survival skills, but why is he so maddeningly careful? She needs to hurry home to nail a significant career trial. And, please, before Jake learns her secret that she's responsible for his wife's death.
DON'T FORGET TO LEAVE A COMMENT TO BE PLACED IN THE DRAWING TO WIN AN EBOOK COPY OF STRANDDED: A NOVEL BETWEEN NOW AND SUNDAY, AUGUST 2ND AT MIDNIGHT MDT.
BY LEAVING A COMMENT, YOU GRANT PERMISSION FOR YOUR EMAIL TO BE REVEALED TO THE AUTHOR IF YOU ARE THE WINNER TO FACILITATE RECEIPT OF YOUR BOOK.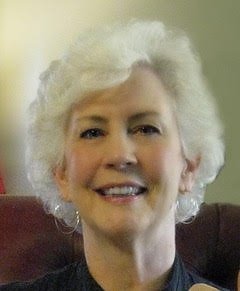 Stephanie Prichard and her husband co-author Christian suspense colored with hefty doses of romance. Way back when, Stephanie wrote a grammar column for American Christian Fiction Writers as well as humorous devotionals for online Christian magazines. She and Don have three sometimes-grown-up children and twelve adorable grandchildren. They live in Indianapolis and eat chocolate.
SUBSCRIBE TO PATTI'S BLOGS HERE