WHAT LIES AHEAD
by
Patti Shene Gonzales
The last time you heard from me, (find my post on The Over 50 Writer here), I wrote about my progress after my foot surgery on May 19th. Since then, I've had the cast removed, am attending PT twice a week, and performing at home exercises twice daily. I'm using a walker, wearing a Cam boot, and bearing weight on my right foot as tolerated, a little more each day.
That's just a brief update of what's been going on with me during this COVID-19 pandemic. I look back with amazement at the activities I anticipated in March that never came to pass.
In March, we eagerly envisioned my granddaughter's graduation as valedictorian of her class, followed by a party where my sister from New York and my son from the UK would be in attendance. Instead of walking across the stage in the high school gymnasium, she was driven onto the football field, selected her diploma off a table, had her picture taken, then participated in a vehicle parade. Her valedictorian speech was posted online weeks later.
Last December, I obtained four tickets to the Colorado Rockies game on opening week-end. My friends who I had invited and I were practically counting the days. Then came the pandemic and Rockies season was severely curtailed, not to mention in person fanless (yeah, not a real word I guess) when they did commence their considerably shortened season.
In June of 2019, I put a deposit on an Alaskan cruise that was to sail this June. I don't have to explain why my cabin-mate and I never stepped foot on the deck of that ship.
These are all minor disappointments and pale into insignificance in comparison to those who have lost their lives to COVID-19, lost loved ones without the comfort of a funeral surrounded by family and friends, lost jobs, or lost income. The list goes on and on as to how people have been adversely affected by the pandemic.
If I have learned anything during this time of social distancing, mask wearing, fear, misinformation, and uncertainty, it is that the future is a huge unknown…
Here on Earth, that is.
I am reading Randy Alcorn's Heaven. I've always enjoyed his fiction, but this non-fiction work, based on several years of research and heavily backed by scripture, is a deep, thought-provoking read that has gripped me and won't let go.
I'm only on page 64 of a 490+ page book, but even those pages have fortified my already strongly-held belief that we do have a final destination and a tomorrow we can count on. No world event is going to come along that will cancel or postpone that final moment in our lives, that moment when we know we will experience eternity either in God's presence or His absence.
An invitation assures a seat at graduation, a ticket admits a fan into the baseball stadium, and a reservation permits a passenger on board ship. Our only requirement to gain the greatest experience of all, eternal life with God, is to accept His son, Jesus Christ, as our Lord and Savior.
Living in a graduate's neighborhood doesn't guarantee a ticket to graduation, watching the baseball team on television doesn't enable access through the stadium gates, and a love of boating doesn't allow one to enjoy a cruise. Likewise, salvation isn't achieved through "good works" or "treating people nice" or "donating to charity". There's nothing wrong with those things, but they do not hold the ticket to Heaven.
The COVID-19 pandemic will someday be relegated to the annals of history. Even so, we can never say with any degree of assuredness in the future that graduation plans won't be altered, a baseball game won't be cancelled, and a ship will not sail.
We can say with absolute conviction that our life on Earth will someday end. We don't know where, when, or how we will leave this world, but we do have a choice to make as to our eternal destination.
Jesus is stretching out His hand and inviting you to someday come home with Him.
Will you accept His invitation?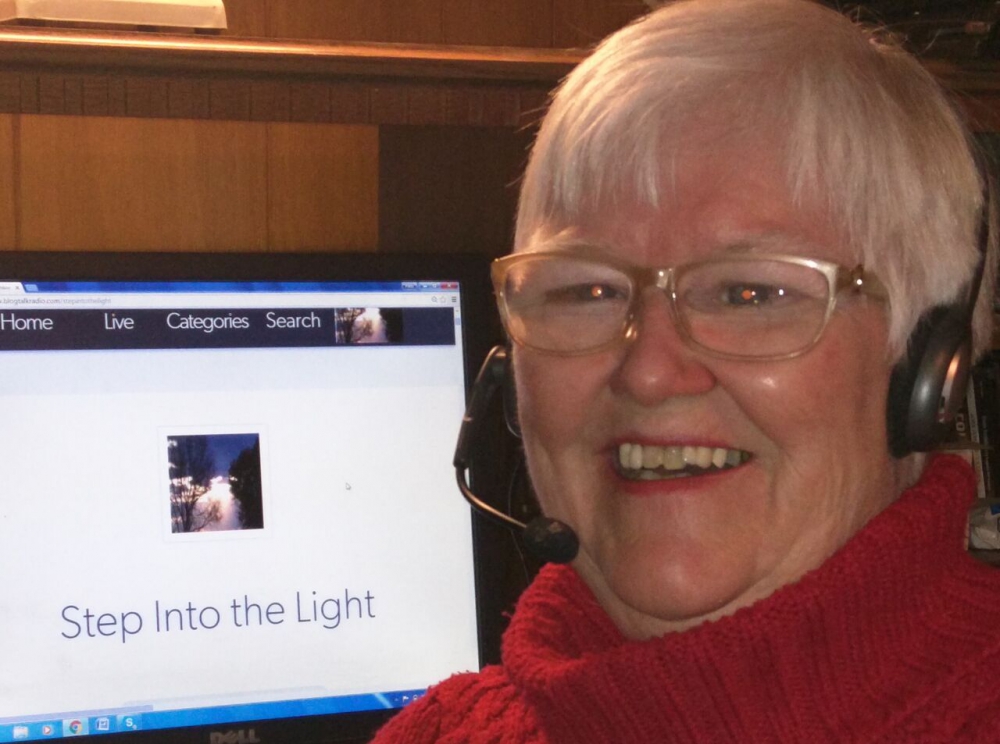 Patti Shene Gonzales maintains two blogs, Patti's Porch and The Over 50 Writer and is working on a novel. She hosts Step Into the Light, a podcast that strives to lead others out of darkness and back to light. When not writing, reading, or broadcasting, she is spending time with friends or attending her only granddaughter's sports activities. Patti lives in Colorado with her devoted feline companion, Duncan.
SUBSCRIBE TO PATTI'S BLOGS HERE