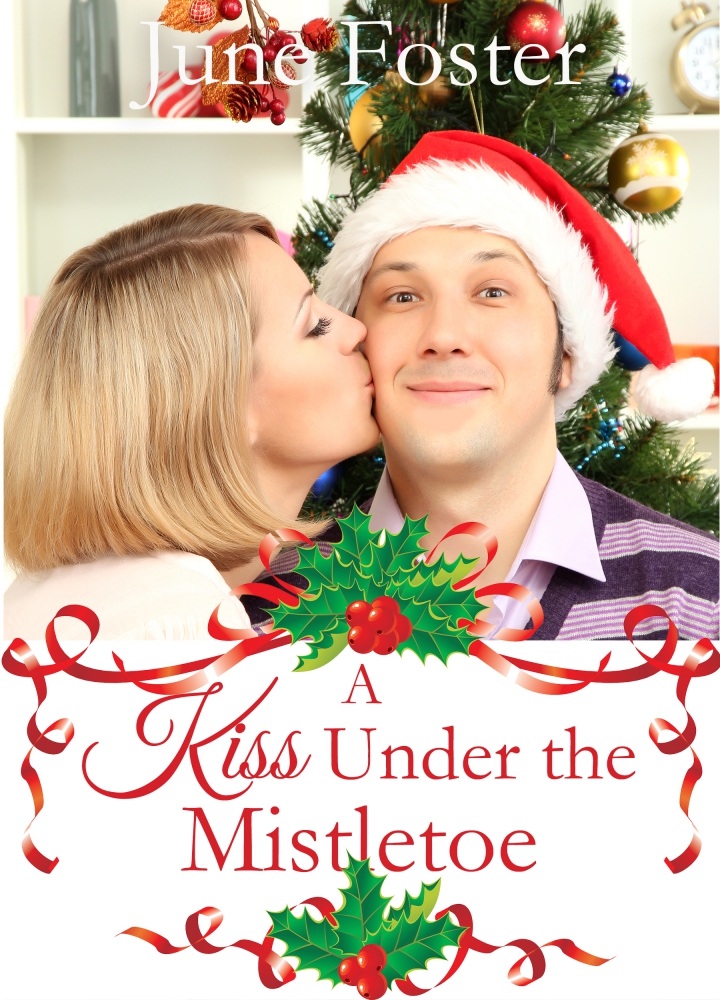 FEATURED BOOK: A Kiss Under the Mistletoe
AUTHOR: June Foster
PUBLISHER: Winged Publications
GENRE: contemporary romance
SERIES OR STAND ALONE: series, sequel to Unexpected Family
TARGET AGE: 18-80 Women
IT IS MY PLEASURE TO WELCOME AUTHOR JUNE FOSTER TO PATTI'S PORCH. JUNE SHARES THE INSPIRATION BEHIND HER DELIGHTFUL CHRISTMAS NOVEL.
JUNE IS OFFERING A GIVEAWAY! SIMPLY LEAVE A COMMENT BELOW TO ENTER THE DRAWING FOR AN EBOOK COPY OF A KISS UNDER THE MISTLETOE.
HOW A KISS UNDER THE MISTLETOE WAS BORN
by
June Foster
I love to write stories about identical twins and the mishaps that come their way. I also love to feature a slightly overweight heroine. Probably because I want my girl to struggle with some of the same problems many women of today, including me, deal with. A Kiss Under the Mistletoe contains both elements.
So, when my editor called for a Christmas story about a mistake under the mistletoe, the wheels in my head started churning. What if a really good-looking youth pastor had a brother that looked exactly like him but differed in every other way? Maybe he'd be an alcoholic or a player. What if the youth pastor's parents always forced him into the role of the good guy, and he'd accommodated them since he was a boy? Afterall, Carson Shumate had to make up for the shenanigans his brother pulled. What if one day he finally got tired of playing the role?
Then I had to ask the same questions, the what if game concerning my heroine. This is a strategy many authors use to plan their plots. My friend and fellow writer, Fay Lamb, put me onto this method.
So, I asked my heroine, Noel Kendrick, if she trusted men, and she answered emphatically no. She went on to explain. Her father left her mother when Noel was twelve without a word to Noel. Then in college, her boyfriend misled her by dating another girl at the same time. And to make it worse, the guy was a youth pastor.
So, now I've set the scene for when Noel meets Carson. Now I know why she fools him into believing she's a clerk at the local grocery store just to tease him. I also know why she's even more suspicious of him when she sees him loading beer into his car when he'd sworn he didn't drink.
I hope you'll want to read A Kiss Under the Mistletoe and discover all the mishaps under the mistletoe Noel and Carson experience.
Blurb for A Kiss Under the Mistletoe
The men in Noel Kendrick's life have always lied to her. When she accepts her pastor's plea to head the Christmas nativity scene project, she doesn't realize the job requires her to work with Carson Shumate, the handsome youth pastor with midnight blue eyes. Despite her efforts to keep her emotional distance, she falls hard after a kiss under the mistletoe.
But Carson has a secret of his own. If he reveals the truth about his identical twin to his church, he fears they will fire him, and he could lose Noel.
A Kiss Under the Mistletoe is the sequel to An Unexpected Family.
DON'T FORGET TO LEAVE A COMMENT TO BE PLACED IN THE DRAWING TO WIN AN EBOOK COPY OF A KISS UNDER THE MISTLETOE BETWEEN NOW AND TUESDAY, NOVEMBER 3RD AT MIDNIGHT MST.
BY LEAVING A COMMENT, YOU GRANT PERMISSION FOR YOUR EMAIL TO BE REVEALED TO THE AUTHOR IF YOU ARE THE WINNER TO FACILITATE RECEIPT OF YOUR BOOK.
An award-winning author, June Foster is also a retired teacher with a BA in Education and a MA in counseling. She is the mother of two and grandmother of ten. June began writing Christian romance in 2010. She penned her first novel on her Toshiba laptop as she and her husband traveled the US in their RV. Her adventures provide a rich source of information for her novels. She brags about visiting a location before it becomes the setting in her next book.
To date, June has written twenty-two contemporary romance and romantic suspense novels and novellas. She loves to compose stories about characters who overcome the circumstances in their lives by the power of God and His Word. June uses her training in counseling and her Christian beliefs in creating characters who find freedom to live godly lives. She's published with Winged Publications. Visit June at www.junefoster.com to see a complete list of her books.