FEATURED BOOK: A World War II Holiday Scrapbook
AUTHOR: Cleo Lampos/Gail Kittleson
PUBLISHER: WordCrafts Press
GENRE: historical nonfiction
SERIES OR STAND ALONE: series (Companion book)
TARGET AGE: 15+ Anyone interested in WWII
IT IS MY PLEASURE TO WELCOME AUTHOR GAIL KITTLESON TO PATTI'S PORCH. GAIL SHARES HER LOVE FOR THE WWII ERA AND A COMPARISION OF CHARACTERS THEN AND NOW.
GAIL IS OFFERING A GIVEAWAY! SIMPLY LEAVE A COMMENT BELOW TO ENTER THE DRAWING FOR AN EBOOK COPY OF A WORLD WAR II HOLIDAY SCRAPBOOK.
CHARACTERS AND HOPE
by
Gail Kittleson
A good read revolves around complicated characters—people I instantly like, and some I grow to despise. Setting becomes vital to place these heroines and heroes in a believable world, and plots evolve as their lives proceed.
This crazy year of 2020 has provided plenty of time to reflect on the characters who have whispered their stories in my ear. My first novel, In This Together, highlights Dottie, the kind of woman you'd want for your best friend. Loyal, hard-working, earnest—and she comes complete with deep fears from her childhood.
This year I re-wrote this book, to be republished in 2021. Last February, the re-write of In Times Like These released, and it's been fun to offer it in better form, using skills honed since its 2015 publication. This tale revolves around Addie, a young Iowa farm wife scrabbling through the aftermath of Pearl Harbor and the first years of World War II.
Its sequel, With Each New Dawn, moves Addie to London to join her dear friend Kate. This research revealed the incredible pluck of the British people. Kate's courage still grips my soul. In the throes of losing her husband and first child, she volunteers for arguably the most dangerous task for women of this era, rising from her own personal ashes to contribute to the war effort through working with the underground.
A Purpose True sees Kate and Addie through the war and beyond. My own experience came full circle as Kate slinks incognito through France's Haute Loire region, where my husband and I studied French before attempting missionary work in Senegal, North Africa in the eighties. In her grief, Kate discovers second chances, as does Addie.
Obviously, this year's end puts me in a reflective mood—these characters remind us that even in dire times, hope still exists. I wrote three more novels after the ones I've described, and their characters still touch me in unique ways, too.
And then—ta da!
Late winter and spring 2020 found me co-writing non-fiction books with my author friend Cleo Lampos. Our subjects? The FOOD of World War II, and the ways people kept Christmas throughout the war. I gleaned so much from our research!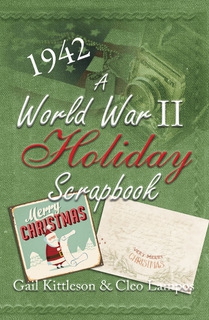 Writing about actual people who made their way with courage through perilous times is all about CHARACTERS, too. I often wonder how these brave souls maintained their make-do attitudes, and find that faith played a significant role. They may not have shouted it from the rooftops, but allowed it to play out in intrepid acts of moral courage.
As an unpredictable 2020 draws to a close, I'm engaged with two more manuscripts, and Cleo and I are discussing another venture during 2021…we'll see what happens! One thing I know: studying history's lessons can refresh our hope in this Advent season—I hope you find this true during the rest of 2020.
Blurb for The Food That Held the World Together
Save money the easy way—grow a garden. It's thrifty, it's patriotic! Plant today!
Because of wartime rationing, World War II folks faced fresh challenges to feed their families. The thought of running out of food or being able to make ends meet led to great effort—many of these citizens had not so long ago survived the hunger of the Great Depression.
Many people are familiar with the concept of victory gardens, but does this seemingly quaint, archaic practice have more to teach us today?
Burb for A World War II Holiday Scrapbook
Home For Christmas…home for snow and mistletoe!
For most of the twelve million men and women serving in the U.S. Armed Forces during World War II, these words were wishful thinking.
From the moment President Roosevelt announced the Pearl Harbor attack, every corner of the nation experienced change. In little towns all across this great land, families said good-bye to sons and daughters as they went off to a brutal war. Many believed that, with America's involvement, the war would be over by the next Christmas.
Alas, this was not to be. Many families would not spend Christmas with their families until 1946 or '47. Rationing made traditional gift-giving impossible, and communities pulled together to celebrate the birth of the Prince of Peace.
These are their stories.
Patti's review of A World War II Holiday Scrapbook
A World War II Holiday Scrapbook is a collection of stories and articles about our military men and women and their families who survived hardship and struggle during this most infamous time period in American history. The book brings to light the fact that we are a strong people who have faced adversity during the holidays in the past and will come out victorious now as we did then.
Highly recommended for anyone who has an interest in true accounts of what life was like for Americans during World War II.
DON'T FORGET TO LEAVE A COMMENT TO BE PLACED IN THE DRAWING TO WIN AN EBOOK COPY OF A WORLD WAR II HOLIDAY SCRAPBOOK BETWEEN NOW AND WEDNESDAY, DECEMBER 16TH AT MIDNIGHT MST.
BY LEAVING A COMMENT, YOU GRANT PERMISSION FOR YOUR EMAIL TO BE REVEALED TO THE AUTHOR IF YOU ARE THE WINNER TO FACILITATE RECEIPT OF YOUR BOOK.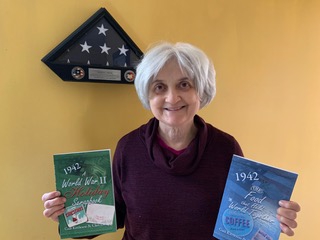 As a rural Iowa child, Gail Kittleson appeared at her local library counter every Saturday to haul home a new pile of books. Later, she taught English as a Second Language and college expository writing.Over a ten-year period, writing a memoir led to her addiction to the World War II era. Her World War II fiction, including the Women of the Heartland series, honors this era's make-do women, and she loves to cheerlead others through writing workshops. Gail and her husband enjoy grandchildren and gardening in northern Iowa, and the Mogollon Rim's beautiful Ponderosa forest during the winter months.
Connect with Gail online:
Website http://www.gailkittleson.com/
Facebook www.facebook.com/GailKittlesonAuthor
Amazon http://amazon.com/author/gailkittleson
Twitter www.twitter.com/GailGkittleson @GailGkittleson
Instagram @gailkittlesonauthor
SUBSCRIBE TO PATTI'S BLOGS HERE