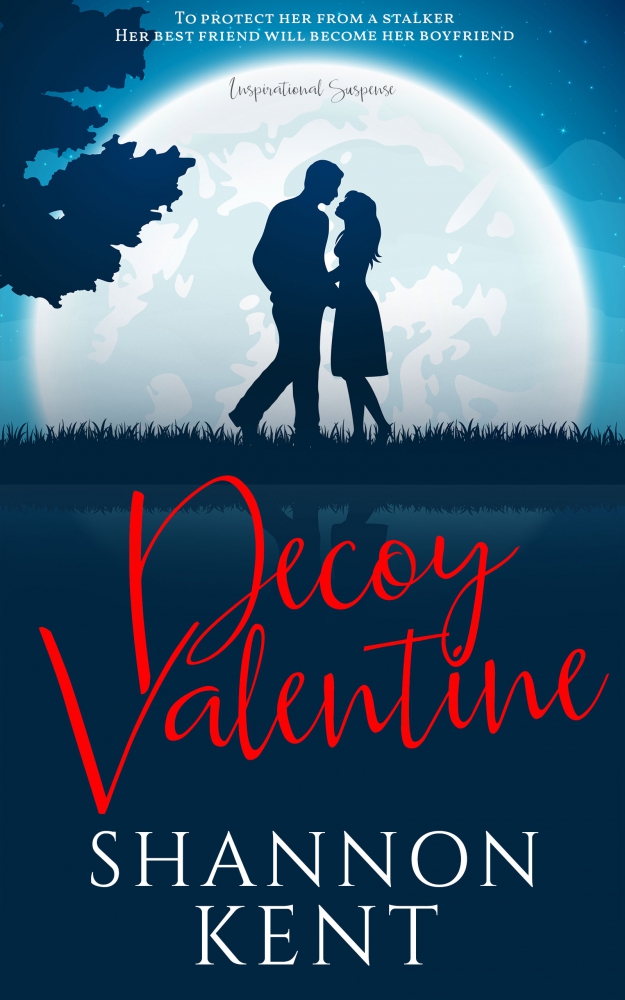 FEATURED BOOK: Decoy Valentine
AUTHOR: Shannon Kent
PUBLISHER: Kindle Direct Publishing
GENRE: Inspirational Romantic Suspense
SERIES OR STAND ALONE: standalone (for now!)
TARGET AGE: 15 and up
IT IS MY PLEASURE TO WELCOME AUTHOR SHANNON KENT TO PATTI'S PORCH. SHANNON TALKS ABOUT WHETHER THINGS ARE REALLY AS HARD AS WE SOMETIMES THINK THEY ARE.
SHANNON IS OFFERING A GIVEAWAY! SIMPLY LEAVE A COMMENT BELOW TO ENTER THE DRAWING FOR AN EBOOK COPY OF DECOY VALENTINE.
EASY PEASY LEMON SQUEEZY
by
Shannon Kent
When you grow up on a church pew as I did, many Bible stories become familiar. David killed Goliath. Esther saved her people. Balaam got told off by a donkey. But I recently read an Old Testament passage that drew me in with its unpredictable tale.
Three kings went to war with the evil nation of Moab and, for some inexplicable reason, they took a roundabout path through the desert for their attack. Not the brightest battleplan. Seven days later, their armies ran out of water. The situation was dire, and they sought out the prophet Elisha for help. He didn't much like the Israelite king, but provided assistance anyway. Elisha told them to dig some ditches because the valley would be filled with water even without wind or rain. The prophet said, "This is an easy thing in the eyes of the LORD;" (2 Kings 3:18a NIV). The very next morning flowing water appeared. They routed the Moabites and gained a great victory.
Life is hard. Right? Especially now. But … is anything too hard for the creator of the universe?
COVID? Taking care of family members? Publishing a book? Dare I say it … politics? So many things don't make sense in our crazy world. Sometimes it's outside forces, and sometimes it's our own foolish battleplans that leave us feeling bone-dry and dying of thirst in an emotional desert. But don't look for a great wind or a giant raincloud to bring refreshment. Grab your shovel, dig a spiritual ditch, and look to Heaven. The same God of the Old Testament watches over us in 2021. I've even written a reminder to myself with the verse from 2 Kings because I never want to forget. No matter what problem seems impossible to me, for God it's easy peasy.
Blurb for Decoy Valentine
FROM FAKE RELATIONSHIP TO TRUE LOVE
A broken engagement drives Susanna Kelly back to her hometown of Sweetheart, Texas and the arms of its quirky, lovable citizens. But her peaceful return to her roots is shattered when heart-shaped notes with sinister messages start appearing. The support of Daniel Sheppard, Asian American bestselling author and her childhood friend, gives her a much-needed ally amidst the turmoil. He offers to play the role of her boyfriend to discourage the stalker, but Susanna resists. Pretending to be a couple? And with Daniel of all people? Who would buy it?
The note writer's mind games force her to reconsider. Susanna accepts Daniel's crazy plan, but the make-believe romance has the opposite effect intended. Harmless notes turn into life-threatening accidents, and Daniel and Susanna must find out who's behind the chaos before they can decide if their temporary relationship is a heaven-sent gift meant to last forever.
Patti's Review of Decoy Valentine
Decoy Valentine has a perfect mixture of romance, small town life, action, and intrigue. The characters were well-defined and engaging. The plot deepened at just the right moments and kept me guessing as to who would want to threaten sweet Susanna Kelly and why. Might I add that the author did not make it obvious as to who the mysterious note writer was until well into the story. The residents of Sweetheart, including Susanna's friend since childhood, Daniel Sheppard, demonstrate a fierce protectiveness toward Susanna that reflects small town loyalty. I especially enjoyed the details of preparations for the upcoming Candy Hearts Festival. This was a fun and suspenseful romantic novel. I look forward to reading more of Shannon Kent's work.
DON'T FORGET TO LEAVE A COMMENT TO BE PLACED IN THE DRAWING TO WIN AN EBOOK COPY OF DECOY VALENTINE BETWEEN NOW AND TUESDAY, JANUARY 26TH AT MIDNIGHT MST.
BY LEAVING A COMMENT, YOU GRANT PERMISSION FOR YOUR EMAIL TO BE REVEALED TO THE AUTHOR IF YOU ARE THE WINNER TO FACILITATE RECEIPT OF YOUR BOOK.
Shannon Kent loves God, her family, and classic movie musicals. She gains inspiration for her novels from her many travels around the world. Her other two romances are Flower Boy Tour Guide and Reality Show Romance. She holds a special place in her heart for South Korean culture and loves to infuse her stories with a Kimchi-flavored spice. You can follow her at Facebook.com/shannonkentauthor.
SUBSCRIBE TO PATTI'S BLOGS HERE