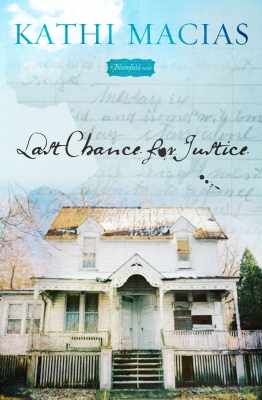 IT IS A GREAT PLEASURE TO WELCOME AUTHOR KATHI MACIAS TO THE OVER 50 WRITER. KATHI IS TAKING THIS OPPORTUNITY TO INTRODUCE US TO THE MAIN CHARACTER IN HER NEW BOOK, LAST CHANCE FOR JUSTICE.
NOTE from author Kathi Macias. "Because I am SO FAR OVER 50, I decided to grant an interview with Lynn Myers, my younger ("just over fifty") main character from my May 1 release from B&H Publishing Group, Last Chance for Justice, one of the multi-author Bloomfield Series. So take it away, Lynn!
Lynn, tell us about your association with Bloomfield.
Bloomfield is the small town where I was born and raised and where I thought I would spend my entire life. Then I met Daniel, a handsome visitor to our little berg. When he left town he took my heart with him, and we were soon married, requiring me to leave Bloomfield behind. When Daniel died recently, I was devastated. Not long after that I got the news that my only sibling, Myron, had died as well, leaving his entire estate—including a creepy old house right next to the cemetery—to me. Thankfully my just-graduated-from-college daughter, Rachel, accompanied me back to Bloomfield to settle the estate.
Returning to your hometown after all those years must have been traumatic for you, particularly after your two recent losses.
It sure was. I don't think I could have done it if Rachel hadn't come with me. I hadn't even been back to Bloomfield in nearly ten years, since my mother died. I felt so guilty at not having gone to see my poor brother in all those years—and now he's gone, just like Daniel. And most of the Bloomfield residents remember me as "the Bloomfield girl who abandoned her family and ran off to marry a stranger." That's not the way it was at all, but I'm still trying to live down that reputation, even after all these years.
So even after being gone from Bloomfield for decades, you still have some emotional baggage to deal with there.
Absolutely! I thought I had outgrown that peer-pressure stuff when I got married and established a family of my own. I never thought it would come back to haunt me, but the closer I got to Bloomfield, the more I felt it trying to worm its way back into my life.
Now that you've completed the business of settling your late brother's estate and left Bloomfield behind once again, what would you say was the most surprising thing you learned while you were there?
I went back to Bloomfield with great hesitation, not wanting to stay a minute longer than absolutely necessary. But as I began to face and deal with the peer-pressure issues that had kept me away from Bloomfield for so long, I discovered that I really did miss that little town and all of its warm, wonderful people. And here's the most surprising thing of all: Rachel and I are planning to move back to Bloomfield permanently!
Do you have any final words you'd like to leave with our readers?
I surely do! If you're still dealing with peer pressure, adopt my saying:
"I can't wait to get old enough that I no longer have to deal with peer pressure!" Stick around long enough, and it will happen. And if you get a chance, please stop by my Facebook page and "friend" me, will you?
Oh, and for goodness sake, don't forget to LEAVE A COMMENT BETWEEN NOW AND 6:00 PM THURSDAY MAY 2ND FOR A CHANCE TO WIN A COPY OF LAST CHANCE FOR JUSTICE.
Patti here. I received another great Kathi Macias book, The Moses Quilt, from bookfun.org in exchange for my honest opinion. (Thank you, Fred!) Here is my review.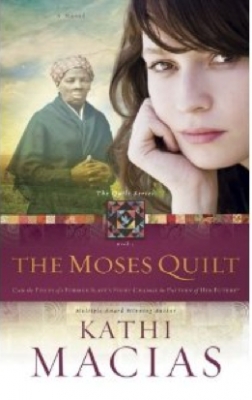 This book is neither about Moses of the Bible or the craft of quilting. Rather, this story centers around a deep love between young Maize Hartford and her great grandmother, Mimi, who lives with Maize and her mom in California.
With the help of a quilt Mimi purchased years ago in Alabama, she peels away, layer by layer, the story of Harriet Tubman's inspiring life. The faith and courage displayed by the historical figure, known as the Moses of her people, impacts Maize's outlook on her own personal situation.
Maize has dated a man of a different race for two years, but her fear of the problems they may face in a permanent relationship prevent her from taking the next step in a commitment to Edward. When the telling of Harriet's story is unexpectedly interrupted, it drives Maize and Edward to seek out its conclusion. What they discover will affect their relationship for the rest of their lives.
Award-winning author Kathi Macias has crafted a wonderful novel that crosses racial and generational barriers. The theme that we are all interconnected in some manner is through our ancestry is brought to light. Her realistic characters and their conflicts encourage readers to examine their own beliefs, values, and opinions.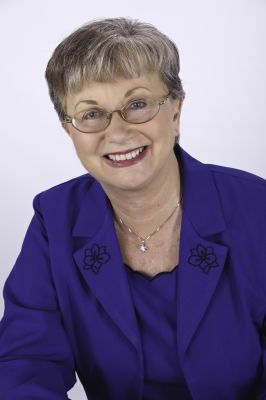 Kathi Macias (www.kathimacias.com) is a multi-award-winning author
of 40 books. A popular speaker at writers' conferences and women's events,
she lives in Southern California with her husband, Al.