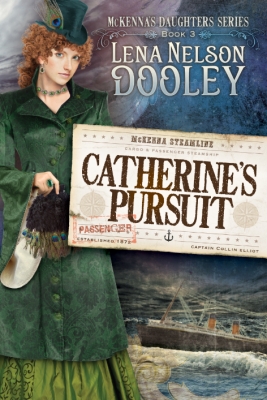 Author Lena Nelson Dooley is an esteemed author, respected mentor, and dynamic speaker I am honored to welcome her as a guest on The Over 50 Writer
Tell us about your latest book release, Catherine's Pursuit.
Raised by her father, Catherine McKenna has never lacked for anything, surrounded by people to take care of her every need. On her eighteenth birthday she discovers that not only did her mother die when she was born, but she has two identical sisters. Although her father vowed not to look for his daughters, Catherine made no such promise. Setting out on her own with one clue and her maid in tow, she's determined to find her sisters.
Collin Elliott has seen better days. After losing his ship to a violent and unexpected storm, he is trying to recover--physically and emotionally. When Angus McKenna sends him to find, follow, and protect his daughter, he wants nothing more than to finish his task and return home. Can he help her find her sisters?
And will the discoveries they make along the way teach them both what's most important in life?
You have enjoyed a successful journey as an author. What was the biggest obstacle you encountered during this journey?
It took me a long time to really believe in myself as a writer. When I finally understood that I was doing what God had created me to do at this season in my life, I was able to relax in what I was doing.
Of all the books you have written, who is your favorite character and why?
That's like asking what is my favorite child. I love a lot of my characters for their uniqueness. I really loved the triplets in this series and the ways they were alike though reared in different environments, and the ways they were different. And Collin, the hero in Catherine's Pursuit was a different one to write. Not only did he have internal issues, but he had injuries that were visible for others. That made him interesting.
How do you prefer to conduct your research? (EX: internet, personal interviews, museum visits, reading history)
All of the above. And I love the books that have come out the last few years that contain historical photographs of a particular place. They've really helped me visualize the settings.
As a mentor, what is the most common weakness you observe in new writers?
Just as with your children, new writers have differing weaknesses. But there are several that are fairly common. Writing what I call "talking heads, bare stage" where the people talk, but the author doesn't give the reader anything to see. And the other one that is prevalent is giving too much back story to slow the progression of the actual story.
You have an extensive speaking venue, including international appearances. What international speaking engagement was your favorite and why?
Probably the first time I spoke in Mexico with an interpreter. It really taught me a lot about the Mexican people. I really love them.
You have a significant web presence on several social media sites. If you could choose only two, which ones would they be and why?
Facebook, because of its wide coverage. And Goodreads, because of the wide variety of readers around the world.
Lena, you have 750,000+ books in print and have won awards for your writing and mentoring (ACFW Mentor of the Year) abilities. What is the next goal you would like to reach?
Actually, I'm preparing to make a foray into screenwriting soon.
As a successful author who has won three awards in your 60's, what advice would you offer to writers who do not begin a writing career until later in life?
Actually, I didn't start writing until I was in my 40s. I believe that God prepares us for each season of our lives. My season after my children left home was when He planned for me to become a professional writer/author.My best advice is to really seek Him for what He wants you to do. His plans often far surpass what we could plan for ourselves. He has taken me farther and promoted me more than I would have ever been able to do by myself. And I'm thankful for every place He takes me.
What is your favorite activity totally unrelated to writing?
Spending time with our extended family. A close second is spending time with girlfriends.
What would be the location for your dream vacation, all expenses paid of course!
Hawaii or Australia.
Where can readers find Catherine's Pursuit?
Where can readers find you on the Internet?
Other blogs where I am a regular contributor:
http://christianfictionhistoricalsociety.blogspot.com/
http://justthewritecharisma.blogspot.com/
http://www.bustlesandspurs.com/
LEAVE A COMMENT BETWEEN NOW AND 6:00 PM THURSDAY MAY 9TH FOR A CHANCE TO WIN A COPY OF CATHERINE'S PURSUIT. DON'T FORGET TO PROVIDE AN EMAIL ADDRESS!
Award-winning author Lena Nelson Dooley has more than 750,000 books in print.
Helping other authors become published really floats her boat, with over 20 signing their first book contract after her mentoring. Three of her books have been awarded the Carol Award silver pins, and she has received the ACFW Mentor of the Year award. The high point of her day is receiving feedback from her readers, especially people whose lives have been changed by her books.
Her 2010 release, Love Finds You in Golden, New Mexico, won the 2011 Will Rogers Medallion Award for excellence in publishing Western Fiction. Maggie's Journey appeared on a reviewers Top Ten Books of 2011 list. It also won the 2012 Selah award for Historical Novel. Mary's Blessing released in May 2012. It recently appeared on a review site's Top Five Reads in 2012 list. Catherine's Pursuit released in February 2013.
In addition to her writing, Lena is a frequent speaker at women's groups, writers groups, and at both regional and national conferences. She has spoken in six states and internationally. She is also one of the co-hosts of the Gate Beautiful blog radio show.
Lena has an active web presence on Shoutlife, Facebook, Twitter, Goodreads, Linkedin and with her internationally connected blog where she interviews other authors and promotes their books.