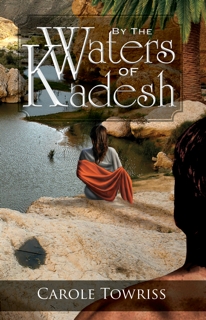 Featured Book: By the Waters of Kadesh
Author: Carole Towriss
Publisher: DeWard Publishing Company
Genre: Biblical Fiction
Series or stand alone: #2 in trilogy
Target age: Women
The Over 50 Writer is pleased to introduce novelist Carole Towiss. Welcome, Carole. It's great to have you here!
CAROLE IS OFFERING A GIVEAWAY OF HER BOOK, .BY THE WATERS OF KADESH. CHECK BELOW TO SEE HOW TO ENTER TO WIN.
Tell us about your book.
My latest book was released last November. It's a Biblical fiction titled By the Waters of Kadesh, and it's the story of the twelve spies who scouted out Canaan. More specifically, it's the story of one of the twelve who said the land could not be conquered, even though God had repeatedly said he had given it into their hands.
When did you begin your writing career?
I started my first book, In the Shadow of Sinai, over twenty years ago. For a number of reasons, I put it on the shelf and only picked it up again about 3 ½ years ago. I wasn't quite fifty.
You had passed your 50th birthday when you published your first book. Had you always wanted to be a writer?
No. In fact, in college, one of my professors said I should consider writing and I laughed! For the last twenty years or so it was in the back of my mind, but I wasn't working at it.
Your web site definitely reflects your interest in Biblical history and in writing Biblical fiction. What sparked that interest?
I was reading the Bible - I think I was in church - in Exodus 31. "Then the Lord said to Moses, 'See, I have chosen Bezalel son of Uri, the son of Hur, of the tribe of Judah, and I have filled him with the Spirit of God, with wisdom, with understanding, with knowledge and with all kinds of skills— to make artistic designs for work in gold, silver and bronze, to cut and set stones, to work in wood, and to engage in all kinds of crafts.' And I thought, 'Now how would a slave know how to do all that?' God could have just poof, given him all that knowledge, but that's no fun, and generally not how God works. So I made up a story.
Who has influenced your writing the most and why?
I don't really know. I've read lots of other Biblical novelists.
What was the most difficult aspect of writing or publishing your novels as an "older" novelist?
Well, I am older, but we had children late. I have three teenagers at home! Finding time is difficult.
You have one biological child and three internationally adopted children (all beautiful, by the way!). What advice would you give to couples who are interested in international adoption?
Thank you! Be patient. It takes a long time, but it is so worth it.
Where can we find you on the web?
Where can your books be purchased?
A few questions just for fun:
Sports participant or spectator? Participant, no question.
Favorite season? Summer. At the beach.
Iced tea or lemonade? Iced tea.
E-books or print? E-books.
Favorite place to live? East coast or west? Tough one. I grew up in San Diego, which is absolutely beautiful, but I love Washington DC's diversity.
By The Waters of Kadesh Book Cover Blurb:
Kamose, once Egypt's most trusted soldier, no longer has a country to serve or king to protect. Moses insists God has a plan for him, but Kamose is not so sure. Tirzah's cruel husband died shortly after they left Egypt. She escaped his brutality, but now she's alone, and once they reach their new land, how will she survive? Gaddiel, Tirzah's brother-in-law, is chosen as one of the twelve spies sent to scout out Canaan. He's supposed to go in, get information and come back, but all he really wants is to bring down Joshua.
LEAVE A COMMENT TO BE PLACED IN THE DRAWING TO WIN A COPY OF BY THE WATERS OF KADESH BETWEEN NOW AND WEDNESDAY, APRIL 30TH AT MIDNIGHT MST. DON'T FORGET TO LEAVE YOUR CONTACT EMAIL SO YOU CAN BE NOTIFIED IF YOU WIN!
Carole Towriss grew up in beautiful San Diego, California. Now she and her husband live just north of Washington, DC. In between making tacos and telling her four children to pick up their shoes for the third time, she reads, writes, watches chick flicks and waits for summertime to return to the beach. Her first novel, In the Shadow of Sinai, released November 1. You can find her at www.CaroleTowriss.com.