IT IS MY PLEASURE TO WELCOME AUTHOR ANE MULLIGAN, WHO HAS JOINED US TODAY TO SHARE HER WRITING JOURNEY. THINK YOU ARE TOO OLD TO SEE YOUR WRITING DREAMS REALIZED? THINK AGAIN!
Don't let anyone ever tell you you're too old to dream a new dream or start a new career. After all, Sarah was 90-plus when she became a mother. Noah was over a hundred when he became a shipbuilder. Moses was a card-carrying member of AARP when he led the nation of Israel out of Egypt.
So, why not me?
God called me to writing in December 2002, using Hubs to say the words, and I put pen to paper—okay, fingers to keyboard—on January 1st, 2003 just four days before my 56th birthday.
I had a long way to go before realizing that dream with a publishing contract. It took a few years to learn the craft of novel writing. I'd been a published playwright for seven years, but scripts are all dialogue and a few stage directions.
However, since I stepped out in faith and answered His call, God put mentors in my path, who taught me so much. POV? Never heard the term. Omniscient? That's what God was. Show don't tell? How do I tell a story without telling? Yikes! Yet, with each critique, I absorbed a new concept. I bought books on the craft of fiction writing my mentors recommended, read and committed to memory all I was taught.
Did I mention all the new technology I had to learn like Blogging and Social Media? Good gravy, it was a whole new language, and to this technically challenged brain? Well, it might as well have been Sanskrit. But once again, God brought savvy people into my world to help.
Then four special people came alongside me in the way of critique partners. Now, I have to admit at times I questioned God about them and their tough love. I call them Attila the Holmes, Hannibal Dotta, Genghis Griep, and Ludwig von Frankenpen. Oh, they have a name for me, too. I'm Ane of Mean Gables.
Along my journey, I often got discouraged, but each time, God sent something to encourage me. Sometimes it was a contest win or an acquisitions editor, who took my manuscript to committee. Still, the door to a contract remained tightly closed.
What I learned during these years is God is trustworthy with our dreams, no matter what they are. When we commit our ways to Him, He's faithful. We just need to factor in His time and place to our dreams.
I'd always wanted sisters, but only had an adopted brother. We were both adopted as infants. In 2009, God fulfilled that dream and my five birth sisters found me. That's another story and can be read on my website under Adoption Share—and yes, Heaven help them, they're just like me.
In 2013, the Lord finally opened the door to a publishing contract for me. I knew the time and publisher were right.
So no matter if you're over 50, it's never too late to dream or to follow those dreams.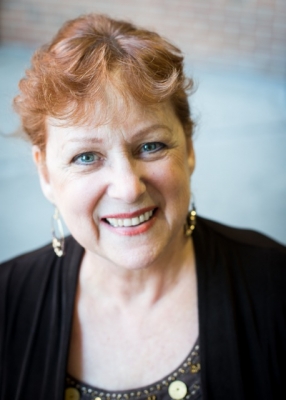 While a large, floppy straw hat is her favorite, Ane has worn many different ones: hairdresser, legislative affairs director (that's a fancy name for a lobbyist), business manager, drama director and author. Her lifetime experience provides a plethora of fodder for her Southern-fried fiction (try saying that three times fast). A multi-published playwright, humor columnist, Ane's debut book, Chapel Springs Revival, releases Sept 8th. She resides in Suwanee, GA, with her artist husband, their Chef son, and two very large dogs.