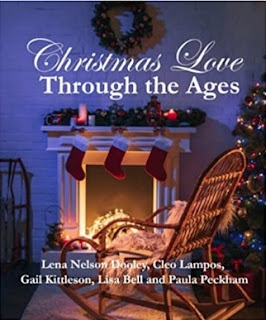 FEATURED BOOK: Christmas Love Through the Ages
AUTHORS: Lena Nelson Dooley, Cleo Lampos, Gail Kittleson, Lisa Bell and Paula Peckham
PUBLISHER: Independently published
GENRE: Holiday Historical Fiction
SERIES OR STAND ALONE: Each novella or story stands alone
TARGET AGE: 25-80
IT IS MY PLEASURE TO WELCOME AUTHOR CLEO LAMPOS TO THE OVER 50 WRITER. CLEO SHARES WHY RESEARCH IS HER FIRST LOVE IN THE WRITING PROCESS.
CLEO IS OFFERING A GIVEAWAY! SIMPLY LEAVE A COMMENT BELOW TO ENTER THE DRAWING FOR AN EBOOK COPY OF CHRISTMAS LOVE THROUGH THE AGES.
RESEARCHING FICTION
by
Cleo Lampos
It must be the librarian in me, because research is the favorite on line activity in which I engage. While preparing for presentations on historical events for the local college extension class for seniors at St. Xavier University, my mind kept rolling in over drive. What would it be like to really live in the situations that history presented? For seven years, my imagination mulled like a tasty stew.
Then Gail Kittleson sent an e-mail my way. Would I like to join a small group of historical fiction writers in a Christmas anthology? A novella and one short story in my preferred time periods that conveyed an inspiring holiday message would be needed.
I knew exactly what to write.
A Bookmobile Noel is the novella, set in the Dust Bowl during the Great Depression. Dorothy Wagner graduates from Chicago's librarian program with an assignment as bookmobile librarian in Southern Illinois to the rural people with no access to books. There, Dorothy meets Tom Nelson of the CCC working with soil erosion. Together, they deliver literacy to folks in small towns and farms, meet the hobos in a camp, deliver a baby and stop scurvy in the area. Faith is part of the journeys of these young people who interact with the local pastor.
The research for this novella started with my mother's diaries when she and my father lived in the Colorado Dust Bowl. That sparked an insatiable desire to learn all the information from their era when they traveled around for work with my much older brother in a drought ridden West. Books, movies, documentaries and letters from my mother created a mind full of images and a heart brimming with compassion. Years later, I wrote A Bookmobile Noel.
The other presentation at the college needing research involved the Korean War Veterans, many of whom sat in on the classes at St. Xavier. My brother had served on a PT boat in the Pacific during the Korean War, and as a youngster, I had incomplete information about that conflict. My mother took me to a Methodist Church as a child to hear the Korean Orphan Children's Choir perform. The church held a winter coat drive to send warm outerwear to the orphanage. Watching MASH on tv filled in some of the gaps. Reading several years of the official military newspaper, Stars and Stripes, I was struck by the love of orphaned children from our very young military men and women in Korea. Page after page and account after account chronicled their compassion for the people of Korea. All of my information was verified as I interviewed Korean War vets in my area. Again, this bit of yeast rose into a high rising bread.
Blessings on the 38th Parallel resulted from years of gathering true stories. In this short story, Robert Mc Allister, a radio technician, and Valerie Pazan, a MASH nurse, play out the scenes from so many narratives in Stars and Stripes Newspaper. Writing this story simply meant taking all the facts and creating people to bring them to life in a compelling plot. It is an effort to honor all Korean War Veterans, who are heroes in my eyes.
The anthology is filled with other novellas and short stories from diverse eras of American history. It is a book that will warm the heart and mind with the Christmas spirit.
Blurb for Christmas Love Through the Ages
This collection of festive stories honors traditions, reminds readers of their moorings, and warms the heart. The authors include novellas and short stories that span the 19th Century to today, from Bethlehem to Korea, circling to the Midwest and Texas. Lena Nelson Dooley, Lisa Bell, Gail Kittleson, Paula Peckham and Cleo Lampos offer this anthology to bring hope and possibility to the readers of Christmas Love Through the Ages.
DON'T FORGET TO LEAVE A COMMENT TO BE PLACED IN THE DRAWING TO WIN AN EBOOK COPY OF CHRISTMAS LOVE THROUGH THE AGES BETWEEN NOW AND SATURDAY, DECEMBER 18TH AT MIDNIGHT MST.
BY LEAVING A COMMENT, YOU GRANT PERMISSION FOR YOUR EMAIL TO BE REVEALED TO THE AUTHOR IF YOU ARE THE WINNER TO FACILITATE RECEIPT OF YOUR BOOK.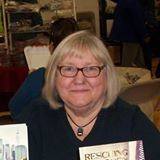 For 26 years, Cleo Lampos used storytelling, biography and history to teach her classrooms of students in the public schools near Chicago. Currently, she employs the same techniques to mesmerize senior citizens in community college extension classes. She facilitates Mid-Week Moments at her local church every Wednesday. With a Bachelor's Degree in Education from University of Wisconsin-Whitewater, and a Master's Degree in Special Education from St. Xavier University-Chicago, Lampos has written seven books and numerous magazine articles. Living in the Chicago area, she quilts, joins her husband in urban gardening/canning, and enjoys eleven grandchildren.
SUBSCRIBE TO PATTI'S BLOGS HERE