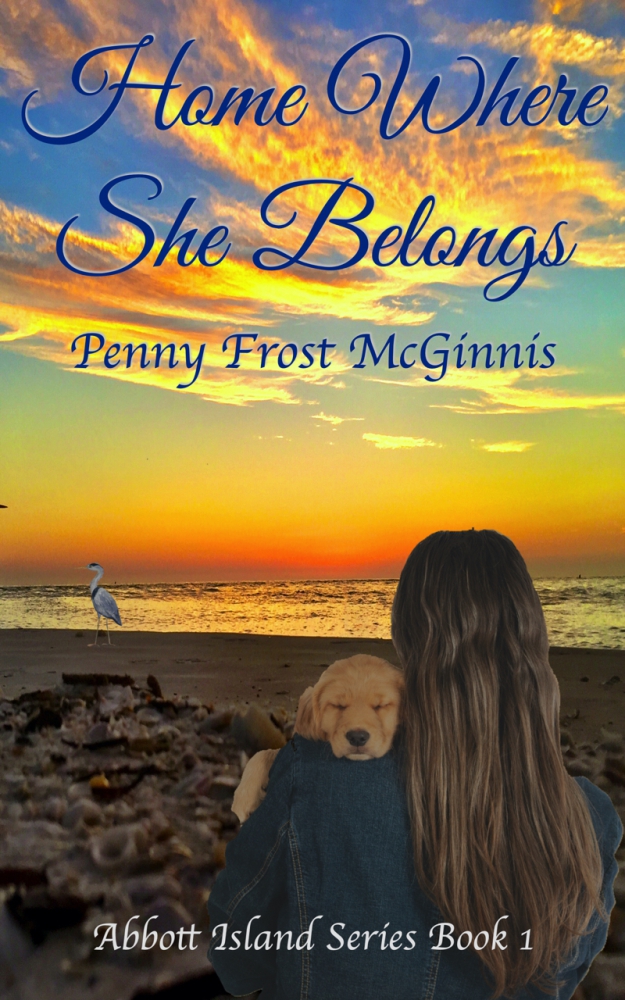 FEATURED BOOK: Home Where She Belongs
AUTHOR: Penny Frost McGinnis
PUBLISHER: Mt. Zion Ridge Press
GENRE: Contemporary Romance
SERIES OR STAND ALONE: Book One in the Abbott Island Series
TARGET AGE: Adults Women 20s+
IT IS MY PLEASURE TO WELCOME AUTHOR PENNY FROST McGINNIS TO THE OVER 50 WRITER. PENNY OFFERS ENCOURAGEMENT FOR THOSE CALLED TO WRITE.
PENNY IS OFFERING A GIVEAWAY! SIMPLY LEAVE A COMMENT BELOW TO ENTER THE DRAWING FOR A PRINT COPY OF HOME WHERE SHE BELONGS. PLUS A HANDMADE FELT BOOKMARK.
ARE YOU CALLED TO THE WRITER'S LIFE?
by
Penny Frost McGinnis
From the outside, the writer's life looks glamorous. Imagine spending all day making stuff up. Yes, imagining story is a large part of writing. Creating characters and setting brings great joy and satisfaction, but writing a story for readers requires so much more. The best words of advice I have for writers who are starting out on the author journey is be prepared to put in the time and the work.
For years I dreamed of being a published author. At one time I wanted to publish a children's book, but that opportunity never happened. In my twenties I was a reader of nonfiction and children's books as I raised my daughters. Then I took a job at the public library and started reading fiction again. I'd read fiction as a young person, but had gotten away from it. The more I read fiction, the more I enjoyed the stories. When Christian Fiction became more available, I embraced it. God changed my heart's desire to writing for women, which led me to pen fiction and work toward publication.
The time-line between my desire to write fiction and actual publication has been twenty-five years. During that time, I wrote devotions and had some published. I also started a blog where I post devotions, book reviews, and encouraging thoughts. I penned ideas and I read, a lot. So many great books have been written by amazing authors who want to help new writers. I joined the American Christian Fiction Writers and got to attend one conference where I connected with seasoned authors. I found smaller conferences to attend and connect. The encouragement spurred me along. I invested money and time for many years because I knew God called me to be faithful to Him and write, and I eventually learned the publication was up to Him.
God called me to be faithful and write—publication was up to Him.
If the dream of publication and the call to write rests on you, put in the time, the work, the tears, the laughter, and the love of the written word and be faithful. Fortunately, my husband, family, and friends supported my long journey. I pray you are surrounded by encouragement.
Now at sixty-four years old, I signed my first contract for my debut novel, Home Where She Belongs. I may not make much money or any for that matter, but I have the satisfaction of knowing I've been faithful to God after He lit the fire in me to write.
1 Thessalonians 4:11-12, "and to make it your ambition to lead a quiet life: You should mind your own business and work with your hands, just as we told you, so that your daily life may win the respect of outsiders and so that you will not be dependent on anybody," has become my go to verse in life. Put in the work, be faithful, and God will provide.
I waited twenty-five years to see my dream come true, but if publication had never happened, I know I have done what God asked me to do.
If you have the desire to write placed on your heart, keep at it. Be willing to learn from other writers, attend conferences, follow your favorite authors on social media, read books, and write, write, write. Best wishes as you pursue your dream.
Book Blurb for Home Where She Belongs:
Small-town romance with a dash of mystery and the promise of hope.
Tired of being a pawn for her father and an emotional punching bag for her ex-boyfriend, Sadie Stewart escapes to Abbott Island where she spent summers with her grandparents. Would the love and faith she learned from them be enough to fuel her new life? She wants to believe God's promises, yet broken trust holds her back.
Joel Grayson left the island long enough to train at the Police Academy. The community trusts him, even though he's failed. When he finds Sadie at her grandparents' cottages, his heart skips a beat. He'd love to get to know her again, but no one needs to share the hurt he harbors.
When Sadie discovers someone is sabotaging her future, she seeks Joel's help. As they are drawn together, will Joel let down his guard and let her in? Will Sadie trust the man who loves her and the Father Who cares?
Home Where She belongs is available at Amazon, Barnes and Noble and other book sellers.
DON'T FORGET TO LEAVE A COMMENT TO BE PLACED IN THE DRAWING TO WIN A PRINT COPY OF HOME WHERE SHE BELONGS PLUS A HANDMADE FELT BOOKMARK BETWEEN NOW AND SATURDAY, MAY 7TH AT MIDNIGHT MDT.
BY LEAVING A COMMENT, YOU GRANT PERMISSION FOR YOUR EMAIL TO BE REVEALED TO THE AUTHOR IF YOU ARE THE WINNER TO FACILITATE RECEIPT OF YOUR BOOK.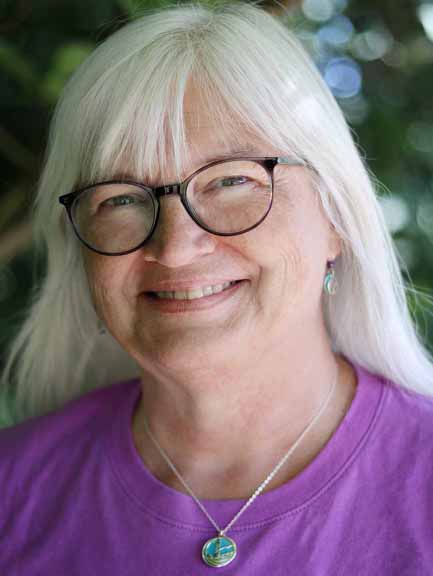 If Penny Frost McGinnis could live in a lighthouse or on an island, she would. Instead, she and her husband are content to live in southwest Ohio and visit Lake Erie every chance they get. She adores her family and dogs, indulges in dark chocolate, enjoys fiber arts, and grows flowers and herbs in her tiny garden. She pens romance with a dash of mystery and the promise of hope. Her life's goal is to encourage and uplift through her writing. Connect with Penny:
Website/Blog https://www.pennyfrostmcginnis.com/
Facebook Author page: https://www.facebook.com/PennyFrostMcGinnisAuthor
Twitter https://twitter.com/PennyFMcGinnis
Pinterest https://www.pinterest.com/pennyfmcg/hope-for-todays-heart/
SUBSCRIBE TO PATTI'S BLOGS HERE