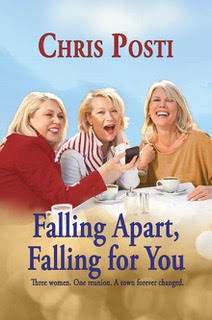 FEATURED BOOK: Falling Apart, Falling for You
AUTHOR: Chris Posti
PUBLISHER: Elk Lake Publishing
GENRE: Christian Women's Fiction with elements of Romance
SERIES OR STANDALONE: First in series of three
TARGET AGE: 50 plus
IT IS MY PLEASURE TO WELCOME AUTHOR CHRIS POSTI TO THE OVER 5 WRITER. CHRIS SHARES HOW GETTING OLDER DOESN'T MEAN HOPELESSNESS.
CHRIS IS OFFERING A GIVEAWAY! SIMPLY LEAVE A COMMENT BELOW TO ENTER THE DRAWING FOR AN EBOOK COPY OF FALLING APART, FALLING FOR YOU.
FALLING APART, FALLING FOR YOU
by
Chris Posti
I turned 70 on April 29, 2022, the day my debut novel was published. While I don't feel like I'm 20 anymore, my life is full and active, making me feel far from 70. Yet the world often discounts me, even acts like I'm invisible. Can you relate?
The three main characters in my novel, Falling Apart, Falling for You, are age 57. They come together again for the first time since graduating from a parochial high school 40 years ago. One just lost her job (she's sure it's because she's too old), another unexpectedly became a widow, and the third has made a fortune but now has no purpose in life.
All three are struggling with who they are and who they want to become. As they renew their friendship, they figure out a few things about themselves. They grow in their faith, open themselves up to new relationships, and even save their little hometown from financial ruin.
One of the messages I hope readers will take away from this book is hope, regardless of one's age. There are all kinds of hopes, but the most important one of all is the Hope within me.
And that's why it doesn't bother me when I'm treated as inconsequential. I know who I am in Christ. Can you relate?
BLURB for Falling Apart, Falling for You
With their lives in a free fall, three women gather for their 40th high school reunion in tiny Port Mariette, Pennsylvania. At 57, is it too late for them to make a fresh start?
Suzanne
After spending most of her adult life working as a traveling trainer for an airline, untethered and mildly content, Suzanne feels a stirring in her heart for a seemingly perfect guy. But when she abruptly loses her job, she lands in surprising new territory.
Rachel
Seeking distraction in the wake of her husband's sudden passing, Rachel helps organize her class's first reunion in 40 years. Stunned by an old friend's shocking secrets, she struggles to learn forgiveness as she tiptoes into her new-found freedom.
Marla
After selling her thriving business, Marla revisits high school friendships and her mysterious past. Seeking family and a renewed purpose, she adds her marketing expertise to the group's strategy for revitalizing the blue-collar town that brought them back together.
"A witty novel featuring relatable characters and surprising twists—everything from sharing shame-filled secrets, hobbling through grief, growing a fledgling faith, and the joys and trials of enduring friendship. Falling Apart, Falling For You will capture your heart and encourage you that it's never too late to make a fresh start."
Sarah Hanks Author of Mercy Will Follow Me, Mercy's Song, and Mercy's Legacy
Amazon purchase link http://ow.ly/FHXS30sjueZ
DON'T FORGET TO LEAVE A COMMENT TO BE PLACED IN THE DRAWING TO WIN AN EBOOK COPY OF OFFALLING APART, FALLING FOR YOU BETWEEN NOW AND SATURDAY, MAY 21ST AT MIDNIGHT MDT.
BY LEAVING A COMMENT, YOU GRANT PERMISSION FOR YOUR EMAIL TO BE REVEALED TO THE AUTHOR IF YOU ARE THE WINNER TO FACILITATE RECEIPT OF YOUR BOOK.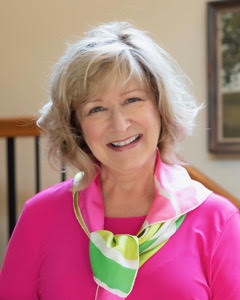 Chris Posti has authored two nonfiction books and was a newspaper columnist and consultant for more than 20 years. Falling Apart, Falling for You, the first book in the Next Act series of three, is her debut novel.
Connect with Chris:
Website/Blog: https://chrisposti.com/
Facebook: https://www.facebook.com/chris.posti
Pinterest: https://www.pinterest.com/ChrisPosti/_saved/
Goodreads: https://www.goodreads.com/user/show/117255515-chris-posti
Newsletter Sign-up: https://chrisposti.com/newsletter/
SUBSCRIBE TO PATTI'S BLOGS HERE