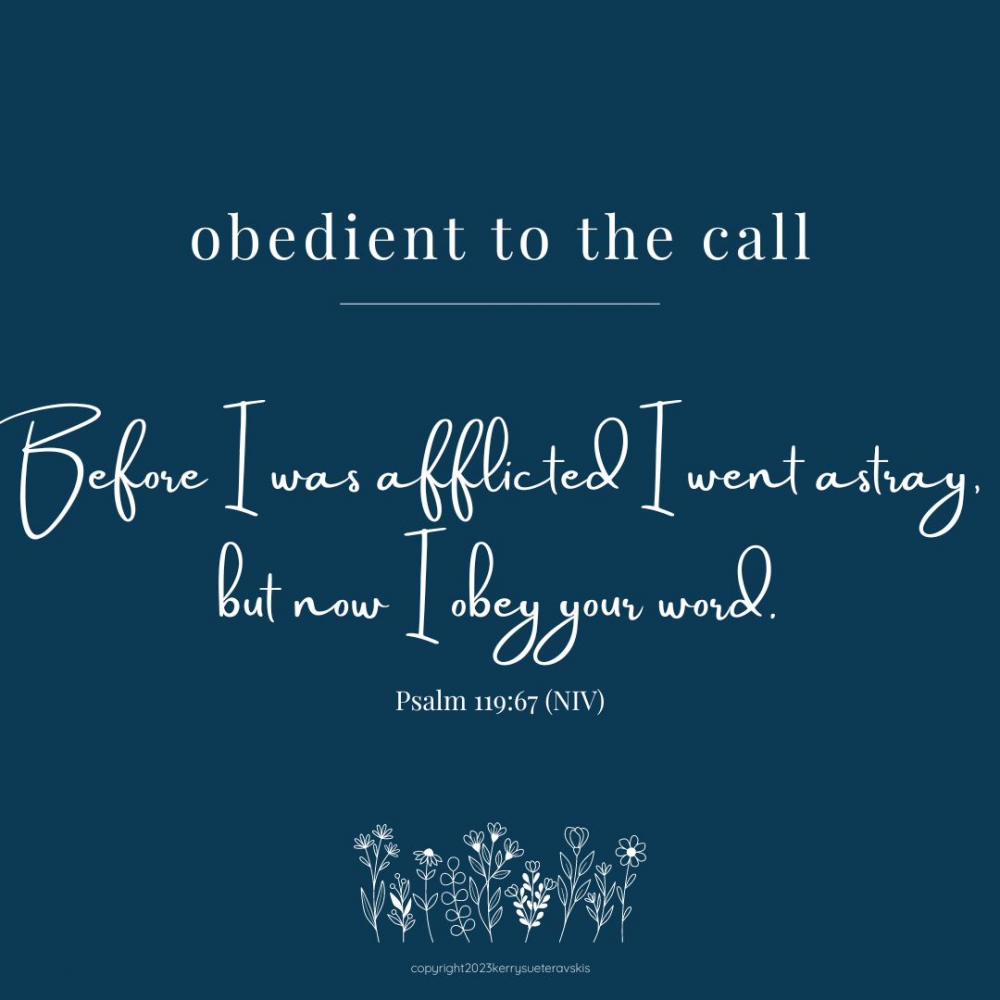 IT IS MY PLEASURE TO WELCOME DEVOTIONAL WRITER KERRY SUE TERAVSKIS TO THE OVER 50 WRITER. KERRY SUE SHARES A DEVOTIONAL ABOUT OBEDIENCE.
OBEDIENT TO THE CALL
by
Kerry Sue Teravskis
Before I was afflicted I went astray, but now I obey your word. Psalm 119:67 (NIV)
It was during my second bout of affliction I obeyed. God had called me before to write and I half-heartedly did – writing a blog and getting a website. But I was not consistent.
Affliction does things to people. Either we run, withdraw, get angry, hunker down, or obey. I've done them all, but it was when I obeyed things settled into place.
My first affliction began at age fifty, was over five years long and I was able to do most physical activities. God had me write about finding His Sovereignty in our suffering - because He is Sovereign, everything filters through His loving hands. Everything. Including suffering.
Coming to grips with this is more than half the battle and there are still moments begging for clarity and a laying down of self. At least for me.
Before affliction, I did not stray, but I was not walking in the fullness of His calling, as Jesus stated He did:
"For I have come down from heaven not to do my will but to do the will of him who sent me." John 6:38 (NIV)
I am to have the same attitude as Christ (Philippians 2:5) and to follow His example. I am to do His Father's will. And for me, it was to write and point others to God in order to bring understanding to one's suffering.
Not that suffering can be completely understood, but one can see glimpses of God's design and purpose in the suffering; opportunities for ministry, growth, bringing comfort to others, the willingness to choose to obey.
There's the rub.
Choice. Suffering and affliction happen in this broken and sin-filled world. We are not immune to it as James tells us - God causes the rain to fall on the just and unjust. But, as Christians, we are assured of His walking with us in the storm of suffering and in the midst of fierce trials - He gives us great comfort.
As my second affliction became a reality, I was living life to the fullest. My job as a homeschooling mom was done after we graduated our last one. Life was rich with family, church involvements, meaningful friendships. It was good.
A random time at Disneyland and a month before the global pandemic, I got injured. Both feet and the same bone in each. The timing was incredibly difficult to get a diagnosis and a proper one at that with so much uncertainty.
As many were doing, we watched church online (it worked for me with the broken feet). Mother's Day 2020 was especially poignant as I heard God's voice and I surrendered. He called, I obeyed. He reminded me of His call earlier about writing, which I had put down; He asked me to pick it up and honor Him by writing about finding God in the suffering. The call had not changed.
I was given an opportunity to fully surrender and walk in obedience to His call and purpose for me, in this time of my life. Was I willing to heed the call?
The pastor was preaching, but not on surrender; it was Mother's Day after all. But there was no mistaking it. God spoke, not from a place of judgment, but from a place of love.
It is out of love God calls. Out of love God directs His children. Out of love He disciplines and molds us to be more like His Son. Out of love He gives us purpose to point others to Him. Out of love He pursues us, calling us His own and giving us a voice.
The woman with the issue of blood in Mark 5:21-34 was cast off and out. Forgotten, lonely and afflicted. She had spent everything and was worse for the wear. She was tired, desperate and seeking. She knew Jesus was passing by and she seized that moment to grab the hem of His garment. Just the hem. In her calculated actions, the hem was enough to heal her of her twelve-year suffering. She silently grabbed the tsit tsit on the back of Jesus's garment and planned to walk away.
However, Jesus noticed. In the crowd pushing all around, He noticed her. He paused to give her the choice to walk in obedience, using her voice to testify to His goodness, mercy, grace and healing. She responded. God called her to walk out her purpose, using her voice. And she did.
Jesus passed by my life and I too grabbed those tsit tsits. What a joy to use my voice to obey and serve Him.
How about you?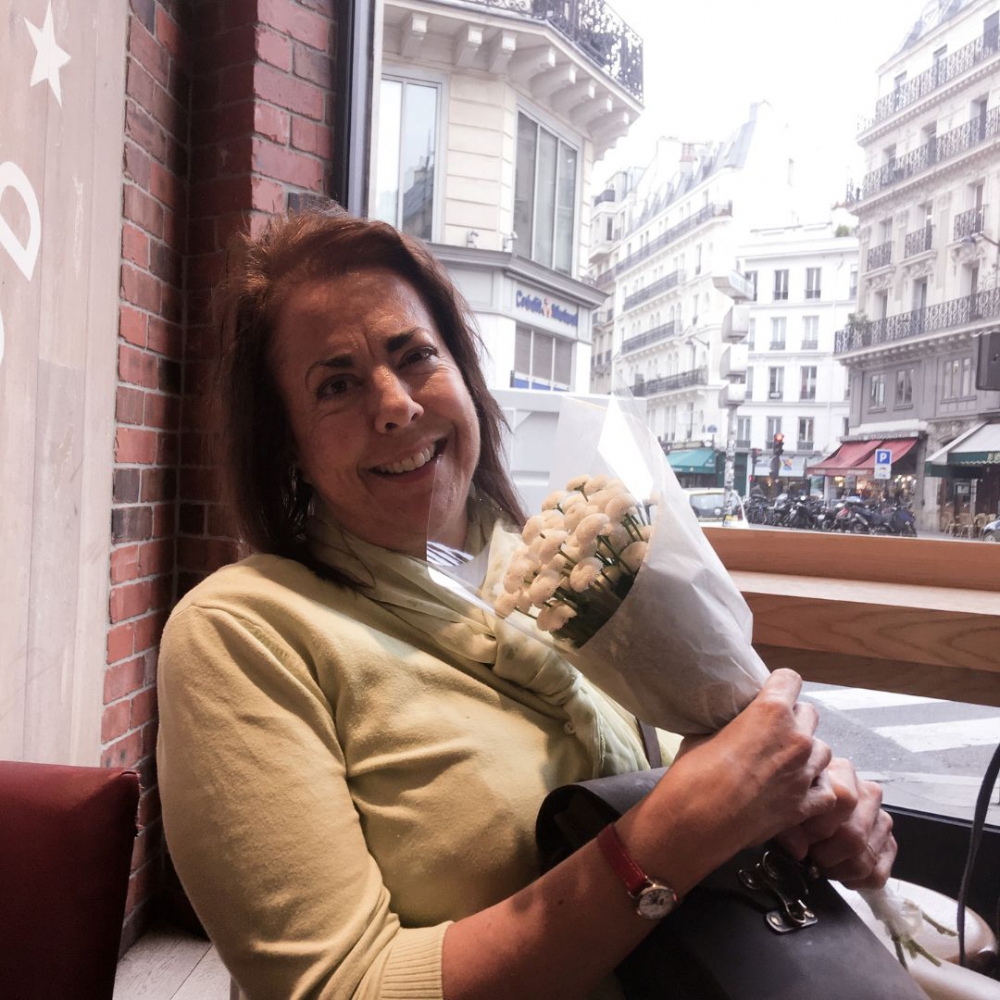 As a wife and Marmee to three adult children and one brand new daughter-in-love, Kerry Sue's life is very full. She met her husband in college and served in the mission field with him for a few years before settling down back in the United States of America to raise their family.
Kerry Sue's family was a homeschooling family for 20 years and they enjoyed it immensely. For the last 23 years they have lived on a small farm in Northern California where they have raised many farm animals, along with growing and preserving their food. Kerry Sue's family farm has been a great source of enjoyment and a place to host many family gatherings. She maintains an open-door policy for dear friends—old and new.
Following and serving Jesus Christ is an integral part of Kerry Sue's life as well as her family's.
Whether it's singing in our church choir, teaching children or leading and lecturing at a women's Bible study, Kerry Sue loves to demonstrate her love for Jesus by giving to Him in service. She's been a blogger for more than eight years, a Bible study writer for two years, and a devotional writer for about one year.
Kerry Sue writes about finding God's Sovereignty in our pain and suffering.
Connect with Kerry:
Blog: https://www.sovereignblog.com/home
Facebook: https://www.facebook.com/kerry.teravskis
Instagram: https://www.instagram.com/ksteravskis/
SUBSCRIBE TO PATTI'S BLOGS HERE