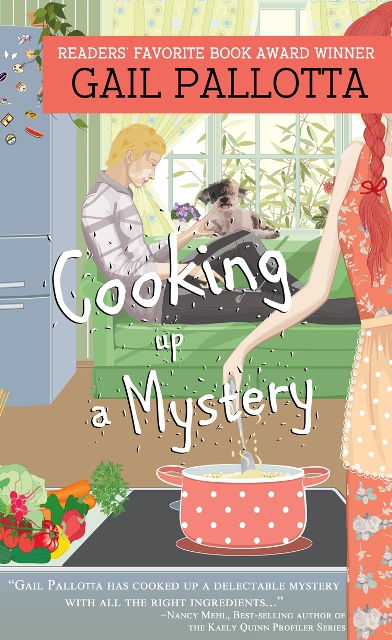 Featured Book: Cooking up a Mystery
Author: Gail Pallotta
Publisher: Pelican Book Group
Genre: Mystery
Series or Stand Alone: Stand Alone
Target Age: Adult
IT IS MY PLEASURE TO WELCOME AUTHOR GAIL PALLOTTA TO THE OVER 50 WRITER. Gail SHARES HOW DRAWING ON HER EXPERIENCES AS A CHILD LED TO A NOVEL IDEA.
GAIL IS OFFERING A GIVEAWAY! SIMPLY LEAVE A COMMENT BELOW TO ENTER THE DRAWING FOR WINNER'S CHOICE OF A PRINT OR EBOOK COPY OF COOKING UP A MYSTERY.
WHIPPING UP A STORY
by
Gail Pallotta
From what I've seen of the writing bug, it bites people at different times in their lives, but no matter the age or occupation, when it bites, quite a few of us take the plunge into the world of storytelling.
Pairing desire with the adage "write what you know" has gotten many a writer off to a great start. Even though I've written several books, the bug to write a culinary book bit me only after I met a newspaper faith writer who asked if I wanted to work together on a project. She had written a cookbook as a fundraiser for Mission Love Seeds, a charity which supports children. I grew up surrounded by Southern gourmet cooks. We decided to combine some of the recipes she had collected with my upbringing and ended up with Cooking up a Mystery, which has two-dozen plus recipes in the back of the book.
In the story, Laney Eskridge is on edge from emotional scars from her parents' deaths and her husband's infidelity and abandonment. Then she hears unexplained noises in her new tea house, and her anxiety is tripled. Add a budding romance with Eric—a guy with a fear of commitment—and it's all too much to handle. She cuts ties with Eric and works to make her business pay off, but he discovers she's in danger and wants to help. Little could they know they would overhear a threat that could cause national turmoil.
It was fun drawing on my experience cooking from age ten to write Cooking up a Mystery and exciting to find out Amazon selected the book for a Monthly Deal of $1.99, which is good through June.
Taking the first step into something new can be difficult, but the journey can make the effort worth it.
Buy link: https://amzn.to/3dfKATd
DON'T FORGET TO LEAVE A COMMENT TO BE PLACED IN THE DRAWING TO WIN A PRINT OR EBOOK COPY OF COOKING UP A MYSTERY BETWEEN NOW AND TUESDAY, JUNE 27TH AT MIDNIGHT MT. (U.S residents only eligible for print copy).
BY LEAVING A COMMENT, YOU GRANT PERMISSION FOR YOUR EMAIL TO BE REVEALED TO THE AUTHOR IF YOU ARE THE WINNER TO FACILITATE RECEIPT OF YOUR BOOK.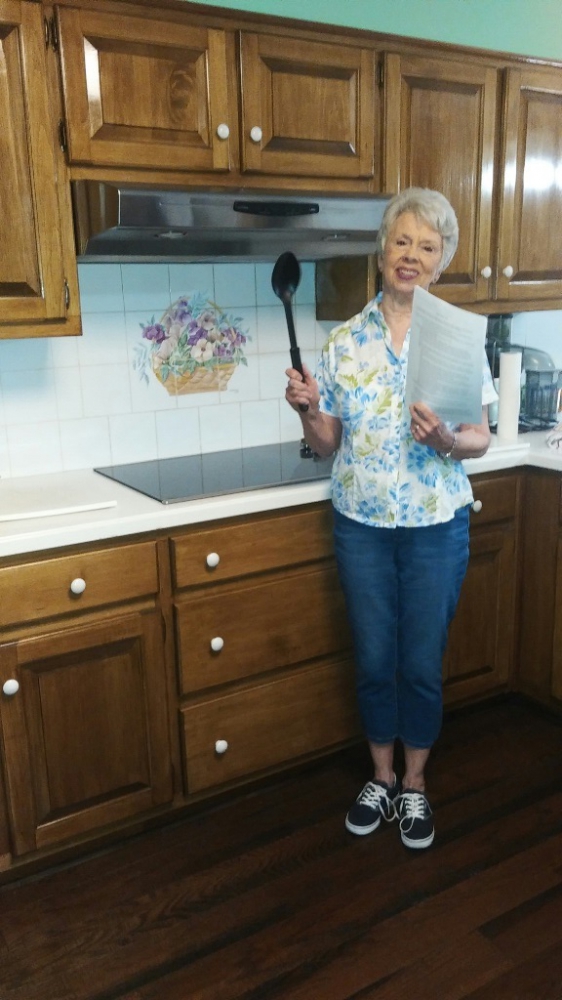 Award-winning author Gail Pallotta is a wife, mom, swimmer and bargain shopper who loves God, beach sunsets and getting together with friends and family. A 2013 Grace Awards finalist, she's a Reader's Favorite 2017 Book Award winner and a TopShelf 2020 Book Awards Finalist. She's published six books, poems, short stories and several hundred articles. Some of her articles appear in anthologies while two are in museums. A people person, she enjoys connecting with readers.
Newsletter - https://www.gailpallotta.com/mainphp.html
Website – www.gailpallotta.com
Facebook - https://www.facebook.com/AuthorsandMore
BookBub - https://www.bookbub.com/profile/gail-pallotta
Pinterest - https://pin.it/1UwNTX4
Mission Love Seeds Website: https://www.missionloveseeds.org/blog/about/
SUBSCRIBE TO PATTI'S BLOGS HERE