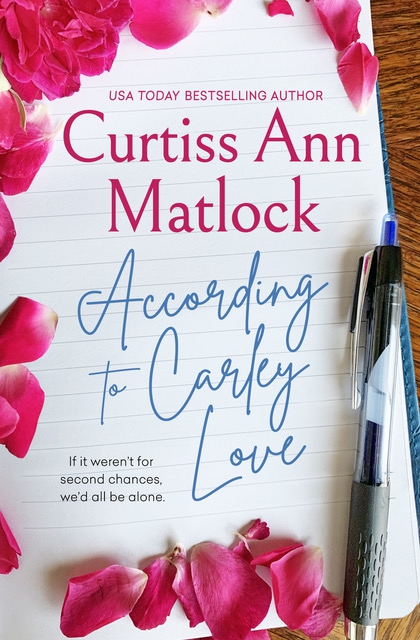 FEATURED BOOK: According to Carley Love
AUTHOR: Curtiss Ann Matlock
PUBLISHER: Sweet Olive Studio Press
GENRE: women's fiction
SERIES OR STAND ALONE: Stand Alone
TARGET AGE: Over 18
IT IS MY PLEASURE TO WELCOME AUTHOR CURTISS ANN MATLOCK TO THE OVER 50 WRITER. CURTISS ANN TALKS ABOUT THE UNEXPECTED PATHS WHERE GOD HAS LED HER.
WHEN GOD INTERRUPTS MY PLANS
by
Curtiss Ann Matlock
This morning I had occasion to read the opening pages of my novel Little Town, Great Big Life, the final story in my Valentine series. I was taken swiftly back to my imaginary, but very real to me, town of Valentine, Oklahoma. The question popped like a cartoon bubble in my mind: How many years ago did I write that story?
The copyright date is 2010. I was fifty-nine years old. After a writing career of over twenty-five years, Little Town, Great Big Life was to be my last book. I had decided to retire and enjoy my grandchildren and time with my husband. My husband had bought a boat. We were talking about also buying an RV and visiting NASCAR races. We were enjoying life together.
And then my husband died. The life I knew and the life I planned was dust in the wind.
I did not plan to write again. I couldn't. I couldn't seem to read, either. I did not envision a future. My imagination and my voice were gone. Getting through the demands of day-to-day living took all I had.
And then, in the midst of the hardest time of being a care-giver to my mother, I picked up a yellow pad and began to write a story about a woman and her mother. I talked a lot to God with that writing. I prayed for strength for living and for finding my way.I would write and then not write for months on end. The story changed and changed. I would pray and work, pray and work, pray and set it aside. Eventually I wrote 'the end' and sent the manuscript to my agent, who said it was a mess. I firmly set the book aside, done with it. Yet a tiny creative desire remained. I encountered a long-time trusted editor; with her observations and advice, I began work again, haltingly, and bumbling through all that did not work, an entire re-write. Gradually I began to write steadily on the book and on my blog.
This past September, at the age of seventy-two, I saw the release of According to Carley Love. The story is nothing like it started out being, just as I am nothing like I was when I started writing it. The writing brought me to a new life. It taught me to trust that God has His plans, and they are always for my good.
"For I know the plans I have for you, declares the LORD, plans for welfare and not for evil, to give you a future and a hope. Then you will call upon me and come and pray to me, and I will hear you" Jeremiah 29: 11-12 ESV
I found this is true. And that it does not matter how lost I feel. Feelings are not facts. God has a plan, and it is working in my life. Carley Love, like myself, bumbles along and learns this, too.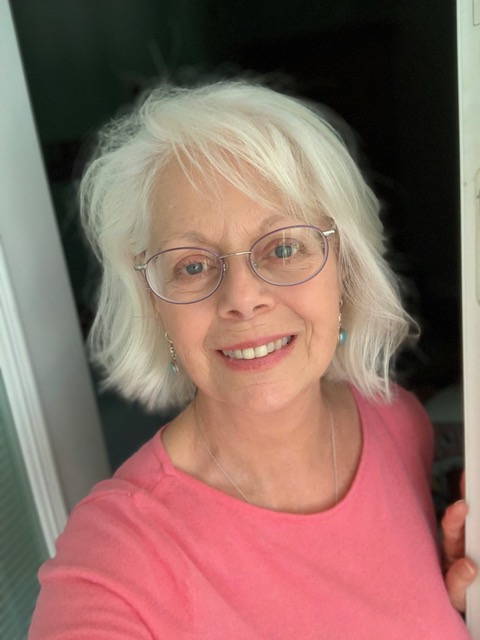 Told with a strong Southern voice, Curtiss Ann Matlock's touching and heart-warming romantic stories portray the grace, grit, and human comedy of men and women striving to live and love well in small-town America. Her novels have placed on the USA TODAY best-seller lists and received numerous awards, among them two National Readers' Choice Awards, and three nominations for the Romance Writers of America's prestigious RITA Award.
A native of North Carolina, Curtiss Ann lived many years on a small ranch in Oklahoma. She now resides in Alabama, where she is busy with writing, family, and RVing. You can learn more about her at curtissannmatlock.com
SUBSCRIBE TO PATTI'S BLOGS HERE