I'VE HAD OCCASION TO READ SEVERAL GOOD BOOKS THIS YEAR, BUT INDEBTED BY BRAXTON DeGARMO STANDS OUT AS ONE OF MY FAVORITES. FIND MY REVIEW BELOW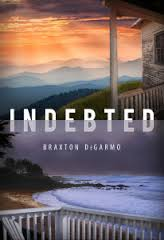 Featured Book: Indebted
Author: Braxton DeGarmo
​Publisher: Christen Haus Publishing
Genre: Suspense
Series or Stand alone: stand alone
Target age: 18+
Braxton DeGarmo was a new author to me when I won a copy of his book, Indebted. I was excited to start reading because the description promised adventure, adversity, and an engaging plot. I was not disappointed.
Young Alice Cummings faces one of the deepest heartbreaks a mother can face, the loss of her son in the cruelest of ways when the child is stolen from her by her alcoholic father and sold. Alice escapes her abusive home and goes in search of her missing child, but with little resources, faces hardship and heartache along a journey that leads her to confrontation with reality and spawns maturity.
A parallel plot unfolds with Myra Mitchell, who, at the peak of success, learns she has a disease that threatens to bring her hard earned writing career to a halt. Myra sets out in pursuit of Betsy Weston, the cartoonist she has always admired, focusing on the goal to compete her last book. Little does she know her quest will place her in danger from an unknown assailant.
This was one of those books with enough plot twists and turns within its pages to keep me reading long past my bedtime. I just had to find out what was going to happen next. The intricate intertwining of the lives of the characters can only come from the imagination of a master storyteller.
The author takes his readers into the heart and soul of his story by creating realistic characters who deal with challenging circumstances. From the innocent and victimized young Alice Cummings to the crusty and hardened world renowned author Myra Mitchell, DeGarmo portrays people who have brushed our own lives.
Even though this is a Christian book, there is language that some readers may find offensive. I personally did not feel this element detracted from the quality or message of the story.
I would recommend this book to readers who enjoy suspense with great character development and an intricate plot.
Have you read Indebted? What did you think? Share other good books you have read!