Welcome Author Lillian Duncan
Tuesday, November 13, 2012 by Patti Shene
I am pleased to welcome author Lillian Duncan to The Over 50 Writer. Lillian has an amazing and inspriig story to tell about her writing journey.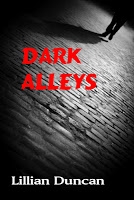 Tessa's life spiraled out of control and she finds herself in a dark alley on a cold wintry night. After she witnesses a murder, she almost becomes his second victim, but manages to escape—just barely.

Homeless and alone, she knows the authorities won't believe someone like her, leaving her only one option—to run.






PART OF THE PROBLEM OR PART OF THE SOLUTION?

My writing journey has been a long and twisted path—and I made some wrong turns along the way. But God has been with me every step of the way.

I didn't start writing until I was forty. For the life of me, I can't figure that one out since I always had stories in my head. Daydreams I called them. But they were very detailed with interesting characters and plots. Sometimes happy endings and sometimes not so happy.

One day I realized—hey, I'm supposed to be writing those stories down, so I did.

It took me a year to finish that first manuscript and it was the best fun I'd had in a long time, so I started another one and another.

Even though I was a Christian since my teens, I wasn't living a Christian lifestyle at the time. Along with starting my writing journey, I was also beginning my spiritual journey back to my Christian roots.

My first attempts at writing a novel were mystery and suspense and just like the books I read, they were filled with four letter words and gratuitous sex.

When someone called me on the language, I explained that's how bad guys talk but...I began to wonder about that, and the more I prayed about it, the more uncomfortable I became.

About the same time, I got very tired of reading that same bad language and titillating sex scenes in books that would have been much better without them. But the thing that really bothered me the most with some of the mainstream books I read was the negative portrayal of God, traditional values, and Christians.

That led me to Christian fiction.

It occurred to me that you're either part of the problem or part of the solution. I wanted to be part of the solution. And a Christian fiction writer was born.

I am so thankful that my earlier "raunchy" attempts—oops—I mean mainstream suspense didn't get published. I'm so glad I didn't add to the problem.

Now, here's one more story about God's part in my writing journey. A few years ago, I was at the end of my rope. I'd been writing for fifteen years and couldn't get a traditional contract.

I self-published a book and then did two with a print-on-demand company, but had decided I was done with that route. If I was going to devote all the time needed to write novels, I wanted more than a few people to read my stories. I would get a traditional contract or no more books.

Agents/editors were interested but never took that final plunge with my manuscripts. I came to the conclusion that I was wrong about it being God's Will for me to be a writer.

And as much as I loved writing, I loved God more.

I prayed for him to show me a clear sign that He either wanted me to write or that He didn't want me to write. And then I waited.

But I didn't have to wait long.

Out of the blue, two of my high school classmates contacted me on Facebook and told me they'd read one of my books and loved them in the same week. I thanked them, but then it occurred to me that it might be the sign from God I'd prayed for.

Nah—it couldn't be, could it?

OK, God. If that's really you giving me a sign, give me one more and make it a big one, please??

A niece of my husband's called me later that same week. She'd purchased one of my books awhile back to be nice, but she wasn't much of a reader. I never expected her to read it and she hadn't up to that point-more than a year. She called to tell me she read the book and really liked it.

Wow! OK, that was big enough not to ignore.

I kept writing.

Within two months, I'd received two offers for manuscripts from traditional publishing houses. I received a third contract just this week for a novella I wrote.

God is good!

LILLIAN DUNCAN writes stories of faith mingled with murder & mayhem. She writes the type of books she loves to read—suspense with a touch of romance. Whether as an educator, a writer, or a speech pathologist, she believes in the power of words to transform lives, especially God's Word.
To learn more about Lillian and her books, visit her web site. . She also has a devotional blog.

Her latest book DARK ALLEYS (Lost and Found Books) was released in September. She will also be releasing a novella just in time for Christmas-THE CHRISTMAS STALKING (Harbourlight Books).

About DARK ALLEYS: Being innocent and proving it are two different things, especially when a powerful politician is involved.
---