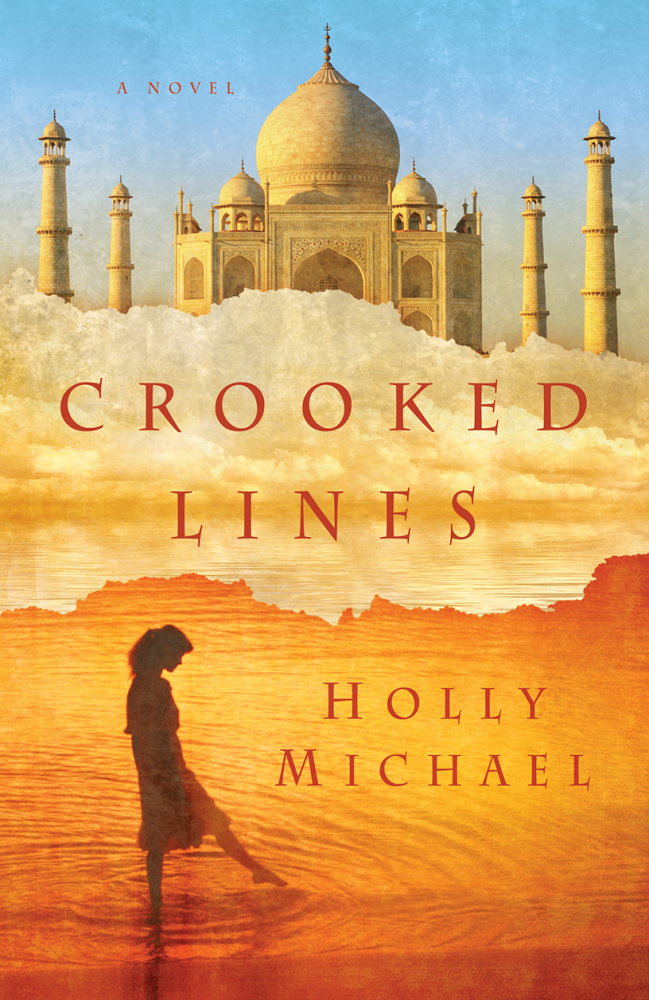 Featured book: Crooked Lines
Author's name: Holly Michael
Publisher: AMDG Publishing
Genre: Christian Women's Fiction
Stand alone or series: Stand Alone
Target age: young adult and above
IT'S A PLEASURE TO WELCOME AUTHOR HOLLY MICHAEL. WHEN SHE BEGAN TO SERIOUSLY PURSUE AN OVER 50 WRITING CAREER AND THOSE DOUBTS STARTED CREEPING IN, GOD PROVIDED THE INSPIRATION SHE NEEDED IN A FEW SIMPLE WORDS.
HOLLY IS OFFERING A GIVEAWAY OF A COPY OF EITHER CROOKED LINES OR HER DEVOTIONAL FIRST AND GOAL - WHAT FOOTBALL TAUGHT ME ABOUT NEVER GIVING UP*. CHECK BELOW TO LEARN MORE ABOUT FIRST AND GOAL AND SEE HOW TO ENTER TO WIN.
A few years ago, I was an empty nester with the big FIVE-OH just a calendar page away. It was time! I was ready to step into the next phase of my life: "career-hood."
I pulled up my old resume. The only additions I could think of adding were "On-Demand Chef, Driver's Ed Teacher, and Football Stadium Cheerleader." But those fine skills hadn't earned me any money…just a few pounds, a few more gray hairs, and strained vocal chords.
My writing credits were dated. While raising my kids, I'd done some non-fiction freelancing for magazines and newspapers as well as a short stint as a full time feature writer for a local newspaper. But that had been years earlier. Newspapers weren't hiring. The magazines I wrote for had gone out of business. My contacts were all old; like me.
I considered what I had to do to go forward in my writing career: two completed novels and a good start on a third. I also blogged. But I couldn't make a living blogging and novel writing wasn't a career path that brought home much bacon. Not that I had hopes to earn a six-figured salary, but at least I hoped to earn enough to maybe bring home bacon from my local meat market; maybe some milk and eggs too. My highest hope was to supplement my pastor husband's salary.
After some praying and much bemoaning the uncertainty of my career path, I joined the ACFW – American Christian Fiction Writers and made a decision. I'd go to a conference, get an agent, and pitch my fiction and a non-fiction idea that was rolling around in my mind.
A few months later, my husband and I drove to Indianapolis to the annual conference. Approaching the city, doubt crept in. With my husband at the wheel, I lowered my head and silently prayed. Lord, can I do this?
Then I look up. We had just entered into a lane closure area and orange flashing signs were pointing to the left. A semi truck was ahead of us. In huge letters, on the back of the truck were the words, "AM-CAN"
I read it as a message from God! I AM. YOU CAN! The flashing orange lights pointing toward it reminded me over a scene from the movie, Bruce Almighty, where Jim Carrey gets a whole lot of signs from God.
God is the I AM. And with the I AM, I said, "I can."
At the conference, I was on fire, approaching editors and agents in hallways and elevators. With the I AM giving me an "I can" boost, I presented my one-sheets with confidence.
Shortly after that conference at the age of fifty, I signed with an agent and got a book contract.
Slowly, my writing career is taking off and I'm pretty excited. I have one non-fiction book title traditionally published, one non-fiction title indie-published, and one fiction title indie published and 2016 is looking good for about three more published books—some Indie and hopefully one traditionally published book.
It took me to the age of fifty to get these firsts: first book published, first agent acquisition, first conference attended, but I'm definitely on a career path that I pray leads to continued success. Powered by the I AM. I can.
Back Cover Blurb for Crooked Lines:
On the shores of Lake Michigan, Rebecca Meyer seeks escape. Guilt-ridden over her little sister's death, she sets her heart on India, a symbol of peace. Across the ocean in South India, Sagai Raj leaves his tranquil hill station home and impoverished family to answer a higher calling. Pushing through diverse cultural and religious milieus, he labors toward his goals, while wrong turns and bad choices block Rebecca from hers. Traveling similar paths and bridged across oceans through a priest, the two desire peace and their divine destiny. But vows and blind obedience at all costs must be weighed…and buried memories, unearthed. Crooked Lines, a beautifully crafted debut novel, threads the lives of two determined souls from different continents and cultures. Compelling characters struggle with spirituality through despair and deceptions in search of truth.
Crooked Lines can be found at Amazon
LEAVE A COMMENT TO BE PLACED IN THE DRAWING TO WIN A COPY OF CROOKED LINES OR FIRST AND GOAL* BETWEEN NOW AND WEDNESDAY, SEPTEMBER 16TH AT MIDNIGHT MST.
*First and Goal - What Football Taught Me About Never Giving Up is a devotional published by Harvest House, written by HollyMichael and her son Jake Byrne, a type one diabetic who played in the NFL.
Holly Michael has enjoyed a writing career as a journalist, features writer, and a regular for Guideposts magazine before authoring novels and nonfiction books. Married to Anglican Bishop, Leo Michael, Holly has three grown children; daughter Betsy and football-playing sons—Jake (NFL) and Nick (University of Louisiana-Lafayette). Kansas City, Missouri is home. She has authored the fiction work, Crooked Lines, the non-ficton Tsunami 2004 - Still Wading Through Waves of Hope and the devotional First and Goal: What Football Taught Me About Never Giving Up, written with her son Jake Byrne.
Connect with Holly online at her blog, on Facebook, and on Twitter.