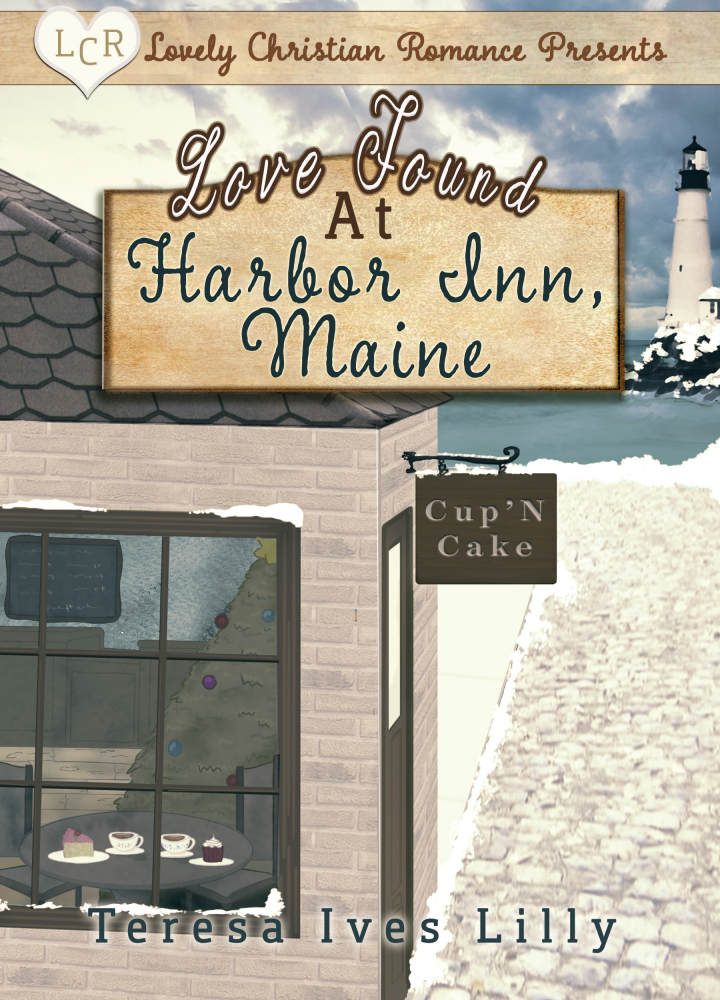 FEATURED BOOK: Love Found at Harbor Inn, Maine
AUTHOR'S NAME: Teresa Ives Lilly
PUBLISHER: Lovely Christian Romance Press
GENRE Christian Romance
STAND ALONE OR SERIES: stand alone, however, there are other Love Found Books
TARGET AGE: 18 and up
AUTHOR TERESA LILLY SHARES SOME TIPS ON HOW TO FEEL YOUNG WHEN WE ARE NOT ANYMORE.
TERESA IS OFFERING A GIVEAWAY OF AN EBOOK COPY OF LOVE FOUND AT HARBOR INN, MAINE. CHECK BELOW TO SEE HOW TO ENTER TO WIN.
Feeling Old Fix – Keep Busy
My mother was 42 years old when she had me. That meant when she was 50 I was only 8 years old. I never thought of her as old, because she dyed her hair black and could walk five miles to the grocery store and back and carry queen size mattresses from the attic to the main floor in our house on her back.
I was never amazed at these things until I turned 50. My children were all grown so I didn't have to cook and clean and homeschool and drive them to things any longer. At first, I began to think of myself as old, however, at the time I was running a small Children's Resale business of my own, so that kept me busy.
Last year, we went out of business and the same feelings of being old returned. I thought about dwelling in it, staying in bed longer, taking longer naps, laying around and reading books all day, but I found that also brought on depression and over eating.
So, I got back into the swing of things. I opened a Free Christian Library in my neighborhood and began watching my grandson twice a week. Oh, boy. Now I'm almost too busy to even do any writing, but I still squeeze in 500 to 2000 words a night.
My suggestion to fight off those feelings of being old....
Keep busy, it's the best medicine.
Book Cover Blurb for Love Found at Harbor Inn, Maine
Christmas in Harbor Inn Maine
When Penny Trent, Owner of Cake Time in Harbor Inn Maine, meets Kyle London, a famous writer who has come to to close down his Grandmother's coffee shop Just a Cup, there is an immediate attraction between them.

Penny, busy cooking for the Mayor's Christmas party, the town's annual Bake Off and trying to persuade Kyle to keep Just a Cup open, doesn't have time for holiday traditions or to embark on a new relationship, even if it is with the man of her dreams.

Will Kyle be able to convince Penny to enjoy the holidays and believe in his desire to get to know her better? Will Kyle and Penny be able to save the coffee shop by combining forces and find a lasting relationship by Christmas?
LEAVE A COMMENT TO BE PLACED IN THE DRAWING TO WIN A COPY OF LOVE FOUND AT HARBOR INN MAINE BETWEEN NOW AND WEDNESDAY, DECEMBER 2ND AT MIDNIGHT MST.
Teresa Ives Lilly lives in Texas with her husband, near her grown children. She loves to write Christian Historical Novellas, although she dabbles in contemporary as well. See all her books at her website.
She loves to hear from her readers via email.
Also visit her publishing company to find out about writing for her Love Found series or getting a free Lovely Christian Romance Magazine.