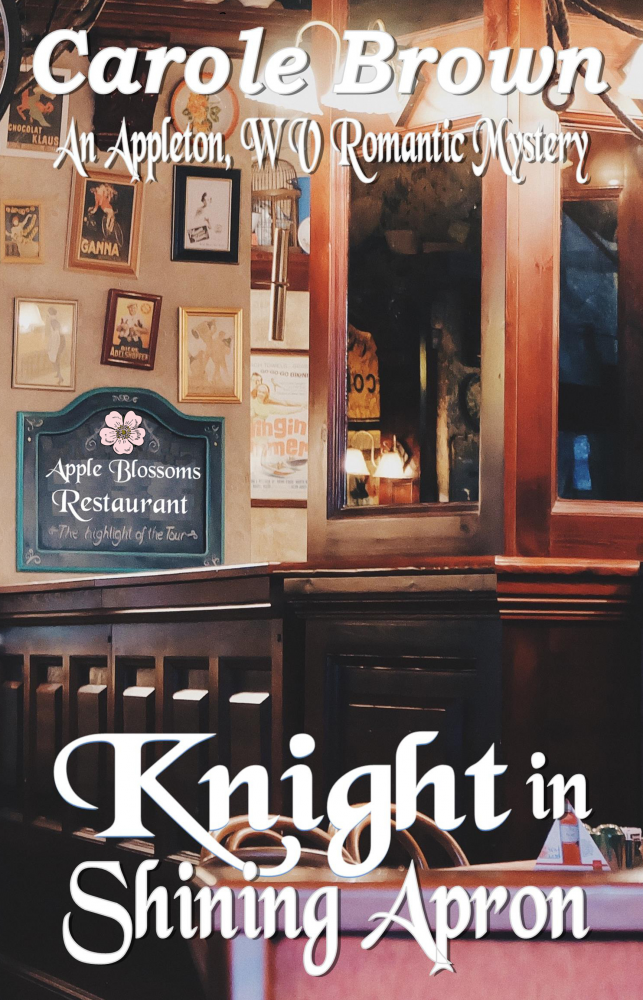 FEATURED BOOK: Knight in Shining Apron
AUTHOR: Carole Brown
PUBLISHER: Story and Media Logic Group
GENRE: Romantic Mystery
SERIES OR STAND ALONE: Series
TARGET AGE: anyone who loves romance with their mysteries!
IT IS A PLEASURE TO WELCOME AUTHOR CAROLE BROWN. CAROLE SHARES THE "HARD AND FAST RULES" OF WRITING OVER FIFTY WITH SOME VERY REAL ADVICE IN THE MIX.
CAROLE IS OFFERING A GIVEAWAY OF KNIGHT IN SHINING APRON. SIMPLY LEAVE A COMMENT BELOW TO ENTER THE DRAWING. (US winner - choice of print or Kindle copy. Outside US – Kindle copy)
The Tongue-in-Cheek Dos and Don'ts of Writing Over Fifty
I always knew I was a writer from grade school up, but I didn't seriously pursue fiction writing until I'd reached my fifties.
Life for me was a busy one: teaching school, marrying, pastoring and traveling across the country multiple times ministering and counseling, exploring the world with my husband and two sons, and finally watching those two sons grow up and begin their own grownup world. I wrote as a newspaper reporter, went back to school, did some ceramic painting, knitted, sewed, decorated cakes, bought collie dogs, took piano lessons, attempted the guitar and saxophone, wrote articles and short stories, and dreamed of becoming a professional photographer. I finally realized that if I ever was going to write seriously, now was the time.
Was I in for a surprise! Everything I'd learned about writing had changed. Entering contests soon opened my eyes that my writing needed quite a bit of editing in several ways. My new critique partners set me straight (kindly but seriously) in where to start a chapter and how to keep a reader's attention. I was no longer on top of the rules and had to begin again to figure out how to write.
It's been quite a journey from those beginning days to where I am now with FIVE books published and at least two more releasing this year. But what I've learned has helped me publish books that are receiving awards and winning contests. My books have given me delight in seeing what I've accomplished with God's help, and being able to enjoy my readers' encouraging comments.
Here are some fun, but important, items I've learned:
Search what it is you're supposed to do with your writing talent. Are you better with fiction -- creating stories and worlds and people, or do you shine with nonfiction where you can instruct, encourage and/or share with others?
Just because you're fifty or older does not mean you can't be a success.
1. Do you want to bring in lots of money (ha!)?
2. Do you want to get on the NY Times Bestselling list?
3. Are you more interested in enjoying the writing of your book than the selling?
The term "success" means different things to different people. YOU decide what it means to you and aim for that. Don't let anyone or anything deter you from what you know is right for you.
Study hard. Relearn, if you need to, the requirements for writing to today's world readers. Stick to the rules until you know when it's appropriate to break them, and break them you (or some of us!) will. It's your story or article, so go with what you know is right. Gain good critique partners who don't tell you what you want to hear, but suggest and point out how you can better your novel. You're not going to skate your way through on Easy Street.
Be prepared for some bite-your-tongue or grit-your-teeth comments. (These are for full length novels) Like:
1. "When is your first novel coming out?" Let's see, did I hear that one about fifty times?
2. (You release a book this month, and . . . ) "When's the sequel?" Sure, I'll have it out next month.
3. "How much money do you make?" Really? How many times have I asked you what you bring in? Never. J
Decide if you want to write what you love, (historical? Suspense? Romance? Science fiction? Flash fiction? Something else?) or would you rather write what is popular?
You have choices and no one can make this one for you: Will you search for a traditional publisher or are you brave enough and strong enough to pursue Indie publishing? Realize that either way, you'll probably need to market. Research and find out what each is, then go for it!
Never, ever let anyone tell you, you can't do this! You can. Over and over, those over fifty have shared success stories, have proven the doubters wrong, have thumbed their noses at the skeptics, have soared above even their own expectations!
Reach for the stars, my over-fifty friends!
Knight in Shining Apron Cover Blurb:
Starli Cameron gave up her career plans to be a concert pianist to marry the man of her dreams. He turned out to be a nightmare. When he dies in a car accident, Starli takes the insurance money and builds a successful and upscale restaurant: Apple Blossoms in rural West Virginia. Threats from someone determined to ruin her life and the suspicious romantic advances from her new chef force Starli to search her heart and finally turn to God for real healing.
Sir Joel Peterman-Blair, top notch chef from England, is roped by his uncle, into filling in as head Chef at Apple Blossoms. Joel, with his sanguine-personality, has always laughed and flirted his way through life. But now, confronted with and attracted to the most beautiful woman he's ever met, Joel has to prove his sincerity and depth of character to his icy-cold employer. Can his love for God and for this woman reach out far enough to rescue her from her own mistrust and bitterness? Will he learn that life is not all play?
And can they both work together to find the source of threats that seem to be coming from Starli's past?
DON'T FORGERT TO LEAVE A COMMENT TO BE PLACED IN THE DRAWING TO WIN A COPY OF KNIGHT IN SHINING APRON BETWEEN NOW AND WEDNESDAY, MAY 18TH AT MIDNIGHT MDT.
Coming EARLY SUMMER!
In the meantime:
Check out her books here
Besides being a member and active participant of many writing groups, Carole Brown enjoys mentoring beginning writers. She loves to weave suspense and tough topics into her books, along with a touch of romance and whimsy, and is always on the lookout for outstanding titles and catchy ideas. She and her husband reside in SE Ohio but have ministered and counseled nationally and internationally. Together, they enjoy their grandsons, traveling, gardening, good food, the simple life, and did she mention their grandsons?
Connect with her on Facebook
Visit her website
Check out her books