Featured Book: In Times Like These
Author: Gail Kittleson
Genre: Women's Historical fiction
Stand alone or series: Stand-alone, but the beginning of a series
Target age: Women 30+
I AM PLEASED TO WELCOME AUTHOR GAIL KITTLESON. GAIL SHARES WHAT SHE LEARNED WHEN SHE DARED TO FAIL.
DARE TO FAIL
by
Gail Kittleson
"Only those who dare to fail greatly can ever achieve greatly." Robert F. Kennedy
Whoo boy—he certainly nailed the ambivalence surrounding a big decision. If I go for it, I may not succeed. But then again, I may. That's where the word DARE comes in.
I've been in a quandary about a certain manuscript that's been on the burner so long, I'm amazed it's not burnt to a crisp. I've considered all kinds of advice about this story, and many rejections. Of course, the rejections containing wise advice only strengthened the novel, and I'm grateful for them.
But they still haven't landed this manuscript in a glowing publication contract, so I'm still not sure what to do. I've never wanted to self-publish, but this particular story has gleaned some strong endorsements, and people I respect keep urging me to go for it.
Oh woe is me—what to do. (Hand wrenching here.)
So I prayed for guidance, and one morning, my teabag message contained this tidbit from RFK. Apparently, no one told him to avoid using adverbs . . . lol.
He used one of those terrible "ly" words, not only once but twice. Greatly. DARE TO FAIL GREATLY. ACHIEVE GREATLY.
Juxtaposed, these two opposites defined my dilemma, and moved me to consider failure and achievement. At such times, twelve-step literature always reminds me that risk becomes easier with maturity and self-acceptance. As we come to believe we're lovable and worthy "as is," taking risks becomes a little easier.
So what if we fail? Who stands to condemn us? Well, that's the problem: our inner, shame-based voices.
But making mistakes is how we learn, they say. So failure, seen from this perspective, becomes a learning tool. And if we believe we're still loved and worthy regardless of how things turn out, why NOT go for it? Our mirrors reflect people who are not getting any younger.
Hum.... concepts to ponder. Hearing other's stories of failing, achieving, taking risks, and DARING helps. I would love to hear some of yours!
(By the way, I did dare to fail...and the result is Addie's story: In Times Like These. Interesting how she must grow to believe in herself enough to dare, too. I hope you'll cheer her on in her intense World War II struggle on the Iowa home front.)
Book cover blurb for In Times Like These:
Pearl Harbor attacked! The United States is at war.
But Addie fights her own battles on the Iowa home front. Her controlling husband Harold vents his rage on her when his father's stoke prevents him from joining the military. He degrades Addie, ridicules her productive victory garden, and even labels her childlessness as God's punishment.
When he manipulates his way into a military unit bound for Normandy, Addie learns that her best friend Kate's pilot husband has died on a mission, leaving her stranded in London in desperate straits.
Will Addie find a way to help Kate, and courage to trust God with her future?
Endorsement:
This extraordinary story classically captures the mindset of the 1940's. Addie and her friend Kate reflect the voices women hear as they face confusing dilemmas almost seventy-five years later—my first read kept me up into the wee hours. I will refer my readers to In Times Like These! Patricia Evans, Author of The Verbally Abusive Relationship, Controlling People and other books listed at www.VerbalAbuse.com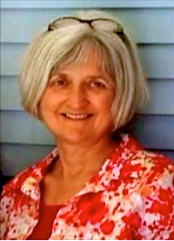 Gail writes women's fiction, facilitates writing workshops and retreats and edits for other authors. She and her husband enjoy family in northern Iowa, and the Arizona Ponderosa forest in winter. Lighthouse Publishing of the Carolinas will release her WWII sequel in February, 2017. Gail's heroines make do with what life hands them, and overcome great odds. Connect with Gail: