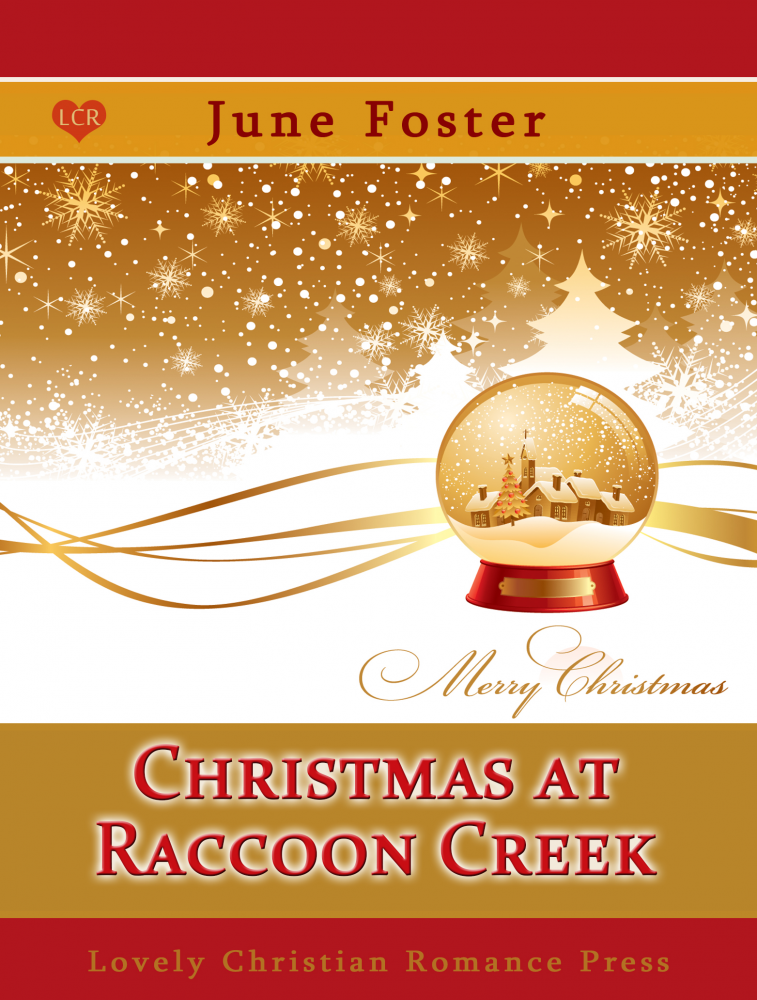 FEATURED BOOK: Christmas at Raccoon Creek
AUTHOR'S NAME: June Foster
PUBLISHER: Lovely Christian Romance Press
GENRE: romance with a touch of time travel
STAND ALONE OR SERIES: Stand alone (will be published in a collection of other Snowglobe stories)
TARGET AGE: 18 and up
I AM PLEASED TO WELCOME AUTHOR JUNE FOSTER. JUNE SHARES HOW SHE TACKLES THE PHYSICAL LIMITATIONS OF THE OVER 50 WRITER.
JUNE IS OFFERING A GIVEAWAY OF AN EBOOK COPY OF CHRISTMAS AT RACCOON CREEK. SIMPLY LEAVE A COMMENT BELOW TO ENTER THE DRAWING.
Encouragement For Those Over 55
The last time Patti invited me to share on her blog, I spoke about how a sixty-five year old grandmother wrote an inspirational romance novel and had it traditionally published within two years. Yes, that was me. I reminded Pat's readers that we are never too old to accomplish something, especially when the Lord has a purpose. Now seven years later, I've just seen number eleven go into print.
Today I'd like to offer a different type of encouragement for any who are feeling those pains and aches that plague us as we age. I've certainly had my share. Yet, today I feel better than I have in several years.
I will have to admit, I'm blessed with good health. However, I'm in my early 70's so I've arrived at that stage of life we call old age. In my late 60's I began to feel stiff, frequently out of breath, and unable to do things that would have been easy at 50. For example, squatting down to find items in the lower kitchen cabinets was a challenge. I had to kneel down or even sit on the floor to find what I needed.
Invariably I woke up every morning with a stiff neck, sore joints and aching legs. So, I challenged my body. Was I really ready for the rocking chair?
Here's what I did. I purchased a beginners stretching DVD and determined to put myself through the stretching routines at least four times a week. In only a couple of months, my joints felt less stiff, and I could squat down easily.
I also began an exercising plan. Since a gym membership is a bit costly, I purchased several of Leslie Sansone's Walk-at Home DVD's which are suited for beginnings or more advanced levels of physical ability.
On Leslie's DVD's I began with one mile and now have increased it to three. On her weight lifting routines, I didn't push myself but increased the number of reps and levels of intensity slowly and gradually. I used to think the stiff joints and body parts was part of the aging process, but I discovered it doesn't have to be.
If I can do it, you can too.
Backcover Blurb for Christmas at Raccoon Creek:
When love spans the decades
Emily Eason wants to distance herself from her parents' opulent lifestyle in Birmingham, Alabama, and enjoy life in the rural village of Raccoon Creek and her fifties-style home. But after gazing into the little snow globe she purchased from Hardwicke's Drugs and Gifts, she finds herself transported to another time—her grandmother's era.
Lance Hardwicke is the pharmacist and owner of Hardwicke's Drugs. Four years of pharmacy school didn't allow for much of a social life. Gorgeous Emily Eason, nurse and resident of Raccoon Creek, has captured his attention. The next time she comes in the store, he's determined to ask her out. Maybe take her to Birmingham to see the Christmas lights in his brand new orange and white '53 Pontiac Pathfinder.
Can love span the fifty-year gap standing between them?
DON'T FORGET TO LEAVE A COMMENT TO BE PLACED IN THE DRAWING TO WIN AN EBOOK COPY OF CHRISTMAS AT RACCOON CREEK BETWEEN NOW AND WEDNESDAY, AUGUST 10TH AT MIDNIGHT MST.
An award-winning author, June Foster is a retired teacher with a BA in education and MA in counseling. June has written eleven Christian romances with more to come. June enjoys writing stories about characters who overcome the circumstances in their lives by the power of God and His Word. Visit June at her website.