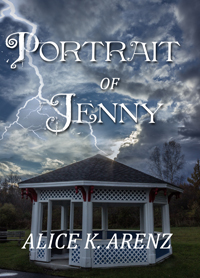 FEATURED BOOK: PORTRAIT OF JENNY
AUTHOR: Alice K. Arenz
PUBLISHER: Take Me Away Books, a division of Winged Publications
GENRE: Mystery/Suspense
SERIES OR STAND ALONE: Stand Alone
TARGET AGE: Adults any age
I HAD TO TWIST LONG TIME FRIEND ALICE ARENZ'S ARM TO GET A BLOG POST OUT OF HER, BUT I BELIEVE READERS WILL AGREE THE PAIN I INFLICTED AND SHE ENDURED WAS WELL WORTH IT! ALICE SHARES THE STORY OF HER INCREDIBLE WRITING JOURNEY.
ALICE IS OFFERING A GIVEAWAY A KINDLE COPY OF PORTRAIT OF JENNY. SIMPLY LEAVE A COMMENT BELOW TO ENTER THE DRAWING.
I love doing blog interviews . . . this type of thing, however, has me going in fits and starts. I suddenly feel like I'm channeling Dr. McCoy in Star Trek (please forgive the language and the changes): "Dammit, Patti, I'm an author, not a blogger!"
Ok, now I've gotten that out of my system . . .
Over 50, definitely. More so now, of course, than when my first book The Case of the Bouncing Grandma, a cozy mystery, was published in 2008. It was a 2009 finalist in the mystery category of American Christian Fiction Writers' Book of the Year contest. The following year, the second in The Bouncing Grandma Mystery Series, The Case of the Mystified M.D., received the honor of becoming the winner of ACFW's new Carol Award for mystery. In 2011, my third novel, mystery/suspense Mirrored Image, was a finalist in the Carol's mystery category. Not only had my dream of a lifetime come true, but to be recognized by my peers—priceless!
It didn't happen over night, I'd been making up stories forever—writing them down since I was about twelve. It wasn't until much later, when my then husband challenged me to either complete something or stop leaving bits and pieces of stories all over the house that I got serious about it. I discovered Writer's Digest Magazine, the wealth of information in The Writer's Market, and began the arduous process of submitting queries to both agents and editors. When I got real letters back, not form letters, along with the occasional request for submission, I knew I was onto something. But it took more rejections than could paper the walls of my 1008 sq. ft. house before I actually got somewhere.
For six years in the 90s I actually had a New York literary agent, someone who believed in me and in the two novels I'd submitted—the original incarnations of An American Gothic and Portrait of Jenny. After the agent and I parted ways, I toyed around with rewriting Mirrored Image about a dozen times (yes, folks it was also conceived long ago and far away!), scribbled unintelligible notes all over Gothic and Jenny, then put everything away for about seven years.
Then I discovered American Christian Fiction Writers. I'd read one of Brandilyn Collins' books and contacted her. She suggested I join ACFW, which I did—after overwhelming support from my current husband and the rest of my family. The ACFW loop and members quickly became part of an extended family who understood experientially what I'd been going through. In so many, many ways, I was home! Even so, it wasn't a walk in the park. I didn't join and automatically become a published author. I worked hard trying to learn the ins and outs of Christian fiction, the "new" way things were being done in the publishing world, made some friends . . . and realized I was in way over my head. Even though that long ago agent had said my books were "too clean" "too nice," they were no where near what they should be—neither was I. That's when I tried something new, a cozy mystery with more laughter than drama—though there really was plenty of both—and one of those contacts decided her new publishing house wanted to take a chance on me.
Fast forward to 2011, the publishing company taking a new direction, my health doing the same, and the belief that perhaps this was it, I was finished in the writing world. But God wasn't finished with me yet—and neither was my ACFW friend and colleague Bonnie Engstrom! They led me to Forget Me Not Romances and publisher Cynthia Hickey, who understood my limitations and wanted my books and me anyway. In August of 2015, An American Gothic was released. Within a month and a half (after getting my rights returned) The Case of the Bouncing Grandma, The Case of the Mystified M.D., and a newly corrected version of Mirrored Image were all released under the banner of Forget Me Not Romances. After months of rewriting, Portrait of Jenny was released by Take Me Away Books, another division of Winged Publications.
Why the change of imprint? Because Jenny isn't inherently a Christian book. Let me explain.
What I write, my words, the stories all come from God. I am literally not smart enough to do the writing on my own. Not nearly smart enough! That said . . .
Out of 150,000 words I counted 100 swear words—including "questionable" ones—this count was done on the final reading before going to the publisher. And trust me when I say that during the four previous readings, I'd changed many of these for others—on my own—only to realize that I had to change them back. There was a lot of prayer going on here—A LOT OF PRAYER—and a lot of time spent agonizing over things. But I finally got it, LISTENED, truly listened when He said "Stop preaching to the choir. Let it stand." That's when I was finally able to finish what we'd started. I know the book isn't for everyone, my publisher has a warning on it so that people used to my other books won't be surprised. But as with all things, it's subjective.
What would happen if Christians only wrote books that appealed to other Christians? The searchers might not find what they need—no, make that WHO they need. And if a book has a character who is also searching, well then maybe . . .
Not every book is right for EVERY person. Sometimes things can be light, funny, other times, dark and "stormy," but they can all be good—even if they aren't exactly right for you. Change is inevitable. It's not always good or bad, just is—just like books and authors. And sometimes, even when you're not sure you're doing the right thing for others, it just might be the "right thing" for you . . . That, my friend, is between you and God. And I'm not ashamed of what He's given me.
Back Cover Blurb for Portrait of Jenny:
Not even a beautiful woman can save Richard Tanner from his past.
Following an explosive—and public—argument with his ex-girlfriend, artist Richard Tanner races into a rainstorm, gripped by a powerful migraine. He wanders to the gazebo in University Park, where he meets the beautiful and mysterious Jenny—a brief encounter that leaves an indelible impression on his mind—and in his paintings.
When Detective Jack Hargrave accuses Richard of the brutal assault on his ex, he finds himself confronting demons of a past he doesn't remember. A time when little Richie Tanner walked into University Park whole, was beaten and left to die…a time that may hold the key to his future.
DON'T FORGET TO LEAVE A COMMENT TO BE PLACED IN THE DRAWING TO WIN A KINDLE COPY OF PORTRAIT OF JENNY BETWEEN NOW AND SATURDAY, SEPTEMBER 10TH AT MIDNIGHT MST.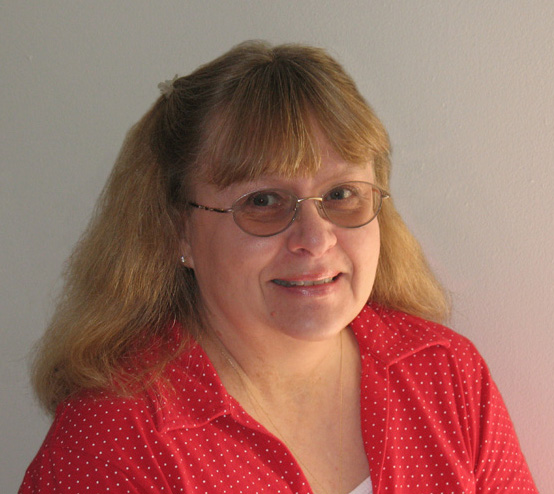 Portrait of Jenny is the newest book of 2010 ACFW Carol Award winning author, Alice K. Arenz. This follows last August's release of An American Gothic, also a mystery/suspense. Cozy mysteries The Case of the Bouncing Grandma (2009 Carol finalist), The Case of the Mystified M.D., (2010 Carol winner), and mystery/suspense Mirrored Image (2011 Carol finalist), have been re-released by Forget Me Not Romances. Visit her at her website.