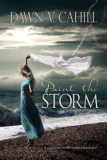 FEATURED BOOK: PAINT THE STORM
AUTHOR: DAWN V. CAHILL
PUBLISHER: SPRING MOUNTAIN PUBLISHING
GENRE: WOMEN'S FICTION
SERIES OR STAND ALONE: BOOK ONE, GOLDEN STATE TRILOGY
TARGET AGE: 20+
IT IS MY PLEASURE TO WELCOME AUTHOR DAWN CAHILL. DAWN DISPROVES THE OLD ADAGE THAT "LIFE BEGINS AT FORTY."
DAWN IS OFFERING A GIVEAWAY OF PAINT THE STORM. SIMPLY LEAVE A COMMENT BELOW TO ENTER THE DRAWING.
LIFE BEGINS AT 55
by
Dawn V. Cahill
They say life begins at forty. But Dawn V. Cahill's life began at 55. That is the pen name I started using when I was ready to publish my first book.
It all began three years ago. The last of my sons had moved out, and I found myself suddenly living in an empty nest. What to do? Time to resurrect that dream I'd had since childhood…write, finish, and publish my first novel.
Today, here I am, a real author, with two published novels, one published short story, and another completed first draft. And what a journey it's been. Three years ago, I was only beginning draft one of my new release: Paint the Storm. (It's now available on Amazon as a pre-order.
The story tackles a controversial subject: same-sex marriage. You may be wondering why I'd write about such a hot-button issue. Well, I've always felt that the Christian fiction market needed more stories dealing with twenty-first century issues.
True, many Christian fiction lovers enjoy the escape that sweet, clean romance provides, and that's totally fine. My stories, however, will appeal to readers who want edgier fiction, stories that help us better impact the world we actually live in.
A little more about me: I raised my three sons single-handedly for over ten years after my divorce. If not for my prayer group (Moms in Prayer International) I don't think I would have survived those years. The lessons learned strongly influence my fiction.
The main character in Paint the Storm is also a single mom who learned some of the lessons I learned during those tough years, who relies on a support group to weather her own storms. I've felt the Lord steering me in the direction of ministry to other single moms. Thus, I created a category on my website called Crumpets and Tea – Encouragement for Single Parents
My hope is that Paint the Storm will encourage a parent grieving over a wayward son or daughter to keep praying and trusting that God knows what He's doing!
Blurb for Paint the Storm
GOLDEN STATE TRILOGY, BOOK I: Set amidst the spectacular scenery of California's Marin Peninsula, Paint the Storm tells a timely story that resonates in today's culture. It's a saga of God's power to heal relationships and answer prayers in the unlikeliest of ways. It's a tale of loss, danger, and ultimately love.
When Linzee announces her engagement to her partner Nena, her mother Meg struggles to understand how God wants her to respond. Should she follow the culture around her by embracing and celebrating Linzee's same-sex relationship? And what does God think of a local church notorious for its hateful anti-gay messages? While she wrestles with these questions, she turns to a Christian support group who challenges her to love like Christ did. An intriguing new man makes life interesting, but while she is getting to know him, another man from her past suddenly shows up, further complicating matters.
Meanwhile, a cyber bully is targeting Linzee. His hateful messages turn threatening. Meg and Linzee rekindle their bond as together they determine to uncover the stalker's identity. When the clues point toward Meg's own family, she is paralyzed with fear. The violence escalates–until the day Linzee turns up missing. In her search for Linzee, Meg joins up with the unlikeliest of allies – and begins to see God's hand at work. It's only when she turns to her support-group friends for comfort and prayer that she finally understands God's faithfulness through the deepest of trials.
Join Meg on her adventure toward love, healing, and a heart-warming conclusion.
Release date: October 10, 2016. Pre-order here.
DON'T FORGET TO LEAVE A COMMENT TO BE PLACED IN THE DRAWING TO WIN A COPY OF PAINT THE STORM BETWEEN NOW AND SATURDAY, OCTOBER 15TH AT MIDNIGHT MDT.
Dawn V. Cahill, an indie author from the land of microbrews and coffee snobs, published her first book, When Lyric Met Limerick, in 2015. She published her first full-length novel, Sapphire Secrets, in January of 2016. Her brand of Christian fiction, Hot Topic Fiction (HTF), isn't afraid to explore the question, how does God want us Christians to live out our faith in this not-so-brave new world? Without insulting the reader by offering pat or easy answers—because there aren't any—HTF tells stories of ordinary Christians following hard after Christ in a world of violence, upside-down morality, and hostility to Judeo-Christian values.
She has written several newspaper articles and more limericks than she can count. Email her , or find her online